An Unsuspected Treat Contaminated with Listeria. How about them Caramel Apples?
Posted on

by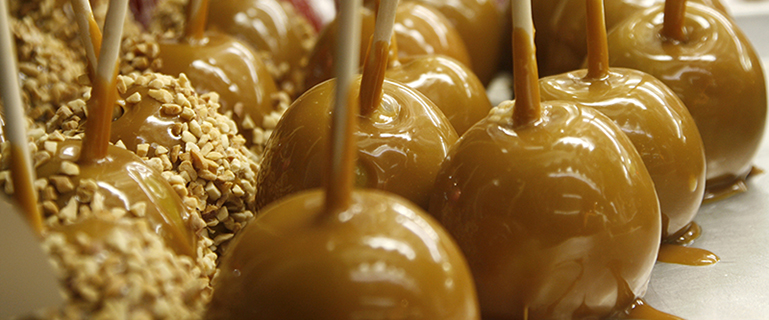 By  Mandip Kaur and Brendan Jackson
Oh, how sweet it is to enjoy a caramel apple when autumn sweeps in! Maybe you like yours topped with nuts? Sprinkles? How about chocolate?
But who knew that this past fall, certain caramel apples would be contaminated with the dangerous Listeria monocytogenes bacteria (here, Listeria for short), and cause illnesses across the nation? This was quite a curveball for public health investigators: listeriosis (the disease caused by Listeria) outbreaks are often traced to soft cheeses and sometimes to produce, but no one had ever reported an outbreak linked to whole apples.
Cracking the case
We scratched our heads over this one, but with the help of the Listeria Whole Genome Sequencing (WGS) Project and patient food history information, public health officials at the state and local levels, the Centers for Disease Control and Prevention (CDC), and the Food and Drug Administration (FDA) were able to identify the source of this outbreak and prevent more people from getting sick.
Public health investigators must work with accuracy and speed to stop an outbreak in its tracks and prevent illnesses–especially true in this Listeria outbreak. Thirty-five people who lived in 12 states became sick and sadly, Listeria contributed to at least three of the seven reported deaths. It was the largest US Listeria outbreak since the one linked to cantaloupe in 2011.
We used a three-pronged approach to solve the outbreak:
Laboratory: CDC, FDA, and state labs tested samples from patients, foods, and the environment for related strains of Listeria.
Epidemiology: Local, state, and CDC investigators interviewed patients about foods they ate before getting sick.
Traceback: FDA, state, and local officials investigated sources of the suspect food and its ingredients.
It all started in mid-November 2014, when lab scientists at CDC raised a flag after noticing that certain Listeria infections across the United States—out of the hundreds that had occurred that year—were genetically related, suggesting an outbreak.
The laboratory side
We used whole genome sequencing, or WGS, to help determine the scope of this outbreak. WGS provides high-resolution genetic information about the strains of Listeria causing illness. Since the 1990s, we've tested patient samples from across the country using pulsed-field gel electrophoresis, or PFGE, and then compared them in PulseNet (a national network of public health labs) to see which ones appear related.
In the past year, we've started using WGS, too, because it gives a much more detailed look at Listeria strains than PFGE. Thanks to WGS, we were able to detect related cases across the country a week faster than if we relied on PFGE alone. WGS also gave us a clearer picture of which illnesses ought to be included in the outbreak, and which were likely due to other sources.
The epidemiology front
How could we figure out what food was making people sick? We asked patients what they ate, of course. First, we used a standard questionnaire that asks about dozens of foods that could be linked to listeriosis, but when epidemiologists examined their responses, no food jumped out as the likely culprit.
Over the following weeks, epidemiologists re-interviewed patients and their families—sometimes multiple times—about all the foods they had eaten in the month before getting sick. Just try to remember everything you ate a month or two ago—no easy task! As you can imagine, some patients had several foods in common, and we chased a number of false leads.
Then we got a call from our colleagues in Texas about two patients who had eaten caramel apples. They thought they might be on to something, but could caramel apples really be a source of listeriosis? The quickest way to find out was to ask patients in other states. We were amazed as one patient after another answered "yes" to eating caramel apples.
By December 19, 2014, we learned that 15 of the 18 ill people interviewed had eaten commercially produced, prepackaged caramel apples. When we compared this information with data on how often people in general eat caramel apples, we could tell it was no coincidence—caramel apples were almost certainly to blame.
With evidence from the WGS findings and the food history information, we informed the public about the outbreak that day. We recommended that consumers not eat commercially produced, prepackaged caramel apples until we had more specific information about brands or stores–patients were reporting multiple brands, although most couldn't remember a brand at all. 
The trace back tale
FDA and state officials traced back the caramel apple brands to multiple manufacturers. They even traced back all the ingredients in the caramel apples including the apples, caramel, toppings, and sticks—a difficult and time-intensive task.
As it turned out, all of the manufacturers in the investigation used apples from Bidart Bros., a California apple supplier. That was the only common denominator. After learning about the investigation, Bidart Bros. issued an initial recall of certain apples on December 22, 2014. Over the next week, three caramel apple manufacturers that received apples from Bidart Bros. issued recalls of their own.
FDA and California health officials inspected the Bidart Bros. apple packing facility, which was closed for the season, and swabbed surfaces. On January 8, 2015, tests from the Bidart Bros. facility found strains of Listeria that were indistinguishable from the ones making patients sick. We had the third piece of the puzzle.
Soon after, the company issued a public recall of all apples produced in 2014, and CDC and FDA were able to narrow our guidance to consumers and inform them that they should avoid only caramel apples made from Bidart Bros. apples.
This outbreak investigation highlights how WGS, with its precision and speed, combined with detailed patient interviews about exposures can help identify the scope and source of an outbreak. CDC used these vital tools to keep the public informed and to advise people to not eat a contaminated caramel apple a day, to keep that Listeria away!
Posted on

by
---
Page last reviewed:
March 23, 2015
Page last updated:
March 23, 2015