Coping After Natural Disasters
Posted on

by
---
Note: Valerie Rodriguez Teissonniere is a health communication intern at CDC and is sharing her personal experiences in this post.
---
Growing up and living in Puerto Rico for over 20 years, I've faced numerous natural disasters and emergencies. Hurricanes Maria and Irma in 2017 and George in 1998 were most notorious for causing the most damage. Recently, in 2020, we were shaken by earthquakes on the southern part of Puerto Rico. Right around the same time, the COVID-19 pandemic started. Puerto Rico is still living with the havoc caused by the hurricanes and earthquakes, such as debris, displacement, and lack of rooftops, while facing many other storms and floods. This Mental Health Awareness Month, I want to share my experiences along with some tips on how to cope when disaster strikes.
Finding ways to cope after two major disasters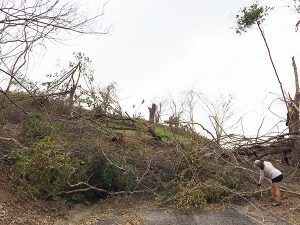 In 2017, I was working at a non-profit organization and studying for my master's degree. Hurricane Maria entered Puerto Rico on September 20. What seemed like an endless night, filled with winds, pouring rain, and loud noises was only the beginning of what would define life before and after Hurricane Maria for Puerto Rico residents. After 14 hours, the Category 4 hurricane left the island without electric power, a water system, or communication services.
Residents had to get creative to be able to communicate with friends, family, and others in the community. Word of mouth, notes taped or slipped under doors, megaphones, radio transmissions, and walkie-talkies served as our main mediums of communication. We would spend the daytime helping neighbors and relatives run emergency errands and making roads accessible by removing debris. We spent the evenings playing board games, having potlucks, bonfires, and music jam sessions. This became a routine in my community, and we constantly reminisce about these days whenever we all get together. Connecting with people who were also going through the same situation helped us cope with the emergency.
Two years after Hurricane Maria, we were hit by earthquakes in the southern part of Puerto Rico. I was living in Ponce and experienced the earthquakes along with family and friends. Unusual earth movements started on December 28, 2019. As the days went by, the earth movements became more frequent and stronger. On January 7, 2020, we were hit by a massive earthquake of 6.7 on the Richter scale. Just like with Hurricane Maria, we were left without electricity, water, and a weak cellphone signal. The aftershocks lasted several months, and many people on the south were displaced because of this natural disaster. Neighbors and families came together to help and support each other.
Getting involved in disaster recovery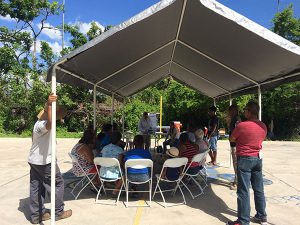 After Hurricanes Irma and Maria, I assisted communities by collecting, sorting, and distributing emergency supplies, food, and clothing. With the help of family and friends, we visited shelters and several communities that were tremendously affected. Working with a local non-profit organization that focuses on environmental education, we received donations such as emergency kits, food, water filters, clothes, and hygiene supplies that were distributed to communities throughout the island for 5 months after the hurricanes. The non-profit also provided resiliency workshops and community lunches to meet community members and assist them further with environmental projects. Some of the projects consisted of helping to develop community gardens, providing a space for reflection, and rebuilding of communities.
While confronting the earthquakes and aftershocks, I collected clothes, food and water for people who were taking refuge at shelters. I visited government organized shelters and distributed supplies throughout the affected municipalities. I also organized a mental health workshop for my community. In this workshop, we invited a psychologist who provided emotional support and resilience strategies to those affected by earthquakes. Over 125 people attended this workshop; most of them were people from my community in Ponce. A month later, we visited two other towns with a non-profit organization to provide hygiene supplies for families living in tents outside of their homes.
The earthquakes caused considerable structural damage in the southern region of the island. However, most of the damage was emotional because Puerto Rico hadn't faced earthquakes of this magnitude in over 100 years. We faced the earthquakes while still recovering from Hurricanes Maria and Irma. And the Covid-19 pandemic emerged at the same time the earthquakes were happening. The pandemic has certainly affected the recovery and rebuilding efforts in Puerto Rico. This has been a very arduous process. We have felt a breadth of emotions, and we are still healing and learning to recover from it all.
Tips to help you, your family, and your community cope
After a disaster, it is important to take care of your emotional health. Pay attention to how you and your family members are feeling and acting. Taking care of your emotional health will help you think clearly and react to urgent needs to protect yourself and your loved ones. According to the Centers for Disease Control and Prevention (CDC), the following tips can help you and your family recover or find support.
Try to eat healthy and stay hydrated.
Exercise regularly and try to maintain a routine.
Get enough sleep.
Communicate with your family, friends, neighbors, or reliable people. Tell them how you feel, how the emergency is affecting you and ask for support or help if needed.
Take a break. If you are feeling overwhelmed or feel like news events are causing you stress, try logging off or turning off the news.
If you use medication on a regular basis, make sure to continue taking your medication.
Check in with others to see how they are doing during the emergency and offer to assist them if you can.
Get involved in the community. If possible, assist in clean ups, food or clothing drives, cook-offs, and community gatherings.
Seek help when needed. Talk to a counselor, doctor, or pastor. Call or text SAMHSA's Disaster Distress Hotline: 1-800-985-5990. People with deafness or hearing loss can use their preferred relay service to call 1-800-985-5990.
I also found the following activities to be helpful in managing stress and strong emotions during an emergency: gardening, yoga and meditation, dancing, singing, playing an instrument, reading, writing, painting, drawing, cooking, playing board games, playing sports, knitting, and walking your dog.
Additional resources
Coping After a Natural Disaster | CDC
Finding a New Normal: Life After a Natural Disaster | CDC
Coping with a Disaster or Traumatic Event | CDC Emergency Preparedness & Response
Response Resources for Leaders to Address Psychosocial Needs in a Disaster (cdc.gov)
---
Tweet this: "Learn about steps you, your family, and your community can take to cope after hurricanes, earthquakes, and other disasters. https://bit.ly/3FWGRZA #CDCEHBlog via @CDCEnvironment"
Posted on

by
---
Page last reviewed:
May 17, 2022
Page last updated:
May 17, 2022