Air Quality and Your Health
Posted on

by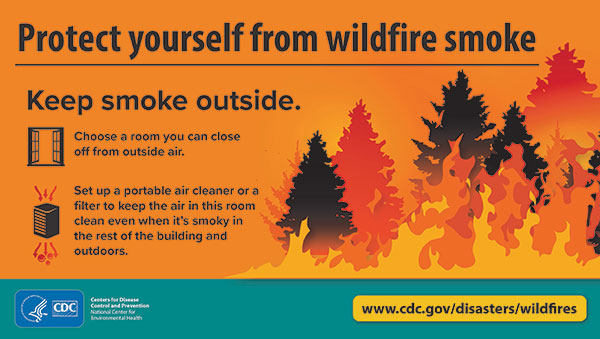 Imagine getting ready to go for a walk outside only to glance out your window and see a hazy, smoke-filled sky. You check the Air Quality Index (AQI) and discover the local air quality is unhealthy. When you turn on the news, you learn that a wildfire started a few miles north of you. Health officials are encouraging residents to stay informed about the locations of the fire and smoke, stay indoors in a place with clean air, and wear respirators if they must go outside.
Over the past few years, situations like this have been increasingly common across the United States. Climate change is spreading warm and dry conditions in some regions that can drive wildfires. As the fires burn, they release smoke, which can cause coughing and wheezing, trouble breathing, asthma attacks, and many other problems. This is especially true for people with respiratory diseases, heart disease, or who are pregnant.
This Air Quality Awareness Week, learn more about the health effects of wildfire smoke and steps you can take to protect yourself.
Health Impacts of Wildfire Smoke
During wildfires, particles from smoke and ash can enter the body and harm your health. Monitor yourself for symptoms such as coughing, burning eyes, shortness of breath, and chest pain. Breathing in smoke can also lead to long-term damage to the heart and lungs.
Wildfire smoke can affect some people more than others. Children, older adults, and people who are pregnant are more likely to be affected by smoke. People with existing heart or lung diseases, such as heart disease, chronic obstructive pulmonary disease (COPD), or asthma, are also at higher risk and should monitor their health closely when air quality is poor.
Smoke and ash from wildfires can travel downwind and affect air quality miles away from the location of the fire. This means you should be ready to take steps to protect yourself from poor air quality even if you aren't located near a wildfire.
Take Steps to Protect Yourself from Wildfire Smoke
Check your local air quality: Use the Air Quality Index (AQI) to monitor air quality in your area. If the air quality is unhealthy or hazardous, consider staying indoors in a place with clean air or wearing a respirator if you must go outside.
Keep indoor air clean: If outdoor air quality is poor, keep your doors and windows closed, and limit your use of candles and gas stoves. Use an air conditioning system if you have one.
Wear respirators when outdoors: Respirators use filters to reduce how much smoke and ash can enter your body. Use a tight-fitting N95 or P100 respirator rather than a cloth mask.
Monitor your health: Pay attention to any symptoms, such as shortness of breath or difficulty breathing, and seek treatment if needed. Follow your doctor's advice if you have asthma or another disease that increases your risk from air pollution.
Prepare to evacuate: Health officials will monitor the fire and alert people if they need to evacuate. Prepare ahead of time by gathering any supplies you might need, such as important documents, prescription medicines, respirators, and food and water.
Additional Resources
Visit the following websites for more information:
---
Tweet this: Smoke and ash from wildfires can affect air quality and people's health. Learn how you can protect yourself from #wildfire smoke: https://bit.ly/3vVcGgu #CDCEHblog via @CDCEnvironment
Posted on

by
---
Page last reviewed:
May 2, 2022
Page last updated:
May 2, 2022