Reducing Risk from Wildfire Smoke
Posted on

by
Wildfires are increasing in size and frequency and are making headlines. Wildfires can start suddenly and spread rapidly. If you are not in immediate danger from the fire itself, you may still be in harm's way because these fires create huge plumes of smoke, which can travel in unpredictable directions and distances. If that smoke is coming your way, how can you protect yourself, your family, and your community?
The 2019 Wildfire Smoke Guide for Public Health Officials is a user-friendly, comprehensive resource for public health officials. Compiled by the Environmental Protection Agency, the Center for Disease Control and five other federal and state agencies, this Guide is updated with information about smoke dangers, how to prepare for wildfire events, reduce exposure to wildfire smoke, and clean up ash after the fire is over. The Guide covers actions the public can take before, during, and after a wildfire. It also instructs public health officials how to communicate clearly and quickly to limit residents' smoke exposures.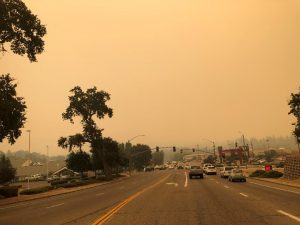 The largest threat from wildfire smoke is particle pollution that can enter the body and cause serious effects. The most obvious effects are symptoms such as coughing and burning eyes, but in fact, particle pollution can cause serious damage to the heart and lungs.  You are especially at risk during wildfire smoke events if you are:
A person with heart or lung disease
A person with asthma
A person with diabetes
An older adult
A child or teenager with asthma who enjoys spending time outside
A pregnant woman
An outdoor worker
A person with limited access to healthcare
People with these vulnerabilities may be at higher risk from breathing wildfire smoke. If you are at risk, there are things you can do to reduce your exposure and risk. The 2019 Wildfire Smoke Guide provides extensive information about everything from the meteorology that spreads smoke to the best masks for reducing smoke intake to how to use social media for raising awareness. Though geared toward public health officials and air quality agencies, there is quite a bit of useful information here for the general public.
The document has five chapters:
Health effects of wildfire smoke
Wildfire smoke and air quality impacts
Specific strategies to reduce exposure to wildfire smoke
Communicate air quality conditions during smoke events
Recommendations for public health actions
In addition to all the great information in the 2019 Wildfire Smoke Guide, there are many wildfire-related fact sheets available online.  These fact sheets offer actionable advice on important topics of interest to affected communities, for example how to reduce smoke exposure indoors and outdoors.  People often have questions about masks and respirators – one of the fact sheets discusses which types of respiratory protection work best. And did you know your pets can be affected by wildfire smoke? Another fact sheet discusses what to look for and actions you can take to be prepared.  Officials and community leaders can share these with their communities by accessing them at https://www.epa.gov/smoke-ready-toolbox-wildfires/wildland-fire-publications-fact-sheets-and-other-resources#h_fact_sheets.
Wildfire smoke is dangerous. The best way to prevent unhealthy or even fatal results of wildfire smoke events is to educate the public and have a plan in place. The 2019 Wildfire Smoke Guide can help do just that.
Tweet this: "If wildfire smoke were coming your way, would you know how to protect yourself, your family, and your community? Learn what to do at https://bit.ly/2k7K96y#CDCEHblog via @CDCEnvironment"
Posted on

by
---
Page last reviewed:
September 11, 2019
Page last updated:
September 11, 2019