ATSDR in the Community
Posted on

by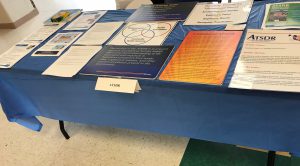 The community is always at the heart of ATSDR's public health activities—from resident petitions and personal interviews to community meetings, workshops, and health fairs.
Of course, our public health assessment process evaluates relevant scientific data. However, we also seek health information from community members and share health-related information with those who live or work near hazardous waste sites. ATSDR may work with area residents, civic leaders, health professionals, community groups, and other partners during the public health assessment process.
Community PFAS Education in New Hampshire
On April 3, 2019, ATSDR's Captain Gary D. Perlman participated in the Southern New Hampshire PFAS Community Health Fair in Merrimack, New Hampshire. The health fair provided people in southern New Hampshire a chance to ask questions of ATSDR, state agencies, universities, and non-profit advocacy groups about PFAS exposures in their community.
Members of the Merrimack community were concerned about PFAS exposures in their drinking water. So, the New Hampshire Department of Health and Human Services (NHDHHS) asked Captain Perlman to participate because of his expertise in evaluating health effects related to PFAS exposure.
Attendees had a safe place to share their private health concerns and ask questions. Captain Perlman helped ease community concerns by his knowledgeable responses to questions like these:
Is my water safe?
Will the levels of PFAS detected in my drinking water harm my family?
Are my kids safe?
What can I do to protect my health and the health of my family?
Could my children's medical conditions be related to PFAS exposures?
Approximately 50 people attended the health fair. A post-health fair survey indicated that people were "very satisfied" to have a chance to speak with representatives about their concerns.
For more information about ATSDR visit www.atsdr.cdc.gov and PFAS visit https://www.atsdr.cdc.gov/pfas/index.html
Posted on

by
---
Page last reviewed:
June 21, 2019
Page last updated:
June 21, 2019