May is Better Hearing and Speech Month
Posted on

by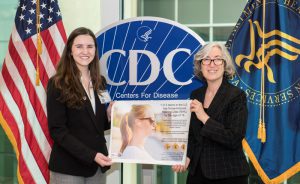 On Friday, May 17, 2019, Anne Schuchat, MD, BA, CDC's Principal Deputy Director, Yulia Carroll, MD, PhD, Senior Medical Officer and John Eichwald, MA of CDC's Noise-Induced Hearing Loss Program, participated in a photo session to commemorate Better Hearing and Speech Month. The occasion was also to acknowledge the accomplishments of Kelly Culhane, Miami Palmetto High School senior, who the Girl Scouts of the USA (GSUSA) named as one of their ten 2018 National Gold Award Girl Scouts, the organization's most prestigious honor.
Specifically, Culhane's project is called Hearing Loss in Teens: An Alarming Trend. She's spent the past three years working to raise awareness about the problem, and has been working with the Ear Peace: Save Your Hearing Foundation on spreading the word. One important aspect of the Foundation is their Protect-a-Band Program.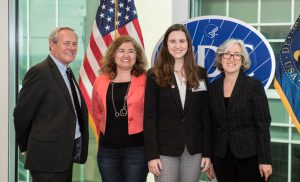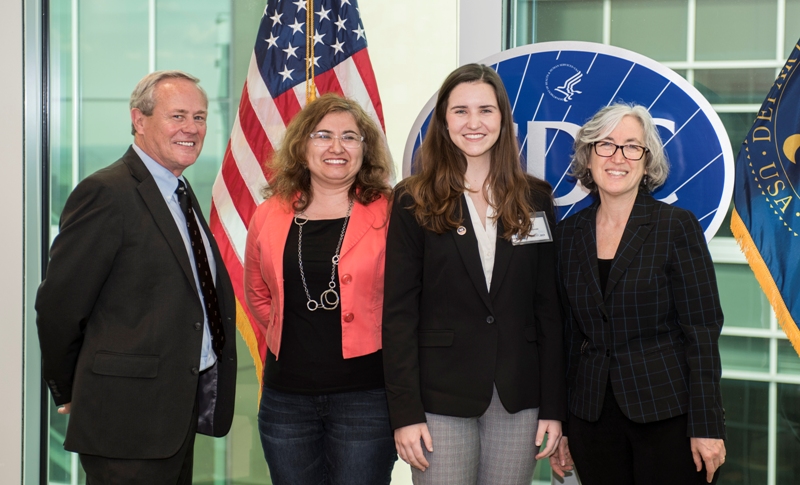 The Program trains music teachers and band directors about the dangers of hearing loss and how to protect their hearing. The teachers go back to their schools to teach their students. Then the Foundation provides the students with free high quality filtered ear plugs. After her own training she became an Ambassador for the Foundation and is now training others. The videos are available on the Foundation's website and YouTube https://www.youtube.com/watch?v=dhwQQ9wn064 .
Miss Culhane created the official poster and brochure for the Foundation and sent them to 50 pediatrician's offices and children's hospitals statewide. In May, Culhane was featured on WPBT's program Your South Florida. Earlier this summer, she spent three days training Miami Dade County Public School teachers in the Foundation's Dangerous Decibels curriculum in a summer academy for teachers seeking certifications.
Did you know that in the U.S., 1 out of 5 teenagers suffers from noise-induced hearing loss by the age of 19? Check out the EarPeaceFoundation at http://www.earpeacefoundation.org/
For additional information on Noise-Induced Hearing Loss, please visit https://www.cdc.gov/nceh/hearing_loss/default.html
Tweet this: "May is Better Hearing and Speech Month. Don't Let Loud Noise Damage Your Hearing. Learn How to Protect Your Hearing Now. Learn more at https://bit.ly/2I6XJz4 #CDCEHblog via @CDCEnvironment"
Posted on

by
---
Page last reviewed:
May 29, 2019
Page last updated:
May 29, 2019