CDC's Environmental Public Health Tracking Network in Action
Posted on

by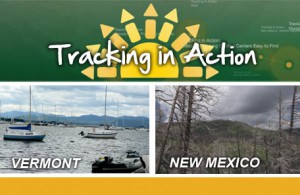 Take a look at how tracking programs across the country are making important, lasting contributions to the health of their communities.
CDC's Environmental Public Health Tracking Network (Tracking Network) connects people with vital public health information. It has data and information that can be used for a wide variety of environmental and public health efforts. You can see how diverse the Tracking Network's applications can be by checking out two videos in the "Tracking in Action" series.
Tracking Blue-green Algae in Vermont
The Vermont Environmental Public Health Tracking Program, in partnership with the CDC Climate and Health Program, developed a Web-based tool to provide up-to-date information on blue-green algae conditions in the state. Data are collected by a network of trained volunteers, approved by a site moderator, and added to the Vermont Health Department's blue-green algae Webs map.
Before the Web-based monitoring system was put into place, it took health department staff up to a week to publish the data. Algal blooms can appear or disappear very quickly, making week-old data of little use for someone planning a weekend trip to the lake. Now the public can see algae conditions at more than 60 different locations shortly after the volunteers submit their reports.
New Mexico's Wildfire Response
Wildfires produce a number of different air pollutants, including carbon monoxide and particular matter. The dangers of air pollution associated with wildfire smoke include an increased risk for breathing problems and heart disease.
The New Mexico Environmental Public Health Tracking Program created the 5-3-1 Visibility Method and interactive mapping tool to help protect residents from the dangers of wildfire smoke.  This tool helps residents determine how smoky it is outside based on how far they can see.
You can stay informed about new additions to the Tracking Network, like these videos, by joining our list-serv.
Tweet this: "CDC's Environmental Public Health Tracking Network in Action at http://bit.ly/2d9tD18 #CDCEHblog via @CDCEnvironment"
Posted on

by
---
Page last reviewed:
October 13, 2016
Page last updated:
October 13, 2016