NCEH releases new free online radiation emergency training for poison center staff and other public healthcare professionals.
Posted on

by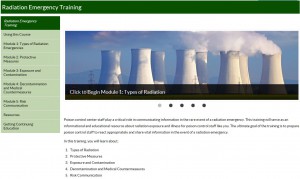 If you are a first responder, doctor, nurse, pharmacist, or poison center professional you play an important role in radiation emergency preparedness. Learn how to help people during a radiation emergency with our new, free training: www.cdc.gov/radiationtraining.
The training consists of five modules that feature user-friendly language, charts and other graphs, covering these five topics:
Types of Radiation
Protective Measures
Exposure and Contamination
Decontamination and Medical Countermeasures
Risk Communication
CME, CPE, CEN, or CUE opportunities available upon successful course completion.
"Poison centers receive calls from the public and medical providers asking for information or guidance about exposure to a wide array of harmful substances, including radiation" says Arthur Chang, MD, project leader for the new training online program.
Poison centers are on the job 24/7
The nation's 55 poison centers work to prevent and treat poison exposures. They offer free, confidential medical advice 24 hours a day, seven days a week through the Poison Help line at 1-800-222-1222. This service provides a primary resource for poisoning information.
However, staff members tell us that radiation-related calls are not frequent, and that poison center professionals may benefit from education on topics like ionizing radiation exposure, radiological contamination issues, and medical countermeasures for radiological-related illness, Dr. Chang says.
"This training is a response to poison center requests for more education about radiation emergencies to better equip these specialists to serve the public during radiological emergencies," Dr. Chang says. "It may also be useful for other healthcare and public health professionals."
This new online tool is a resource CDC is offering on the topic of radiation-related environmental disaster preparedness and recovery. CDC's Health Studies Branch focuses on many additional aspects of disaster toxicology and epidemiology. See our website (www.cdc.gov/nceh/hsb) for more examples.
The Branch welcomes the opportunity to work closely with state and local public health departments, poison centers, as well as other stakeholders and partners.
For more information on HSB, see the Health Studies Branch website at www.cdc.gov/nceh/hsb. For more information on the training, contact HSBradiationtraining@cdc.gov. To access the training, visit: www.cdc.gov/radiationtraining.
Tweet this: "CDC releases new free online radiation emergency training. Go to http://bit.ly/2dno658 #CDCEHblog via @CDCEnvironment"
Posted on

by
---
Page last reviewed:
November 3, 2016
Page last updated:
November 3, 2016