ATSDR at Work: Camp Lejeune, NC, Part 3
Posted on

by
Third in a Series of Three Posts
Working with the Community: Camp Lejeune Community Assistance Panel
What are Community Assistance Panels?
If you don't know much about the Agency for Toxic Substances and Disease Registry (ATSDR), you may not realize that it is one of the federal agencies that recognize the importance of community and public involvement in its activities.
ATSDR works with state and local health departments in communities that have concerns about exposure to harmful substances. One way ATSDR gets feedback from these communities is through Community Assistance Panels (CAPs).
Members of the affected community—and the technical advisors they choose—work with ATSDR scientists to inform people about ATSDR's activities and help them understand complex scientific issues. CAPs help communities gain trust in ATSDR and keep ATSDR's decision-making process as transparent as possible. CAP members also provide local knowledge about people's exposure to hazardous substances and their health problems and concerns.
ATSDR chooses founding CAP members in an open process and advertises meetings, which are open to the public. ATSDR may also invite representatives from other government agencies to the CAP meetings.
How did the Camp Lejeune CAP begin?
ATSDR began working at Camp Lejeune in 1989. In the following years, ATSDR conducted public health assessments, water modeling activities, and health studies to find out the health effects of exposure to contaminated drinking water on former residents and employees of Camp Lejeune.
In 2005, a scientific panel recommended that ATSDR find a way to work and communicate with the community. ATSDR had already been working with Camp Lejeune veteran groups, so the site team asked them to nominate members for a CAP. They also chose two technical advisors from a group of experts ATSDR recommended.
Recently, ATSDR transferred the responsibility for choosing new members to the existing CAP members.
How has the Camp Lejeune CAP contributed to the investigation and the Camp Lejeune community?
The Camp Lejeune CAP has been one of the most successful community participation groups ever established by ATSDR and CDC and has made valuable contributions to ATSDR's work.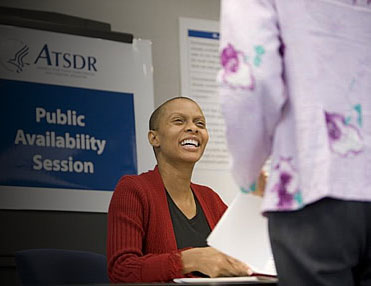 CAP members have provided local knowledge about

The operation of water utilities and contamination history
Fuel losses at the base that were much higher than original estimates

CAP members have also worked closely with Congress by

Gaining their involvement, oversight, and support (including funding of ATSDR activities at the base)
Advocating for federal laws on behalf of Marines who were stationed at the base

Finally, the CAP has supported the Camp Lejeune community by

Notifying them about water issues
Advising veterans about applying for VA benefits
Representing veterans in discussions with VA administrators
In 2012, the United States Congress passed the "Honoring America's Veterans and Caring for Camp Lejeune Families Act" (also known as the Janey Ensminger Act). The Act provides healthcare through VA for certain medical conditions for veterans and family members who meet specific criteria.
CAP members have honored the lives of their friends and loved ones by raising awareness about water contamination and supporting ATSDR's work. Their contributions have had an impact even beyond Camp Lejeune by bringing attention to the need for healthy environments on U.S. military bases all over the world.
Posted on

by
---
Page last reviewed:
August 18, 2015
Page last updated:
August 18, 2015