When One Size Doesn't Fit All: PPE Fit and Equity in Health Care
Posted on

by
Mia Frederick (contractor, TANAQ) is a writer for CDC's Project Firstline in the Division of Healthcare Quality Promotion.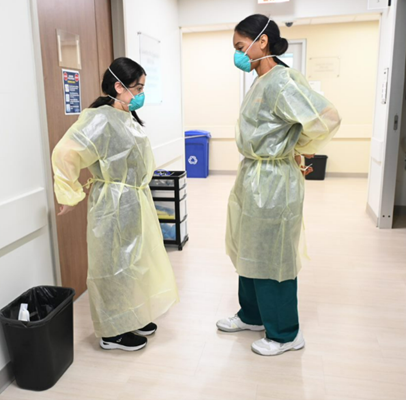 Infection control, including the appropriate use of personal protective equipment (PPE) is an essential part of healthcare worker and patient safety. But what happens when PPE doesn't fit correctly or there is a lack of training on proper PPE use? A recent episode of "Stories of Care," the podcast by the American Medical Association (AMA) and CDC's Project Firstline, discusses these issues.
"Personal protective equipment is key for healthcare workers," says David Kuhar, MD, an infectious disease physician in CDC's Division of Healthcare Quality Promotion, who was interviewed on the podcast. "When your equipment doesn't fit properly, it can make keeping yourself safe difficult."
Not having PPE that fits well also contributes to burnout among healthcare workers because they feel they are putting their own safety at risk and that their needs are not being taken into consideration. All staff within a healthcare facility should feel safe and protected while at work.
"Properly fitted PPE is important to morale and it is the last line of defense," notes Dr. Kuhar. "Further, frequent, ongoing supply changes during the height of the COVID-19 pandemic made it really difficult, if not impossible, to fit PPE well."
Non-clinical staff who would not traditionally receive training or be fitted for PPE were also required to use the equipment with little to no background knowledge on how to properly use PPE. CDC's Project Firstline aims to help with that issue by providing innovative and accessible infection control education designed for all healthcare workers, regardless of previous training or educational background.
Besides being a health issue, ill-fitting PPE is also an equity issue, notes Nicole Yedlinsky, MD, a family medicine and sports medicine physician in Kansas City, who was also featured on the podcast. "I would certainly love to see a greater focus on having a wider variety of PPE in different sizes and shapes to fit all of our healthcare workers so they can feel both valued and protected."
Dr. Kuhar agrees and notes the "one size fits all" approach is not always the best option in health care.
Properly fitting PPE is both a matter of safety for providers and patients, and a critical aspect of creating diverse, inclusive healthcare environments where everyone is supported and treated equitably.
To hear more of this critical conversation, listen to the full podcast episode: PPE Fit and Equity
For more information on Project Firstline and the training materials that help empower healthcare workers, visit CDC Project Firstline today!
Mia Frederick (contractor, TANAQ) is a writer for CDC's Project Firstline in the Division of Healthcare Quality Promotion.
The Stories of Care is a publication of the AMA and CDC's Project Firstline. Project Firstline is a national infection control training collaborative, working to provide all health care professionals with the foundational infection control knowledge they need and deserve to protect themselves, their patients, their coworkers, and their communities. For more information, trainings, and other infection control resources, visit CDC Project Firstline and AMAFirstline.
Posted on

by
Page last reviewed:
November 16, 2022
Page last updated:
November 16, 2022