New Africa CDC Legal Framework Helps Promote Infection Prevention and Control
Posted on

by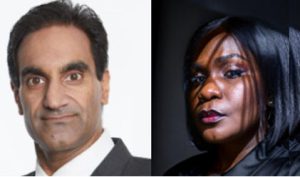 The authors of this post co-led the development of the Africa CDC Legal Framework for Infection Prevention and Control. 
When we first began developing a strategy for Africa CDC to combat antimicrobial-resistant infections in Africa, we kept hearing the same message from people working in hospitals or in governments: no one gives us the authority or funding to stop infections in hospitals.
We found that many organizations were doing important work to improve infection prevention and control (IPC) to protect patients from harm. However, none were advocating to make it legally required for hospitals to hire staff, track infections, or ensure access to clean water, adequate sanitation, and proper hygiene education. We discovered there was a critical need to develop legal guidance regarding several components of healthcare IPC:
Minimum standards for safe healthcare facilities
Accountability mechanisms
Resources required for implementation
Leadership structure
Monitoring and evaluation
With the support of U.S. CDC's International Infection Control Program, we started working in 2019 with African Union Member States, Infection Control Africa Network, and the World Health Organization, along with experts in law and IPC from U.S. CDC's Division of Healthcare Quality Promotion and Global Health Center, to address this problem and improve the quality of care delivered.
We reviewed the public health laws in all 55 countries of the African Union to identify gaps in IPC. We consulted with people working at all levels of government and clinical care from all five regions of the continent during meetings in December 2019, May 2020, and January 2021. We then discussed the political, legal, and economic implications with Ministers of Health and Justice at formal African Union sessions.
The result was the Africa CDC Legal Framework for Infection Prevention and Control. The legal framework was formally endorsed in July 2022 by the African Union during the 41st Ordinary Session of the Executive Council held in Lusaka, Zambia. It describes six domains, with highly specific language, for countries to update their laws to improve IPC and improve patient safety, including:
Establishing national IPC programs
Developing evidence-based guidance
Training and educating personnel
Conducting surveillance for healthcare-associated infections (HAIs)
Developing systems to monitor compliance with laws
Mandating specific staffing and infrastructure changes in hospitals.
"[Healthcare-associated] infections cost money and lives," said Dr. Tochi Okwor, the national IPC program coordinator for Nigeria. "Fortunately, the risk of these infections occurring can be minimized by infection prevention and control. The IPC Legal Framework developed by Africa CDC provides countries with one more tool to demonstrate strong political commitment which is critical for IPC."
While it was extremely challenging to develop this framework during the COVID-19 pandemic, the hard work is just beginning. To implement the IPC legal framework, countries must review existing laws and identify changes needed in legislation to improve healthcare safety. With support from U.S. CDC, Africa CDC is working with country partners to conduct workshops across African Union Member States to facilitate these processes.
Partnerships like this help shape global IPC priorities based on the latest data to help prevent HAIs and combat antimicrobial resistance. Learn more about what CDC and partners are doing around the world to help countries build the surveillance and IPC capacity needed to prevent HAIs.
Jay K. Varma, MD is a Professor of Population Health Sciences and Director of the Cornell Center for Pandemic Prevention and Response at Weill Cornell Medicine. Dr. Varma is an expert on the prevention and control of diseases, having led epidemic responses, developed global and national policies, and led large-scale programs that have saved hundreds of thousands of lives in China, Southeast Asia, Africa, and the United States. Before joining Weill Cornell in 2021, he served for 20 years with the U.S. Centers for Disease Control and Prevention.
Yewande Alimi, DVM, MPH is the One Health Unit Lead at Africa CDC, and co-lead for the Africa Union Task Force on antimicrobial resistance (AR).  As the One Health Unit lead at Africa CDC, Dr. Alimi has been at the forefront of developing and implementing comprehensive strategies that bridge the gap between human, animal, and environmental health. Through her leadership, Africa CDC has established four key programs on AR, zoonotic diseases, food safety and climate change to address One Health issues in Africa. Drawing on a range of experience that includes veterinary medicine, public health policy and research, Dr Alimi leads the implementation of several strategies including the Africa Union Framework for AR Control in Africa Union  and the Africa CDC IPC Legal Framework in member states.
More on this topic:
Africa CDC IPC Legal Framework, Background, and Annotations
Posted on

by
Page last reviewed:
September 20, 2023
Page last updated:
September 20, 2023