Infection control reminders during this challenging respiratory virus season
Posted on

by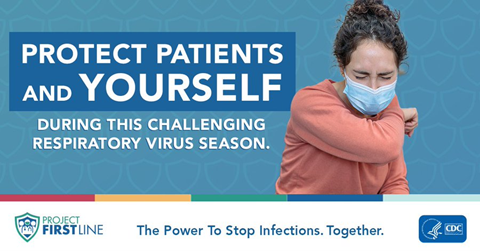 Abigail L. Carlson, MD, MPH, Physician, Project Firstline, Division of Healthcare Quality Promotion, CDC
With assistance from Mia Frederick (contractor, TANAQ) a writer for CDC's Project Firstline in the Division of Healthcare Quality Promotion.
Over the past few months, there has been an increase in respiratory virus activity nationwide, causing additional strain on an already overburdened healthcare system. As a result of the COVID-19 pandemic, we have seen atypical circulation of other respiratory viruses, including influenza (flu), respiratory syncytial virus (RSV), and rhinovirus/enteroviruses (often causes of the common cold).
Flu and RSV activity peaked earlier than normal toward the end of 2022, and although infections are on the decline, they are still highly prevalent. CDC data show that nearly 19,000 people were admitted to the hospital for flu in the first two weeks of the new year alone, and weekly hospitalization rates for RSV remain higher than most recent seasons. Additionally, CDC is keeping a close eye on COVID-19 activity, as the new Omicron subvariant XBB.1.5 continues to gain ground in the US, causing about half of new infections.
When these viruses are spreading in the community, the risk for spread in healthcare settings increases as well. As we continue with this challenging respiratory virus season, Project Firstline wants to remind you there are things you can do as a healthcare worker to prevent and slow the spread of infections in health care. And the good news is, you already have the knowledge and tools you need.
Using the following infection control actions together will help protect patients, yourself, and your colleagues from getting sick.
Regular and correct use of masks and respirators help decrease the spread of respiratory viruses. NIOSH-approved respirators (including N95s) offer the highest level of protection.
Clean your hands. Hands are main way germs spread in healthcare settings. Cleaning your hands regularly with an alcohol-based hand sanitizer or soap and water is a simple yet effective tool to stop the spread of germs.
Clean and disinfect. Regular environmental cleaning is a necessity. Lobby areas, cafeterias, and waiting rooms are all high-traffic spaces. It's also important to disinfect reusable devices and not reuse disposable items.
Practice physical distancing. To limit the spread of germs, encourage physical distancing – particularly in shared spaces. Also take advantage of telemedicine and use telehealth appointments for patient care, when appropriate. These strategies significantly decrease the risk of spreading illness.
Get vaccinated. Encourage everyone in your practice to get vaccinated against flu and COVID-19 to reduce spread & absenteeism. Recent studies show that flu vaccination reduces the risk of illness between 40% and 60% among the overall population during seasons.
Ensure HVAC maintenance is up to date. Consult with facilities management to ensure the heating, ventilation, and air conditioning, or HVAC, system is working efficiently for proper ventilation in your facility. Consider using high-efficiency particulate air, or HEPA, filters in small spaces for an added layer of protection.
For more information on infection control for respiratory virus infections, such as flu, RSV, and COVID-19, check out the following resources from Project Firstline and our partners:
Project Firstline is a national infection control training collaborative, working to provide all healthcare professionals with the foundational infection control knowledge they need and deserve to protect themselves, their patients, their coworkers, and their communities. For more information, trainings, and other infection control resources, visit CDC Project Firstline.
Posted on

by
---
Page last reviewed:
February 27, 2023
Page last updated:
February 27, 2023