"I'm Concerned About Sepsis!"
Posted on

by
This blog is a part of a series that CDC launched to highlight the importance of patient safety by providing educational information and simple ways to help people stay informed on public safety topics. Read the blog below, authored by Dr. Carl Flatley, to learn more about sepsis and the importance of voicing your concerns as a patient.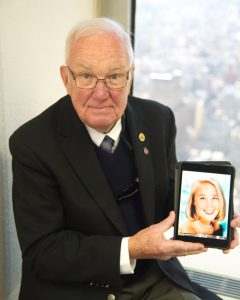 I graduated from dental school, served in the United States Navy Dental Corps for two and a half years, and was in private practice for two years before going to graduate school for endodontics. Endodontists save teeth by treating infections both surgically and non-surgically. I did 33,000 root canal treatments in my 20-year career, and never did I ever hear the word "sepsis." I now know that sepsis is the body's overwhelming response to an infection, which can lead to tissue damage, organ failure, amputations, and death.
It was not until my 23-year-old, healthy daughter, Erin, went in for an outpatient surgery that I heard the word "sepsis." She had the surgery on a Thursday and passed away the following Tuesday. Erin died of sepsis after she contracted a healthcare-associated infection (HAI). Healthcare professionals (HCPs) did not recognize Erin's HAI early enough, nor did they provide her with appropriate antibiotics before she was discharged over the weekend. I, like many practicing clinicians, was not familiar with sepsis and didn't have the information I needed to recognize the signs and symptoms of sepsis so that we could seek immediate care for Erin. I was at her bedside when she died. She looked me in the eyes and seemed to say, "Can't you do something, Dad?" That has been my motivation for the past 20 years.

At least 350,000 adults who develop sepsis die during their hospitalization or are discharged to hospice.
At least 1.7 million adults in America develop sepsis in a typical year. Some people who survive sepsis may experience persistent physical and mental health problems, including post-traumatic stress disorder, after they are discharged from the hospital.
Sepsis, or the infection causing sepsis, starts before a patient goes to the hospital in nearly 87% of cases.
According to Sepsis Alliance's 2022 Sepsis Awareness Survey [PDF – 23 pages], only 19% of persons surveyed knew the four common symptoms of sepsis.In 2007, I founded Sepsis Alliance. I like to think that Sepsis Alliance, along with the people who run it and support it, have changed the world of sepsis. Sepsis Alliance's national initiative Sepsis: It's About TIME™ raises awareness of sepsis and the need for urgency in seeking care when there are signs and symptoms.
Signs and symptoms of sepsis include:
High heart rate or weak pulse
Fever, shivering, or feeling very cold
Confusion or disorientation
Shortness of breath
Extreme pain or discomfort
Clammy or sweaty skin
If you or your loved one has an infection that's not getting better or is getting worse, let your healthcare provider know immediately that you are concerned about sepsis and ask, "Could this infection be leading to sepsis?" as well as if you should go to the emergency room (ER). I am so adamant about speaking up because treating sepsis is a team sport.
My daughter may have saved my life four years after she died. It was a Thursday night, and I suspected I had a urinary tract infection (UTI). I thought I was getting early signs and symptoms of sepsis, so I went to the ER where, after an exam and other tests, the doctor confirmed that I did have a UTI. He said he would prescribe me some antibiotics, and I could go home. I told him I was "concerned about sepsis."
It was a good thing I spoke up. I did in fact have sepsis. I had two surgeries that weekend to help remove the infection, spent 11 days in the hospital, and was on antibiotics for 40 days!
Anyone can get an infection, and almost any infection can lead to sepsis. Knowing the signs and symptoms of sepsis and acting fast are important steps you can take if you are concerned about sepsis. To learn more about sepsis and how to prevent infections, visit www.cdc.gov/sepsis and www.sepsis.org.
Carl Flatley, DDS, MSD, is the founder of Sepsis Alliance.
Posted on

by
---
Page last reviewed:
February 13, 2023
Page last updated:
February 13, 2023