Asking Your Healthcare Provider the Hard Questions
Posted on

by
This blog is a part of a series that CDC launched to highlight the importance of patient safety by providing educational information and simple ways to help people stay informed on public safety topics. Read the blog below, authored by Evelyn McKnight, to learn more about preventing unsafe injection practices.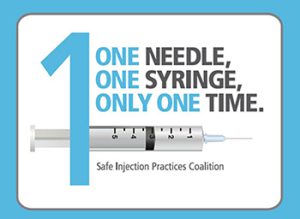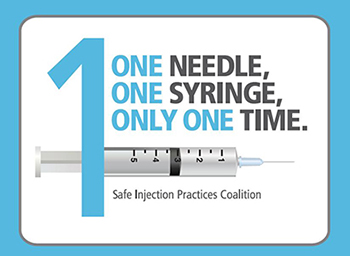 When I was diagnosed with breast cancer in 2000, I never anticipated that going to the doctor for treatment of one life-threatening disease would result in getting another. Healthcare providers reused syringes during administration of my chemotherapy, which led to 99 people, including me, contracting hepatitis C. I wish I would have asked my healthcare provider questions, even if the conversation was difficult. It could have protected so many people.
It is important to be an active partner in your health care. Your life, and your family's lives, could depend on it. It can be uncomfortable to ask hard questions because some healthcare providers may feel you are challenging their skill. However, these important conversations allow you to better understand what comes next and what to do if your plan of care needs to change. Healthcare providers want what's best for you. They will work with you to answer your questions, explain what to expect, and together, you can move forward with a plan that is the best for you. Asking questions and having candid discussions with your healthcare provider can improve patient safety and even prevent errors that can lead to an infection, as in my case.
Topics you can discuss with your healthcare provider include:
Safe Injection Practices: Talk about safe injection practices [PDF – 2 pages] and ask your healthcare provider, "Will there be a new needle and a new syringe for this procedure or injection?" Insist that your healthcare providers never reuse a needle or syringe on more than one patient.
Infection Prevention: Ask your healthcare provider what they and the facility will do to protect you and your family from getting an infection, including those caused by antimicrobial-resistant germs.

If you have a catheter, ask daily when it can be removed.
If you are having surgery, ask your provider how they prevent surgical infections. Also, ask how you can prepare for surgery to reduce your infection risk.

Hand Hygiene: Remind healthcare personnel and your visitors to clean their hands. Keep your hands clean with soap and water or an alcohol-based hand sanitizer. Make sure everyone cleans their hands before touching you.
Recent Hospitalizations: Tell your doctors if you have been hospitalized in another facility, have recently received health care outside of the United States, or have recently had an infection. This information can help your provider determine if you're at risk for certain infections and potentially stop them before they start.
As an active partner in my health care, I have had to ask questions that produced answers that were difficult for me to hear.
What if I don't have this surgery or treatment?
What is my life expectancy?
What will the quality of my life be?
To make the best decisions about my health care, I needed to ask these questions. The answers gave me information that helped me plan for my future and created an environment of teamwork between my healthcare providers and me.
My experience contracting hepatitis C through unsafe healthcare practices led me to be an advocate for patient safety. My husband and I created the Evelyn and Thomas McKnight Family Fund for Patient Safety through the CDC Foundation. The fund awards the McKnight Prize for Healthcare Outbreak Heroes. Its purpose is to encourage and reward those who serve and protect patients from harm in the context of healthcare outbreak response in the United States. Nominations for the prize are accepted until February 15, 2023, and can be submitted through this link: https://www.tfaforms.com/4767549
To learn more about how to be a safe patient, visit What You Can Do to Be a Safe Patient.
To learn more about preventing unsafe injection practices, visit One and Only Campaign.
Dr. Evelyn McKnight is a nationally recognized patient safety advocate, and survivor of one of the largest viral outbreaks in American healthcare history.
Posted on

by
---
Page last reviewed:
January 17, 2023
Page last updated:
January 17, 2023