Antibiotic Stewardship when an Allergy Label is Present Improves Our Antibiotic Care and Treatment Outcomes
Posted on

by

Did You Know?

Although 10% of the population in the U.S. reports a penicillin allergy, less than 1% of the population is truly penicillin allergic. Broad-spectrum antibiotics are often used as an alternative to penicillins. The use of broad-spectrum antibiotics in patients labeled "penicillin-allergic" is associated with higher healthcare costs, increased risk for antimicrobial resistance, and suboptimal antibiotic therapy.1,2,3


Is it a "true" penicillin allergy?
Most of the penicillin allergies that adults report relate to mild symptoms that occurred when they were children.5,6 We typically do not know if someone has a "true" penicillin allergy unless they have been evaluated and tested. We now use new vocabulary to help us better classify allergies; allergists call a drug reaction listed in the medical chart as an "Allergy Label" unless it has been tested.4
I am fortunate to be part of a group of researchers that developed criteria to classify patient allergy reports into "low-risk" or "more concerning."4,7,8 Based on our research, we found patient allergy reports that "sounded low-risk" turned out to be low-risk. Patients with low-risk symptoms using our criteria almost always had negative results from skin testing (meaning, they were not allergic to the drug), and these same patients almost always tolerated the test doses of penicillin without developing any symptoms.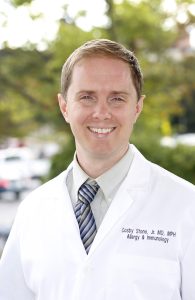 My team started offering oral challenge (test) doses without skin testing to patients with a low-risk penicillin allergy label in the hospital who were recovering from intensive care.7,9,10 Results showed 60-70% of the patients reported low-risk symptoms. Over two years, 1 in 205 low-risk patients had a rash after a test dose of amoxicillin (a kind of penicillin). Based on our study, 204 patients were able to say goodbye to their penicillin allergy.
We also conducted a randomized controlled trial, called the PALACE trial, at sites around the world led by our colleagues Ana Copaescu (Canada) and Jason Trubiano (Australia).11 In this study, we compared whether low-risk penicillin allergy labels (scored on the PEN-FAST system) needed to have skin testing before taking an amoxicillin test dose, versus just taking a test dose without skin testing. The results were similar; an estimated 1 out of 200 patients with low-risk allergy label had a rash, regardless of whether skin testing was performed. Therefore, in order to disprove a low-risk penicillin allergy label, it does not appear we need to do skin testing at all. We need to be good listeners and offer patients an amoxicillin test dose under observation in a safe medical setting.
Upon a review of recent data, this approach to low-risk penicillin allergies was recently recommended as a preferred practice by national allergy organizations in the U.S.12
Not every patient will be comfortable with this method. Penicillin allergies have been a source of anxiety for lots of people for several years. I know patients that were told "You'll die if you ever take penicillin again." For these individuals, providers can consider skin testing to reassure patients that we are being appropriately cautious before giving them a test dose. However, when we talk to our patients about their low-risk penicillin allergies, 85% of them typically agree to just take a test dose under medical observation.9
 What should you do next?
If you are a patient with a penicillin allergy label, ask your healthcare professional about whether your prior experience is likely to represent a true allergy. If further evaluation is needed, consider a referral to an allergist.
If you are a healthcare professional, I want to leave you with a few questions to consider:
Have you ever had to use an alternative antibiotic because of a penicillin allergy label?

If so, did you ever encounter a scenario where you thought "I wonder if the alternative antibiotic didn't work well enough?"

Have you ever thought about testing a penicillin allergy label, rather than working around it?
What if we all began to proactively work on getting rid of unnecessary low-risk penicillin allergy labels?
If you knew that there were validated risk-assessments that could help you evaluate patients with low-risk penicillin allergies in your own practice and administer a test dose under medical observation, would you do it?
At our institution, we are already seeing the benefits of implementing validated risk assessments and test doses by pharmacists, infectious diseases doctors, pediatricians, obstetricians, and adult primary care doctors, in addition to allergists. We are helping set patients free of penicillin allergy labels so they can take the best treatment for their infection. I think the time is right to become better stewards of our antibiotic allergy labels.
References
"Is It Really a Penicillin Allergy?" Centers for Disease Control and Prevention, https://www.cdc.gov/antibiotic-use/community/pdfs/penicillin-factsheet.pdf. Accessed October 27 2023.
Shenoy ES, Macy E, Rowe T, Blumenthal KG. Evaluation and Management of Penicillin Allergy: A Review. JAMA. 2019;321(2):188–199.
Castells M, Khan DA, Phillips EJ. Penicillin Allergy. N Engl J Med. 2019;381(24):2338-2351.
Stone C, Jr., Trubiano J, Coleman D, Rukasin C, Phillips E. The challenge of de-labeling penicillin allergy. Allergy. 2019.
Trubiano JA, Adkinson NF, Phillips EJ. Penicillin Allergy Is Not Necessarily Forever. JAMA. 2017;318(1):82-83.
Norton A, Konvinse K, Phillips E, Broyles A. Antibiotic Allergy in Pediatrics. Pediatrics. 2018;141(5).
Stone C, Jr., Stollings J, Lindsell C, et al. Risk-stratified Management to Remove Low-Risk Penicillin Allergy Labels in the ICU. Am J Respir Crit Care Med. 2020;201(12):1572-1575.
Trubiano J, Vogrin S, Chua K, et al. Development and Validation of a Penicillin Allergy Clinical Decision Rule. JAMA Intern Med. 2020.
Koo G, Stollings J, Lindsell C, et al. Low-risk penicillin allergy delabeling through a direct oral challenge in immunocompromised and/or multiple drug allergy labeled patients in a critical care setting. J Allergy Clin Immunol Pract. 2022;10(6):1660-1663 e1662.
Stollings J, Koo G, Lindsell C, et al. Risk-stratified management to remove low-risk penicillin allergy labels in the patients with COVID-19 in the intensive care unit. J Allergy Clin Immunol Pract. 2023;11(2):632-635.
Copaescu AM, Vogrin S, James F, et al. Efficacy of a Clinical Decision Rule to Enable Direct Oral Challenge in Patients With Low-Risk Penicillin Allergy: The PALACE Randomized Clinical Trial. JAMA Intern Med. 2023;183(9):944-952.
Khan D, Banerji A, Blumenthal K, et al. Drug allergy: A 2022 practice parameter update. J Allergy Clin Immunol. 2022;150(6):1333-1393.
Guest Author:
Cosby Stone, Jr. MD, MPH is an Assistant Professor of Medicine in the Division of Allergy, Pulmonology, and Critical Care Medicine within the Department of Medicine at Vanderbilt University Medical Center.
Posted on

by
---
Page last reviewed:
December 4, 2023
Page last updated:
December 4, 2023