Good Cents: Prep Your Finances for Emergencies
Posted on

by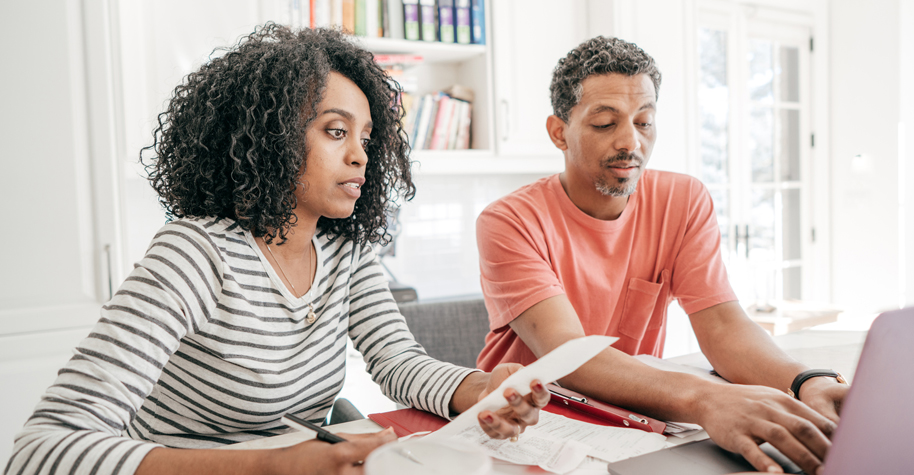 This post was written in collaboration with the Consumer Financial Protection Bureau in observance of National Financial Capability Month.
Emergencies—especially when multiple occur at the same time—can test your ability to financially respond and recover. For example, getting back to "normal" after a flood during a pandemic takes financial resources that many people may not have.(1)
Emergencies big and small often feel like they couldn't happen at a worse time. There are things you can do to improve your financial preparedness that might make the unexpected a little bit less of a disaster.
Building an Emergency Fund
Developing a habit of putting money aside—even if it is a small amount—is the easiest way to develop an emergency fund and build financial resiliency.
Without savings, the financial shock of an emergency—however minor—could affect you, your family, and your community. Research suggests that people who struggle to recover from a financial shock have less savings to help protect against a future emergency. They may rely on credit cards or loans, which can lead to debt. They may also pull from other savings, like retirement funds, to cover these costs.(2)
The Consumer Financial Protection Bureau (CFPB) offers advice and resources on how to financially prepare for an emergency. Here are five strategies for building and maintaining an emergency fund:
Create a savings habit. Set some goals for yourself, create a system for making consistent contributions, monitor your progress, and don't forget to celebrate your successes!
Manage your cash flow. Your cash flow is how your money comes in (your income) and what you spend. If you notice gaps where more money is going out, you can work with the people or organizations you owe money to (i.e., your creditors) to get extra time and avoid falling behind with your payments.
Save. Take opportunities to put away money whenever possible: a tax refund, or a holiday or birthday gift. Putting away some money, even small amounts, helps you create an emergency fund.
Make your saving automatic. Setting up automatic transfers from your checking account to a savings account is a great way to start saving. And you can always adjust the transfers if your situation changes.
Save through work. You might be able to split your paycheck between accounts if you have direct deposit set up. Work with your employer to see if there are options to put money aside without having to remember to do it.(3)
A low or no-cost way to prepare for the financial impact of a disaster is to collect important information related to your property and accounts. Download a copy of the "Your Disaster Checklist" (available in multiple languages) to help you keep track of account numbers, valuables, medical information, and more.
An additional set of challenges often affect individuals and populations with limited English proficiency or who are unfamiliar with the nuances of the U.S. financial system and culture. The American Savings Education Council, a coalition of private and public partners offers resources for communities about all aspects of financial security.
MyMoney.gov has information on how to rebuild your finances after a disaster. Call 1-800-FED-INFO to speak to a specialist in English or Spanish. They can answer your questions about federal agencies, programs, benefits, or services related to financial literacy and education.
Other resources include:
Personal and Community Financial Resiliency
Natural disasters are happening with greater will greater frequency and severity. In 2021, there were 20 separate billion-dollar weather and climate disasters.(5)
Experts say the "whole community" must respond by increasing its preparedness, response, and recovery capacities.(6) Everyone has a role in making our communities and our nation more financially resilient.
Working together to address the causes of people's and communities' barriers to financial preparedness is essential to developing a stronger, more resilient, and healthier nation. Work with organizations to promote financial education in your community. Homeowner associations, community organizations, adult learning centers, social clubs, places of worship, and other members of the whole community have the potential to increase our resiliency.
Tailoring Financial Preparedness Strategies
The financial readiness needs of a community are closely related to the conditions where members live, play, work, and study and while some communities focus on mastering FEMA's Emergency Financial First Aid Kit, others may need to start first on increasing access to education and basic financial literacy.
Ultimately, it's about individuals and communities owning their financial preparedness and building resilience. When they receive the support of their local authorities, our nation becomes more resilient and better prepared to expedite its financial recovery after disasters.
Resources:
References
Thanks in advance for your questions and comments on this Public Health Matters post. Please note that CDC does not give personal medical advice. If you are concerned you have a disease or condition, talk to your doctor.
Have a question for CDC? CDC-INFO (http://www.cdc.gov/cdc-info/index.html) offers live agents by phone and email to help you find the latest, reliable, and science-based health information on more than 750 health topics.
Posted on

by
---
Page last reviewed:
May 3, 2022
Page last updated:
May 3, 2022