Seattle Seamstress Sews Homemade Masks to Support Community
Posted on

by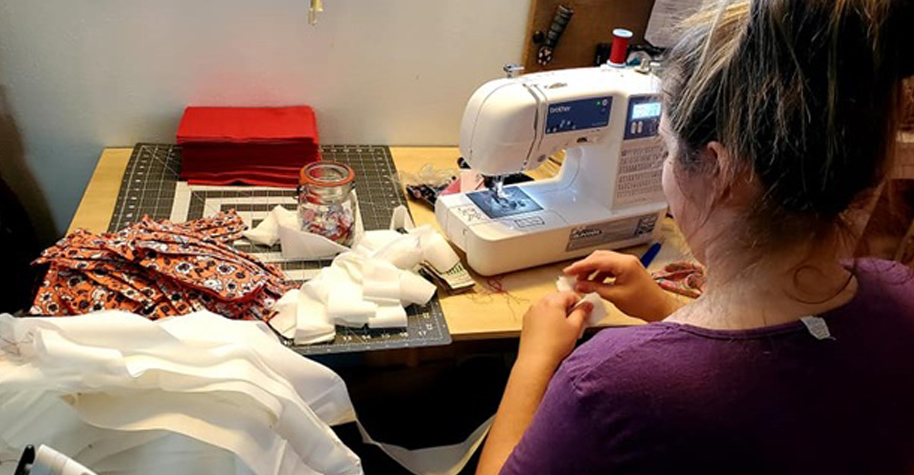 This student-authored post is published by CPR in partnership with Medill News Service and the Northwestern University Medill School of Journalism, Media, Integrated Marketing Communications. The views and opinions expressed in this article are the author's own and do not necessarily reflect the views, policies, or positions of CPR or CDC.
When Monique "Moe" Eveland posted to her friend Jade Beard's Facebook wall in April to ask the seamstress for a homemade mask, the post received an outpouring of comments from people expressing their own need for masks. Things snowballed from there.
Beard, 31, reached out to offer masks through social media and began spending all her free time creating them with her fiancé, Jason Anderson. Working 8 hours per weekday and 15 hours on weekends, she sewed over 15,000 feet of thread into 530 masks in 18 days.
"I felt a sense of hopelessness in the beginning," Beard said. "The fear for my grandmother, particularly, and my dad who works doing maintenance at a hospital was really scary for me. And then I felt like I had something tangible I could do."
Beard, who took up sewing as a hobby in late 2017, started making masks for friends and family because she wanted them to feel safe during the pandemic. Beard said she made her masks from quilters cotton with flannel lining and sewed them according to CDC specifications.
"It was the worst best thing I think I've ever done," Beard said. "I knew that it was for a good cause. I knew that I wanted to do it, but I was so exhausted by the end."
Anderson got involved when the Facebook post started to spread. He said he would contribute about 4 hours each weekday to mask-making while also working full time.
Friends, including Eveland, supported the couple in their efforts, collecting donations to buy Beard a new $1,000 sewing machine when hers broke. Eveland said Beard's starter model was simply not meant for such high volumes of sewing.
Mary Ann Miller, a friend of the couple, helped deliver masks. Miller and her partner spent a day making deliveries across Seattle while avoiding physical contact and being chased by bees. Miller said that like Beard, she was most concerned about high-risk friends and family at the onset of the coronavirus pandemic.
"I have some friends and family members that are immunocompromised," Miller said. "Living in this time of pandemic has made me really worried about them and makes me that more diligent to make sure that I have my mask on when I am out there in the world because I want to protect other people's loved ones and their friends and family like I hope they want to protect mine."
Anderson also made deliveries in Seattle. He said the people receiving masks were unable to find any and very appreciative.
Many people offered money to help keep the masks free and accessible. One woman told Anderson she did not have much of anything yet offered him pocket change. He declined the donation.
Anderson said when they launched their website it was a gamechanger. It increased efficiency and enabled the nonprofit to prioritize healthcare workers and people at increased risk for severe illness from COVID-19.
Angela Prosper, the owner of a design firm, created the site for free. Prosper said she was happy to help because she understands how important it is for everyone in a community to have access to a mask.
Anderson said countless more people donated supplies and money to help keep the masks free. Other support came in the form of fabric, food, and flowers from friends.
"I have some of the best friends," Beard said. "I definitely have a strong community surrounding me."
By the time the nonprofit ran out of fabric, affordable face masks were widely available. Anderson said it felt like they could take a break.
"Towards the end," Beard said, "we were sitting at dinner and I was almost in tears because I was at my mental breaking point. It sounds silly in retrospect, but in that moment, it was so all-consuming that I was like, 'Oh my God, I have to do it; otherwise, people are going to be waiting on it and people's safety is on the line.' And I was so in my head about trying to get these out to other people that I just hit this limit."
Despite the stress of making so many masks, Beard said she would not hesitate to revive her mask-making efforts if there was a need.
"It was as much for the community as it was a way for me, and selfishly maybe, to feel like I was doing something helpful," Beard said. "It was beneficial on both fronts."
CDC recommends all people 2 years of age and older wear a mask in public settings and when they will be around people who don't live in their household. Masks should NOT be worn by children under age 2 or anyone who has trouble breathing, is unconscious, incapacitated, or otherwise unable to remove the mask without assistance. Make your own masks at home using washable, breathable fabric, and these instructions from CDC.
Thanks in advance for your questions and comments on this Public Health Matters post. Please note that the CDC does not give personal medical advice. If you are concerned you have a disease or condition, talk to your doctor.
Have a question for CDC? CDC-INFO (http://www.cdc.gov/cdc-info/index.html) offers live agents by phone and email to help you find the latest, reliable, and science-based health information on more than 750 health topics.
Posted on

by
---
Page last reviewed:
December 1, 2020
Page last updated:
December 1, 2020