Chicago Community Groups Unite to Help Neighbors During Pandemic
Posted on

by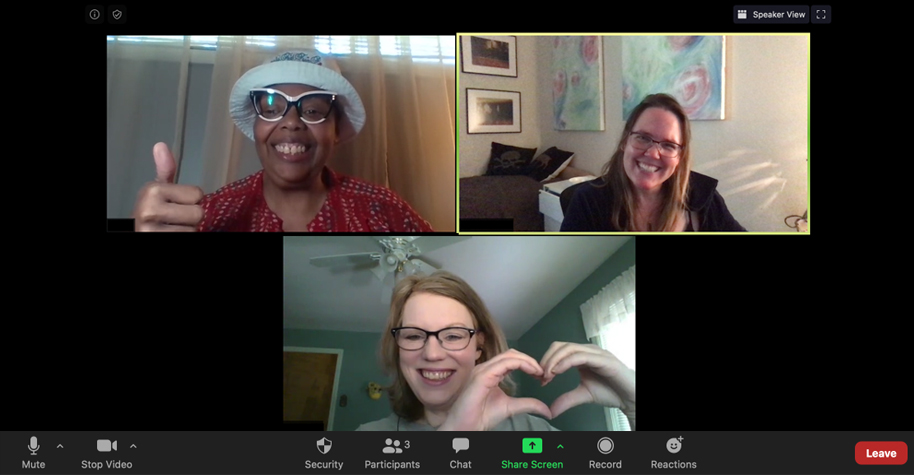 This student-authored post is published by CPR in partnership with Medill News Service and the Northwestern University Medill School of Journalism, Media, Integrated Marketing Communications. The views and opinions expressed in this article are the author's own and do not necessarily reflect the views, policies, or positions of CPR or CDC.
My introduction to phone banking didn't go as expected. I thought I would be giving advice to people, not getting it.
During one phone call, the older adult woman on the other end asked how I was doing. I admitted to being exhausted by graduate school. She advised me to do a little more praying and a lot more sleeping. Unscripted moments like those are a fringe benefit of working with Community Cares Illinois (IL).
Community Cares IL is a coalition of groups from across the Chicago area that came together to check in on their community members at greatest risk during the COVID-19 pandemic. They host weekly phone bank sessions during which dozens of virtual volunteers connect residents with needed resources to make it easier for them to shelter in place. The service started in March, during the first week of the Illinois stay-at-home order.
"That was the same week the first woman died [of COVID-19] in Chicago," said Maureen Keane, who leads the coalition alongside Annie Williams and Nicole Miller. "We felt this sense of urgency, but it took us a little bit to get up and running because we wanted to do it well."
Volunteer sessions take place every Tuesday afternoon via video chat. After a brief review of protocols, volunteers spend an hour clicking through the phone bank, dialing numbers, and using a script to ask community members if they need help getting groceries, medications, or anything else during the pandemic.
Over the summer, Community Cares IL worked with residents in Austin, a neighborhood on Chicago's West Side whose population is nearly 80% Black. CDC data show that Black and Latino people are contracting the virus at nearly three times the rate of White people, and nearly five times as likely to be hospitalized once they have COVID-19.
After learning that Black people in every age group were also dying from the virus at about the same rate as White people a decade older, according to the Brookings Institution, Keane said she and the other organizers decided they needed to reach out to minorities across a greater age range.
"We bumped down the [age of residents we call] because Black people are dying at age 45 and at age 50," she said.
To ensure volunteers can provide community members with as many resources as possible, the coalition's leaders scoured the internet to compile an extensive guide. In just a few months, it has grown into a massive, 33-page document filled with information on everything from the location of food pantries and testing sites to debt relief programs and housing assistance.
"It's not easy," said Keane. "But at the same time, it's important, so it doesn't feel hard."
The guide is updated whenever the availability of those resources changes or a resident expresses the need for something during a call that is not yet included. Oftentimes, their needs aren't material.
"A lot of residents are just thankful that they got a phone call, even if they don't necessarily need anything," said 17-year-old Emma Zubak, who volunteers for Community Cares IL. "They're thankful that they have someone to talk to, even if it was over the phone for five minutes."
The leaders stressed that everyone has been impacted by the pandemic in some way and that volunteers get just as much out of the calls as those picking up the phone. It's why every Tuesday afternoon session wraps up with an opportunity for volunteers to socialize with one another.
"The end is my favorite part because we get to share any unusual call we had, best practices that we picked up or connections we made," said co-leader Annie Williams, adding that the sense of connectedness, albeit virtual, is what keeps volunteers coming back.
Miller said the most important part of their operation, besides the phone bank, is having such dedicated people who consistently show up and keep it going. She said Community Cares IL is fortunate, as a coalition of organizations, to have a large network of devoted people to depend on.
That will become even more important moving forward. The leaders expect the pandemic to worsen in the fall in conjunction with an uptick in flu cases and that the need for campaigns like this will grow as federal assistance dries up and smaller community groups must tap out.
"A lot of people have kind of thrown their hands up and said, 'well, we can't do anything,'" said Miller. "But that's not true. We can call people, we can bring resources together and we can see each other's smiling faces on video while we do it."
Thanks in advance for your questions and comments on this Public Health Matters post. Please note that the CDC does not give personal medical advice. If you are concerned you have a disease or condition, talk to your doctor.
Have a question for CDC? CDC-INFO (http://www.cdc.gov/cdc-info/index.html) offers live agents by phone and email to help you find the latest, reliable, and science-based health information on more than 750 health topics.
Posted on

by
---
Page last reviewed:
December 4, 2020
Page last updated:
December 4, 2020