Practical Skills for Personal Preparedness
Posted on

by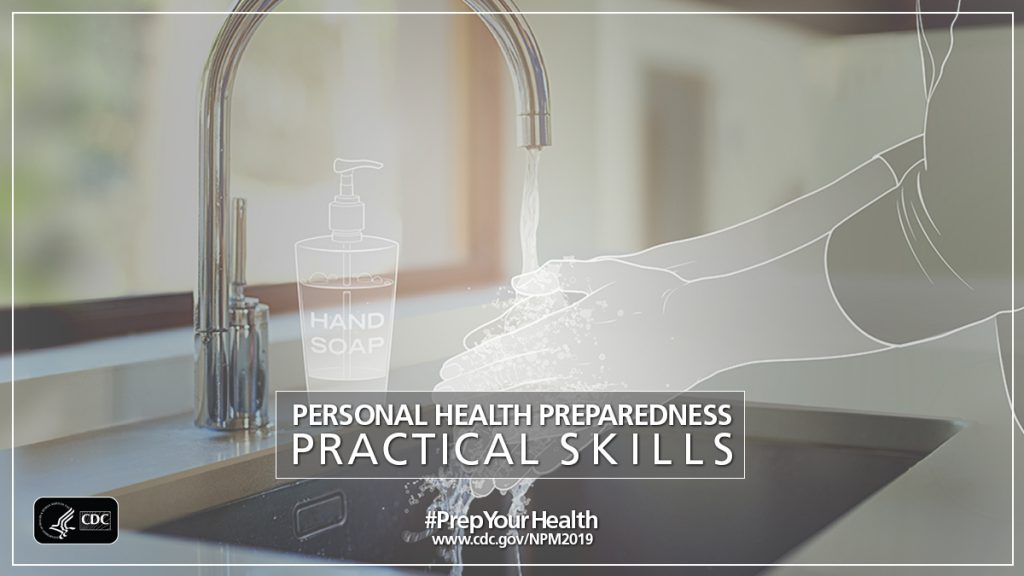 September is National Preparedness Month. Throughout the month, the Center for Preparedness and Response will publish posts that highlight the work of public health departments as it relates to personal health preparedness themes. This week's theme is Practical Skills.
Practical skills are self-help and life-saving skills and lessons that you can learn, practice, and pass on to prepare yourself and those around you for an emergency. Personal practical skills include CPR, proper handwashing, and generator use. Practical skills can look different for emergency preparedness and response professionals, though.
Skills for the Job
At CDC, the Division of State and Local Readiness (DSLR) is committed to ensuring that their state, local, tribal and territorial public health partners have the practical skills necessary to mitigate the impact of public health emergencies.
DSLR conducts training needs assessments with state, local, tribal, and territorial partners to identify gaps in knowledge that can be solved through training. Closing these training gaps helps CDC's partners develop the skills necessary to excel at their jobs and better prepare their communities for disasters.
One of the main areas that state and local health departments most request additional training in is points of dispensing, or POD, operations. Health departments use PODs during a public health emergency to rapidly dispense or administer life-saving medical countermeasures to the public. For example, public health departments may open POD sites to provide antibiotics those potentially affected by an anthrax exposure.
Opening a POD site requires an effective plan that ensures a public health department and its partners are ready to dispense or administer medications or vaccinations to the affected community. This requires POD plans to be continuously updated and exercised to ensure effective and efficient POD operations. Additionally, POD staff should be trained on how to implement and exercise these plans.
Pay It Forward: Train the Trainer
One of the most effective ways to teach skills to many people in many locations is to use a train-the-trainer model. This method trains participants so that they are then equipped to go back to their departments and train the rest of their staff – to "pay it forward," if you will.
DSLR developed the POD Essentials Train-the-Trainer course to prepare state, local, tribal, and territorial public health instructors to deliver the POD Essentials course to local audiences. This hands-on course walks trainers through the process of preparing and presenting the POD Essentials course and how to incorporate jurisdiction-specific plans, policies, and procedures.
The train-the-trainer course includes practical training tips and guidance to better enable trainers to conduct a dynamic and engaging course. These tips include implementing teaching techniques that best suit adult learners, using PowerPoint features to enhance presentations, and demonstrating the importance of providing clear instructions while teaching. These training tips are intended to enhance participants' facilitation skills to better communicate POD-related concepts to their own students.
Ultimately, POD staff and volunteers are able to implement the skills taught during the POD Essentials course at a POD site during a public health emergency.
"We have implemented this training statewide, and it has increased the knowledge, skills, and confidence of our volunteers to respond in a Point of Dispensing," said Chelsea St. George, a public health emergency preparedness coordinator at Nashua Division of Public Health and Community Services in New Hampshire. "The presentation, instructional videos, and activity materials have been assembled to create an 'off the shelf" training that can be used by public health officials statewide."
No Time Like the Present
During or immediately before an emergency is not the best time to learn new skills. Preparing POD staff before an actual response will better enable them to perform their jobs during an actual public health emergency. Whether it's CPR, generator maintenance, or emergency responder training, now is the time for everyone, from parents and neighbors to public health professionals, to learn skills that will help them during the next public health emergency.
For more information, recommendations, and tips on how to prepare your health for a natural disaster or emergency, please visit www.cdc.gov/prepyourhealth.
Thanks in advance for your questions and comments on this Public Health Matters post. Please note that the CDC does not give personal medical advice. If you are concerned you have a disease or condition, talk to your doctor.
Have a question for CDC? CDC-INFO (http://www.cdc.gov/cdc-info/index.html) offers live agents by phone and email to help you find the latest, reliable, and science-based health information on more than 750 health topics.
Posted on

by
---
Page last reviewed:
May 20, 2020
Page last updated:
May 20, 2020