The Right Accessories for Your #SunSafeSelfie
Posted on

by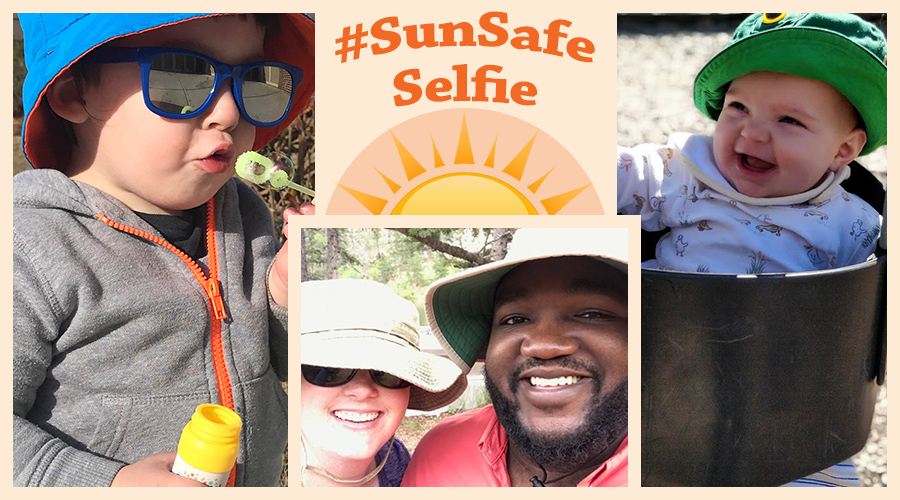 CDC is encouraging everyone to show off their favorite ways to stay sun-safe. Snap a photo of yourself, your friends, and your family using sun protection while outdoors and share on social media. Be sure to tag the photo with #SunSafeSelfie and check out other photos with the hashtag. Most importantly, practice what you post year-round by planning ahead, so you are always prepared to protect your skin when spending time outdoors!
Check out these sun-safety "props" you can toss in a beach bag, backpack, or your car to stay protected wherever you go (and feature in your next #SunSafeSelfie):
Sunscreen to slather on. Use a sunscreen with SPF 15 or higher on any skin that will be exposed to the sun. And remember: it's not a magic umbrella! You should reapply every 2 hours no matter what, and also after swimming, sweating, or toweling off.
A large-size lid.
Sleeves for safety, pants for protection. Long-sleeved shirts and clothing that reaches the ankles are great ways to block those rays. There's plenty of breezy clothing that has built-in sun protection, too.
Squint-stoppers. Bright sunlight can damage your eyes as well as your skin. Pick a pair of shades with lenses that block 100% of the sun's rays and go safe in style.
Portable protection. Staying in the shade is also a great way to block the rays. Umbrellas, shade tents, and awnings make a big difference when you bring them along to parks, concerts, and festivals. Be sure to take advantage of permanent shade structures, too. Have your picnic under that overhang or your pick-up game of hoops in a covered pavilion.
You'll want to use these all together for the best protection. Even if your face is shaded in your selfie—that's the point! Use your pic to encourage friends and family to keep their skin sun-safe and healthy.
Posted on

by
---
Page last reviewed:
May 24, 2018
Page last updated:
May 24, 2018