Using Data to Prepare for the Next Heat Wave
Posted on

by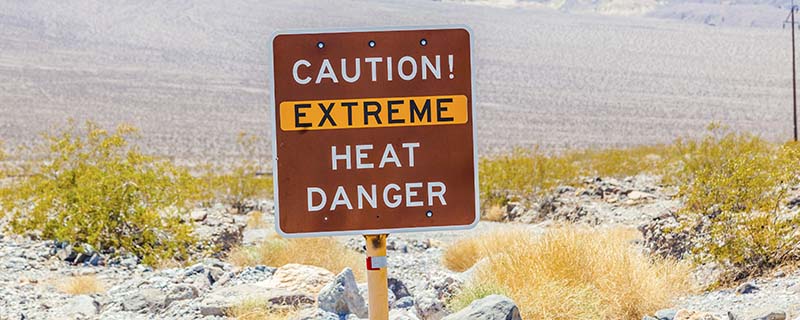 Extreme heat events, or heat waves, are a leading cause of weather-related deaths in the United States. Between 1999 and 2012, extreme heat caused more than 7,400 heat-related deaths in the United States.  Extreme heat increases hospital admissions for heart disease, respiratory disease, and stroke.
CDC's Climate and Health Program funds 16 states and two cities through the Climate Ready States and Cities Initiative.  Through this initiative, CDC helps states and cities partner with local and national climate scientists to understand potential climate changes in their areas, including extreme heat.  CDC also assists states and cities in developing and using models to predict health impacts, to monitor health effects, and to identify the areas that are most vulnerable to these effects to help ensure that communities are prepared for the health challenges associated with climate change.
Evaluating the effectiveness of different preparedness actions and interventions is an important step in protecting people from extreme heat.  States can use data on heat-related illnesses from the National Environmental Public Health Tracking Network to help make decisions about the best ways to prepare for extreme heat.
Identifying who is at risk
The Minnesota Tracking Program analyzed data on heat-related illnesses and deaths to understand more about the people who are at the most risk during extreme heat events. The analysis revealed two new pieces of information:
People between the ages of 15 and 34-years old are at risk during extreme heat–not just people over the age of 65.
The rates of extreme-heat-related hospital stays and emergency department visits were higher across the entire state of Minnesotathan in the metropolitan area that includes the seven counties in and around the Twin Cities.
State and local health professionals used the tracking data to develop and update maps showing areas with populations that are at the highest risk for illness or death during heat waves. They are using the maps to identify areas that need additional support and planning to prepare for heat waves.
Taking action and being prepared
The 2006 North American heat wave began in mid-July of that year.  Between July 15 and August 27, 140 people died as a result of extreme heat in California, which had the most severe death toll in the country due to heat.  An additional 515 people were suspected to have died from this period of extreme heat in California.  The heat wave resulted in an estimated $133 million in health-related costs for the state of California.
Heat waves will continue to impact all regions of California, including urban, rural, inland, and coastal areas.  These periods of extreme heat are expected to get longer and to become more frequent over time.  In order to inform preparedness initiatives for the extreme heat, the California Tracking Program conducted a study to determine whether heat alerts accurately predicted the times when people suffered the most heat illness.
The findings from the study provided scientific proof of a link between heat alerts and heat illness.  Decision-makers in San Jose used the results to approve opening cooling centers as part of the city's heat alert response plan.  Cities and counties nationwide must be prepared in this way to respond to heat alerts and to take preventative actions, such as opening cooling centers where people can gather for life-saving relief from the heat.
The California Tracking Program and the National Weather Service (NWS) are conducting similar studies in other parts of California, including Los Angeles. This information will help cities to make decisions about heat wave preparedness policies and help NWS refine its heat alert system for each region.
Check out this infographic about how to prepare yourself and your loved ones for the next heat wave.
Check out the National Environmental Public Health Tracking Network's Info by Location feature to view data and information on extreme heat for your county.
Posted on

by
---
Page last reviewed:
June 3, 2016
Page last updated:
June 3, 2016