Does your workplace culture help protect you from hepatitis?
Posted on

by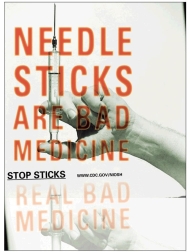 May 19, 2013, is Hepatitis Testing Day. Health care workers are at risk of contracting hepatitis B and C in the workplace. Doctors, nurses, and other staff are predominately exposed to these devastating diseases through needle sticks and other sharps injuries or when fluids from patients splash onto their eyes, nose, or mouth. Hepatitis B and C are life-changing infections, but they can be avoided in many cases. Improved processes and safer equipment are essential. The procedures and equipment used are a reflection of an organization's safety culture.
A strong safety culture demonstrates a high level of commitment from both managers and employees to a healthy work environment.
What does your workplace do to support a safe work environment? What practices seem to be most effective? Do you do anything innovative at your organization to influence attitudes and behaviors related to safety?
At NIOSH, we have Stop Sticks materials on:
We are interested in hearing about what works (or doesn't) in real-world settings. Please share your thoughts and experience in the comments below.
Thomas Cunningham, PhD, and Garrett Burnett, MS, MBA
Dr. Cunningham is a behavioral scientist in the NIOSH Education and Information Department and the assistant coordinator for the NIOSH Small Business Assistance and Outreach Program.
Mr. Burnett is a health communications fellow in the NIOSH Communications and Research Translation Office.
Posted on

by
---
Page last reviewed:
March 2, 2021
Page last updated:
March 2, 2021