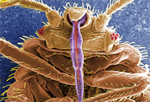 "Just try to sleep tight. The bed bugs are back," a New York Times headline proclaimed in 2005. The article reported on a resurgence of reports about infestations of tiny Cimex lectularius in New York City. These "stealthy and fast-moving nocturnal creatures that were all but eradicated by DDT after World War II, have recently been found in hospital maternity wards, private schools and even a plastic surgeon's waiting room," the article stated.1
The New York experience is not unique. Around the world, pest control specialists have reported "10-fold, 100-fold, even 1,000-fold increases in bed bug jobs over the past five or ten years," according to pest control consultants Lawrence J. Pinto, Richard Cooper, and Sandy Kraft.2
Bed bugs have been a nuisance to humans at least as far back as ancient Greece. Although largely eradicated in the Western countries in the 1940s with the aggressive use of pesticides, notably DDT, they began to re-emerge in the mid-1990s. Entomologists and pest control specialists believe that several factors may contribute to this trend. These factors include the continuing decline or elimination of effective vector/pest control programs at state and local public health agencies, increased resistance to various insecticides, and an increase in international travel, which raises the chances that the tiny pests will be unknowingly packed into luggage.3
Bed bugs are not known to transmit disease, but they are a troublesome health nuisance. Their bites can cause mild to severe allergic reactions, and people living in infested homes have reported anxiety, insomnia, and systemic reactions.4 These bites don't just occur at home. Using workers' compensation (WC) claims data from California between 2000 and 2011, the California Department of Public Health identified 96 workers who were bitten by bed bugs while traveling for work. The majority of bed bug-related WC claims in California consisted of complaints of bed bug bites or rashes caused from bites; however there were several reports of physical injuries (such as strains) sustained by workers while moving furniture to look for or treat bed bugs. (More information on work-related insecticide exposures is provided below.)
For apartment owners and managers, hotels and motels, and other businesses involving the stewardship of property, a bed bug infestation can be a serious business cost in remediation expenses, public stigma, and lawsuits.5 The annoyance, economic costs, frustration and emotional agony of bed bug infestations may tempt business owners and homeowners to take extreme measures. However, a recent study by NIOSH scientists and their colleagues highlights the need to be informed and strategic in dealing with the problem, so that tackling one problem does not introduce greater health risks of another kind.
Bed bug infestations often are treated with insecticides, but insecticide resistance is a problem, and excessive use of insecticides or improper application can increase the potential for illness in humans. To better understand the problem of illness associated with bed bug-related insecticide, investigators looked for cases using the Sentinel Event Notification System for Occupational Risks (SENSOR) Pesticides program and data from the New York City Department of Health and Mental Hygiene. A total of 110 illnesses and one fatality associated with bed bug-related insecticide were identified in seven states: California, Florida, Michigan, North Carolina, New York, Texas, and Washington.
The most frequently reported health outcomes were neurologic symptoms (40%), including headache and dizziness; respiratory symptoms (40%), including upper respiratory tract pain and irritation and dyspnea; and gastrointestinal symptoms (33%), including nausea and vomiting. Most (81%) symptoms were of low severity. The individual whose death was linked to bed-bug related insecticide had a series of preexisting medical conditions and was exposed to high levels of insecticide through atypical applications.6
The most common factors contributing to illness were excessive insecticide application, failure to wash or change pesticide-treated bedding, and inadequate notification of pesticide application. The majority of insecticide exposures were to pyrethroids and/or pyrethrins, and were in toxicity category III and are considered to be slightly toxic.
Among the cases of illnesses from bed bug-related insecticide, 12% were work-related. Of these, three illnesses involved workers who applied pesticides, including two pest control operators, of whom one was a certified applicator. Four cases involved workers who were unaware of pesticide applications (e.g., two carpet cleaners who cleaned an apartment recently treated with pesticides). Two cases involved hotel workers (a maintenance worker and a manager) who were exposed when they entered a recently treated hotel room, and two cases involved emergency medical technicians who responded to a scene where they found white powder thought to be an organophosphate pesticide.
To prevent future illness from bed bug-related insecticides, NIOSH recommends educating the public about effective bed bug management including:
nonchemical methods to control bed bugs such as:

heating infested rooms to 118°F (48°C) for 1 hour or cooling rooms to 3°F (-16°C) for 1 hour by professional applicators ;
encasing mattresses and box springs with bed bug—excluding covers;
vacuuming, steaming, laundering, and disposing of infested items

methods to prevent bed bug infestation (e.g., avoiding the purchase of used mattresses and box springs),
prudent use of effective insecticides.
Those who choose to treat their bed bug infestation with insecticides should seek the services of a certified exterminator who uses an integrated pest management approach to avoid pesticide misuse. Those applying insecticides should follow product instructions for safe and appropriate use. Insecticide labels that are easy to read and understand also can help prevent illnesses associated with bed bug control.
If individuals develop an illness from exposure to bed-bug related insecticides, they should consult their personal physician or the poison control center (1-800-222-1222) and mention that the insecticide exposure occurred while attempting to eliminate bed bugs.
If bed bugs are a problem where you live or work, be bright in your fight and don't let the bed bugs bite!
Dr. Howard is the Director of the National Institute for Occupational Safety and Health
Dr. Hudson is an Epidemic Intelligence Service Officer at NIOSH
Dr. Calvert is a Team Leader and Senior Medical Epidemiologist in the NIOSH Division of Surveillance, Hazard Evaluations, and Field Studies
References
Posted on

by
---
Page last reviewed:
December 2, 2016
Page last updated:
December 2, 2016