Going Green: Safe and Healthy Jobs 2
Posted on

by
Considerations for making green and sustainable jobs safe and healthy for workers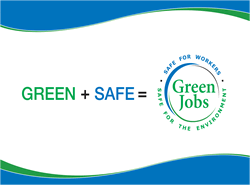 Green jobs and sustainable practices are being used more and more in a wide range of industry sectors and products, from farms to office buildings. There are no official definitions for green jobs and sustainable work practices, so we define them broadly here as jobs and practices that help to improve the environment. For the purposes of this blog, such jobs could include (a) new types of jobs related to green technologies, processes, outcomes and products; (b) existing jobs where green practices and technologies are being introduced; and (c) existing jobs that create products viewed as important to the green economy. These types of jobs and practices all aim to reduce energy use and environmental impacts while preserving social and economic benefits. But do "green" and "sustainable" also mean safe and healthy for workers?
As green and sustainable practices become more common in the U.S, there is an opportunity to promote worker safety and health as a fundamental dimension of true sustainability. A sustainable product, process or technology should not only protect the environment and the consumer but also the worker. Green jobs must be safe jobs.
In December, the National Institute for Occupational Safety and Health (NIOSH) sponsored the Making Green Jobs Safe Workshop (see http://www.cdc.gov/niosh/topics/PtD/greenjobs.html for more information and links to video). At the Workshop, NIOSH presented six ideas about the steps needed to protect both workers and the environment by making occupational (worker) safety and health concepts part of green and sustainability developments. These ideas are explained below. NIOSH invites you to respond and to add your ideas by replying to this blog.
1. Define, categorize, and track green jobs
Defining and categorizing green and sustainable jobs and work practices is a necessary first step for identifying and understanding how green jobs affect worker safety and health. Researchers, demographers, and industry partners need to work together to develop ways to define and keep track of injuries, illnesses, and hazards associated with green jobs. Standard terms will reduce confusion, improve information-sharing, and make it possible to see the worker safety and health benefits and problems that arise over time.
2. Evaluate all green jobs, practices, processes, and products for hazards to worker safety and health
Sustainable practices and green technologies, products and processes need to be evaluated for worker safety and health just like any other new job, product or practice. Such evaluation can identify work-related hazards that can then be prevented or controlled. It can also help identify those green practices, products and technologies that improve worker safety and health so that they can be widely promoted.
In addition, the safety and health community can do more to evaluate and understand the energy costs and environmental impacts of safety and health practices. Green jobs, processes, products, and technologies can all benefit from research to find out how best to keep a high degree of safety and health while improving energy efficiency and reducing environmental impacts.
1-Bromopropane as a green chemistry solution
1-Bromopropane (also called n-propyl bromide) was introduced as an environmentally-friendly alternative to ozone-depleting chlorofluorocarbons (CFCs) for many different uses, including as a solvent for industrial operations and for dry cleaning and aerosol sprays.
As use increased, studies have shown nervous system, reproductive and other effects in exposed workers and evidence of various types of cancer in lab animals. There are no federal exposure limits yet available for the substance, but the Environmental Protection Agency has restricted certain uses and imposed conditions for others so as to reduce potential exposures.
This example shows that even environmentally beneficial products need evaluation for worker safety and health concerns before widespread use is encouraged. (See related blog 1-BP: A Potential Occupational Hazard)
3. Integrate worker safety and health, energy conservation and environmental protection efforts
Occupational safety and health, energy conservation and environmental protection professionals often work separately from one another, which increases the chances that costs and risks will be unintentionally shifted from the environment to workers or vice versa. Working together would help these professionals better coordinate approaches to sustainability to make sure that workers, the environment and energy resources are all protected.
Protecting indoor air quality during construction
Occupational and environmental practice both use hierarchies (levels of preferred options) for risk control. Both view controlling risks at the source—whether worker exposures or environmental emissions—as the best option. Understanding that these approaches are similar can help with joint decision-making so that green practices protect both workers and the environment.
For instance, one way to protect indoor air quality as new green buildings are constructed is to seal air circulation vents so that dust from construction operations doesn't build up inside. This has benefits for future building occupants but it doesn't offer any benefits for construction workers as they finish the building. An alternative would be for construction contractors to control dust at the source by using powered tools (e.g., masonry saws) that capture the dust as the tool generates it. Capturing the dust at the tool before it contaminates the air protects both the construction workers and the future building occupants.
4. Plan early for prevention
Considering safety and health at the beginning of a project during the design phase and when making decisions about what equipment and materials to use are important, cost-effective strategies. At NIOSH, these strategies are called Prevention through Design (PtD). The principles of PtD can be used to achieve sustainability through early planning to ensure that the resulting health, energy and environmental benefits can be at their highest levels for workers, the public and the environment.
5. Make safety and health part of green jobs training
Training will play an important role in helping workers develop the new skills needed to transition to new types of green jobs or to learn how to use new products and technologies in their existing jobs. Safety and health should be considered an essential component for all green job training, in addition to training on the skills workers need to complete job tasks.
6. Add safety and health to green benchmarks
There are many different types of measurements and benchmarks to evaluate whether practices are green and sustainable, for example, the U.S. Green Building Council's Leadership in Energy and Environmental Design (LEED) Green Building Rating System™. While these are widely used, almost none of the measures directly considers occupational safety and health impacts. Researchers and practitioners need to work together to develop ways to determine whether a practice is good for worker safety and health, and then add that to the benchmarks for green and sustainable practices.
Safety training for workers learning home weatherization skills
Weatherizing homes is one popular green activity and it has attracted many new workers from non-construction industries. While fall hazards from working on ladders and roofs are well-known to experienced construction workers, they may be unfamiliar to workers new to the industry. When these workers receive training on how to weatherize homes it is also a great opportunity to teach them the safety and health skills they will need for their new careers.
Great strides can be made in occupational safety and health, energy conservation and environmental sustainability if all three fields work together, share information and work toward similar goals. December's Making Green Jobs Safe Workshop started the conversation about how to integrate these fields. NIOSH welcomes your thoughts about the considerations presented here to continue the conversation. The ideas you share in response to this blog will be combined with what was discussed at the Workshop to help NIOSH refine these considerations and guide future efforts.
Matt Gillen is Deputy Director of the NIOSH Office of Construction
Pietra Check is a Health Communication Specialist in the NIOSH Office of Health Communication.
Dr. Christine Branche is the Principal Associate Director and Acting Director of the NIOSH Office of Construction Safety and Health.
Posted on

by
---
Page last reviewed:
November 25, 2016
Page last updated:
November 25, 2016