Going Green: Safe and Healthy Jobs
Posted on

by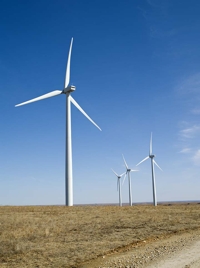 Green jobs—good for the environment, good for the economy. But are green jobs good for workers? The National Institute for Occupational Safety and Health (NIOSH) and its partners recently launched the Going Green: Safe and Healthy Jobs initiative to make sure that green jobs are good for workers by integrating worker safety and health into "green jobs" and environmental sustainability.
Green jobs, which have been defined broadly as jobs that help improve the environment and enhance sustainability, offer opportunities as well as challenges for workers. Examples of green jobs include installation and maintenance of solar panels and generators; construction and maintenance of wind energy turbines; jobs related to recycling; jobs related to the manufacture of green products; and jobs where green products are used in traditional fields such as agriculture, healthcare, and the service sector. In some instances, the hazards to workers may be similar to those in established industries. For example, the safety and health issues involved in building wind turbines may be similar to those for constructing a multi-story building. However, some green and sustainable practices may pose new health concerns for workers, such as the introduction of "green" substitutes for cleaning solvents (see NIOSH blog Multifaceted Approach to Assess Indoor Environmental Quality).
In developing a green economy in the United States, including through the American Recovery and Reinvestment Act (ARRA), new jobs are being created in industries such as energy, utilities, construction, and manufacturing. The new focus, coupled with the move in the U.S. towards energy efficiency and more environmentally-friendly practices known as environmental sustainability, is resulting in changes to traditional jobs and the creation of new kinds of occupations. As we make technological advances in industry, we need to remain vigilant in protecting workers against emerging hazards. These changes may also present us with the opportunity to eliminate hazards through planning, organization, and engineering – a concept known at NIOSH as Prevention through Design (PtD). For additional perspectives on making green jobs safer, please read our forthcoming issue of PtD In Motion, the newsletter of the Prevention through Design initiative, which will be posted soon on the Going Green webpage.
As the Nation acts quickly to train workers for new occupations and new ways of working, we have unprecedented opportunities:
to enhance the safety and health protection of the American workforce
to expand and apply our knowledge in occupational safety and health to new workplaces, processes, and products being formed each day
to ensure the training and re-training of the workforce that will fill these new jobs includes relevant safety and health information.
An upcoming event in NIOSH's new initiative is the Making Green Jobs Safe workshop, which will be held from December 14 to 16, 2009, in Washington, DC. The workshop will bring together invited participants and a limited number of members of the public to help frame the issues around incorporating occupational safety and health into green and sustainability efforts.
As we mature the initiative and prepare for the workshop, NIOSH is drafting a working definition of green jobs and we are interested in your ideas and suggestions. NIOSH is interested also in determining how illnesses, injuries or deaths associated with the emerging green economy would be quantified. For this, again, we should define our terms, and we will incorporate definitions determined by our colleagues at the U.S. Department of Labor, who are working too to define terms. We offer the following definitions for your consideration and comment. We will track the comments and offer modifications in the definition as we move forward.
Van Jones, founder of Green for All, defines green jobs as a blue-collar job upgraded to better respect the environment
The Pew Charitable Trust, in the publication The Clean Energy Economy: Repowering Jobs, Businesses and Investments Across America , described five industry categories comprising the clean energy economy. These include: clean energy, energy efficiency, environmentally friendly production, conservation and pollution mitigation, and training and support.
JA Gambatese, S Rajendran and M Behm in their paper, "Green Design & Construction" note that "green" and "sustainable" are terms that have been used synonymously in scientific literature. These authors, however, make efforts to distinguish green from sustainable jobs with the following for the construction industry:"Green is a term used to refer to primarily the design and construction practices that impact the environment (e.g., the soil, water, air, plants and animals). Sustainability is a broader concept that, in addition to the environmental aspect, addresses the continuity of economic, resource and social aspects of human society. For a green building to be sustainable, consideration must be given to more than just protecting the environment…a building can be called sustainable only if sustainability principles are applied throughout its life cycle…. (p. 29)"
Are any of these definitions sufficient for our needs in fostering worker safety and health practices in this emerging field of study? Are there better ways of defining our terms that you would like to offer?
As we define our terms, we must also consider the following types of work:
Traditional jobs that use green products (e.g., a plumber installing a low flow toilet)
Green jobs that encompass tasks from traditional jobs (e.g., solar panel installers)
Jobs that are relatively new stemming from an increasing focus on energy efficiency (e.g., wind turbine installer).
The matrix presented here is a framework to help us think through these issues. It illustrates how our knowledge about old and new hazards intersects with challenges created by new technologies and adaptations of work activities to perform green jobs. We hope that you find it helpful.
We look forward to your comments and suggestions to help inform the upcoming conference and NIOSH's Going Green initiative.
Dr. Branche is the Acting Director of the National Institute for Occupational Safety and Health.
Posted on

by
---
Page last reviewed:
June 29, 2020
Page last updated:
June 29, 2020