Stories from the Field: PODER en SALUD
Posted on

by
"The virus has taken a toll on our mental and emotional health," says Perla Fernandez, a Kansas City community member who lost several friends and family members suddenly to COVID-19.
The COVID-19 pandemic has disproportionately affected many Hispanic or Latino communities.[1]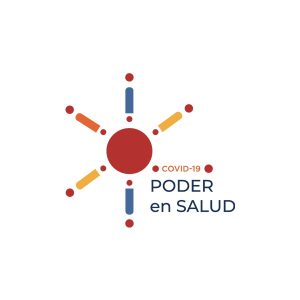 Hispanic or Latino people have experienced higher rates of COVID-19 hospitalization, death, and cost of care than non-Hispanic White people.[2][3][4] These disparities are due in part to Hispanic or Latino people comprising a higher proportion of people who are frontline essential workers, such as farmworkers, meatpackers/poultry workers, restaurant workers, and cashiers. Because their work-related duties must be performed on-site, Hispanic or Latino people are more likely to be exposed to COVID-19. They are also less likely to receive adequate COVID-19 protections, such as paid sick leave, due to the nature of their jobs.[5],[6],[7] Erica Andrade, Chief Program Officer at El Centro in Kansas City, KS says, "Latinos are frontline workers and are exposing their life to make our lives much easier."
PROCEED, Inc. has engaged Hispanic or Latino-serving community-based organizations (CBOs) in a collective effort, PODER en SALUD (Power in Health), to increase the capacity of Hispanic or Latino communities to respond to the COVID-19 pandemic and future health issues. PODER en SALUD collaborates with core partners and local project affiliates to design and develop accurate, timely, culturally appropriate, and easy-to-understand COVID-19 communication and education products in Spanish and some indigenous languages to improve knowledge and adoption of COVID-19 prevention strategies among Hispanic or Latino communities. PODER en SALUD focuses their work on Hispanic or Latino youth, young adults, women, adults with disabilities, older adults, farmworkers and their families, faith-based communities, and people with lower income who are uninsured, underserved, undocumented, and/or have other underlying conditions.
PODER en SALUD is a coalition currently consisting of eight core partners and 22 affiliates that serve Hispanic or Latino communities in Washington D.C., the territories of Puerto Rico and U.S. Virgin Islands, and the states of Arizona, California, Florida, Georgia, Illinois, Indiana, Kansas, Maryland, Minnesota, Missouri, New Mexico, New York, Oregon, Rhode Island, Texas, and Washington. PROCEED, Inc. selected core partners through a competitive application process that assisted with identifying trusted messengers and prioritizing Hispanic or Latino communities disproportionately impacted by the COVID-19 pandemic and/or with lower COVID-19 vaccination rates. Affiliates are local community partners recruited and engaged by core partners to support the PODER en SALUD project. PODER en SALUD distributes their communication products through these trusted core partners and local affiliates that are committed to the health and well-being of the Hispanic or Latino community.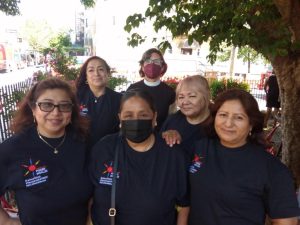 Rosa Sierra from Central Falls, Rhode Island, works for Progreso Latino, a PODER en SALUD core partner organization. "The projects we work on focus on helping people through the pandemic, both in preventing illness and rising back up from its impact – be it job loss, long-term economic and financial effects, or the death of a loved one," Sierra says. She concludes her sentiments by saying, "Being sick is not our fault, but stopping that spread can be our responsibility."
PODER en SALUD core partners and affiliates often engage promotores, also known as community health workers. PODER en SALUD promotores:
Provide "boots on the ground" support services
Improve one-on-one or community rapport
Share prevention, testing, and vaccine messages, resources, and services to prevent and reduce community transmission of COVID-19; and
Identify barriers to COVID-19 prevention practices and services in Hispanic or Latino communities.
Since 2020, the Centers for Disease Control and Prevention (CDC), Office of Minority Health and Health Equity (OMHHE) has awarded COVID-19 supplemental funds through CDC's Center for State, Tribal, Local, and Territorial Support (CSTLTS) OT 18-1802 Cooperative Agreement to PROCEED, Inc.'s National Center for Training, Support and Technical Assistance (NCTSTA) to lead PODER en SALUD.  The goal of the project is to increase the capacity of Hispanic or Latino communities disproportionately affected by COVID-19 to respond to the pandemic through education, messaging, and linkages to local support services. In addition to PROCEED, Inc., the Asian and Pacific Islander American Health Forum (APIAHF) and CDC Foundation receive funding support through the COVID-19 supplemental award. APIAHF's Forging Partners address COVID-19 misinformation in Asian American and Native Hawaiian/Pacific Islander communities, and CDC Foundation's Southern Alliance addresses COVID-19 health inequities in non-Hispanic Black and African American communities in the southern United States. To achieve the vision of ensuring all people have an opportunity to live as healthy as possible, CDC is committed to its CORE Health Equity Science and Intervention Strategy and bringing together partners from various sectors to gain collective expertise and perspectives and create a shared commitment to reduce health inequities. ID-
Funding Source: The Coronavirus Aid, Relief, and Economic Security ("CARES") Act of 2020.
Partners: Proceed, Inc., National Youth Leadership Council (NYLC), El Centro Inc., Farmworker Justice, Latino Commission on AIDS, Progreso Latino, Puerto Rico Community Network for Clinical Services, Research and Health Advancement, Inc. (PRCONCRA), Migrant Health Center, Western Region, Inc. (MHC), Access to Racial and Cultural Health Institute, Inc. (ARCH).
References:
Romano SD, Blackstock AJ, Taylor EV, et al. Trends in Racial and Ethnic Disparities in COVID-19 Hospitalizations, by Region — United States, March–December 2020. MMWR Morb Mortal Wkly Rep 2021; 70:560–565. DOI: http://dx.doi.org/10.15585/mmwr.mm7015e2external icon.
Acosta AM, Garg S, Pham H, et al. Racial and Ethnic Disparities in Rates of COVID-19–Associated Hospitalization, Intensive Care Unit Admission, and In-Hospital Death in the United States From March 2020 to February 2021. JAMA Netw Open.2021;4(10):e2130479. doi:10.1001/jamanetworkopen.2021.30479
Centers for Disease Control and Prevention (CDC) March 25, 2022. Risk for COVID-19 Infection, Hospitalization, and Death By Race/Ethnicity [accessed April 4, 2022].
Sundar S Shrestha, Lyudmyla Kompaniyets, Scott D Grosse, Aaron M Harris, James Baggs, Kanta Sircar, Adi V Gundlapalli, Estimation of Coronavirus Disease 2019 Hospitalization Costs From a Large Electronic Administrative Discharge Database, March 2020–July 2021, Open Forum Infectious Diseases, Volume 8, Issue 12, December 2021, ofab561, https://doi.org/10.1093/ofid/ofab561 .
Goldman N, Pebley AR, Lee K, Andrasfay T, Pratt B (2021). Racial and ethnic differentials in COVID-19-related job exposures by occupational standing in the US PLOS ONE 16(9): e0256085. https://doi.org/10.1371/journal.pone.0256085
Macias Gil, R., Marcelin, J. R., Zuniga-Blanco, B., Marquez, C., Mathew, T., & Piggott, D. A. (2020). COVID-19 Pandemic: Disparate Health Impact on the Hispanic/Latinx Population in the United States. The Journal of infectious diseases, 222(10), 1592–1595. https://doi.org/10.1093/infdis/jiaa474
Waltenburg MA, Victoroff T, Rose CE, et al. Update: COVID-19 Among Workers in Meat and Poultry Processing Facilities ― United States, April–May 2020. MMWR Morb Mortal Wkly Rep 2020;69:887-892. DOI: http://dx.doi.org/10.15585/mmwr.mm6927e2 ; Update: COVID-19 Among Workers in Meat and Poultry Processing Facilities ― United States, April–May 2020 | MMWR (cdc.gov) .
Posted on

by
---
Page last reviewed:
May 16, 2022
Page last updated:
May 16, 2022