Promoting and Protecting the Health of Women: Saving Lives by Preventing Drug Overdoses
Posted on

by
"Here's your script", the doctor said to me [Karin], as he handed me a refill for an opioid medication at a post-surgical follow-up visit. This action caught me off guard. I was fortunate that my pain had been short-lived and easily controlled, and I hadn't finished the initial round of medications I was given. Thankfully, my husband, who was at the visit with me, stepped in to say that I was the last person that should be offered a prescription. This opened up a conversation about why I didn't need more medication, as well as in my work at CDC.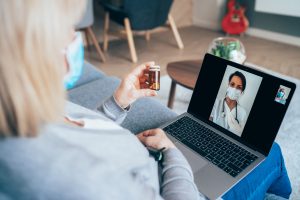 You see, that same year, 2013, I co-authored a CDC Vital Signs report about how the women in our lives—our mothers, wives, sisters and daughters—were dying from drug overdoses at rates never seen before. In that report, we examined 2010 data and found that, on average, 42 females died every day of a drug overdose. Fast forward to the present, and the women in our lives continue to die from drug overdoses at alarming rates. In 2018, on average, 61 females died every day of a drug overdose.1 In 2019, CDC released a Morbidity and Mortality Weekly Report (MMWR) that focused on how drugs involved in overdose deaths among women have changed, as well as the increases in deaths.
At CDC's National Center for Injury Prevention and Control, ending the drug overdose epidemic is a priority. We are working to enhance communication between healthcare providers and patients to improve the way opioids are prescribed to ensure access to safe treatments and healthy outcomes for all patients. CDC provides resources for patients regarding opioids for acute pain. In addition, the CDC Guideline for Prescribing Opioids for Chronic Pain provides recommendations for primary care clinicians who are prescribing opioids outside of active cancer treatment, palliative care, and end-of-life care. CDC's website features tools and trainings to help clinicians assess the risks and address the potential harms of opioid use overall, including during pregnancy.
Women are often placed in the situation of being the primary healthcare decision-makers not only for themselves but also for family members. The narratives of women struggling with opioid and substance use disorders and those trying to find safe ways to manage pain are both heartbreaking and compelling. It is important to keep women safe and informed about the potential harms of medications in order to prevent drug overdoses, both among themselves and their family members.
Action steps women can take to stay healthy include, knowing the risks of prescription opioids and also communicating with their healthcare providers about safe ways to manage pain that does not involve prescription opioids. We all need to raise awareness of potentially risky medications and substance use disorders. Learn about them. Talk about them. Offer to help. Although it is difficult, we must seek treatment for substance use disorders when needed. It's important for us all to learn more about how we can support the women in our life, create stronger prevention programs, and facilitate access to care.
CDC's Rx Awareness Campaign has a goal of increasing awareness that prescription opioids can be addictive and dangerous, but also that recovery is possible. The campaign, featuring real people sharing their stories, also strives to decrease the number of individuals who misuse prescription opioids. State and local health departments and community organizations can take part in the Rx Awareness campaign and use the tested campaign materials and resources to launch their own campaigns, support local prevention activities, and raise awareness about the risks of prescription opioids.
For 25 years the CDC Office of Women's Health has promoted public health research, evidence-based programs, policies, and strategies to improve the health and safety of all women and girls. There are many challenges to ending the ever-evolving drug overdose epidemic, especially among women, but you can help. Together we can prevent deaths associated with drug overdose.
What actions can you take to help protect yourself and the women in your life?
Discuss all medications you are taking with your healthcare provider, including over-the-counter medications (such as for allergies).
Talk to your healthcare provider about ways to manage your pain that do not involve prescription opioids.
Use prescription drugs only as directed by a healthcare provider.
Dispose of medications properly, as soon as the course of treatment is done. Don't keep prescription medications around "just in case."
Never use another person's prescription drugs.
Know that certain drug combinations can increase overdose risk: overdose risk increases when opioid medications are combined with alcohol, benzodiazepines, and other prescription or illicit opioids.
Know about naloxone: a lifesaving drug that can reverse the side effects of an opioid overdose when administered in time.
Get help for substance use disorders (1-800-662-HELP; https://findtreatment.gov/). Talk about your struggles and encourage others to listen to others stories.
Call Poison Help (1-800-222-1222) with questions about medicines
Special thanks to Drs. Mack and Underwood for contributing to this blog for National Substance Abuse Prevention Month. We all have a role in preventing substance abuse and encourage conversations about how to reduce the prevalence of drug overdose in our nation.
Resources
www.cdc.gov/drugoverdose/patients
References
Centers for Disease Control and Prevention, National Center for Health Statistics. Multiple Cause of Death files 1999-2018. Accessed at http://wonder.cdc.gov/mcd-icd10.html September 2020.
Karin Mack, Christopher Jones and Leonard Paulozzi. 2013. "Overdoses of Prescription Opioid Pain Relievers and Other Drugs among Women – United States, 1999-2010", MMWR Morb Mortal Wkly Rep. July 5;62(26):537-542. https://www.ncbi.nlm.nih.gov/pmc/articles/PMC4604783/
Jacob VanHouten, Rose Rudd, Michael Ballesteros, & Karin Mack. 2019. Drug Overdose Deaths Among Women Aged 30–64 Years — United States, 1999–2017. MMWR Morb Mortal Wkly Rep, 68:1–5. DOI: http://dx.doi.org/10.15585/mmwr.mm6801a1
Posted on

by
---
Page last reviewed:
October 7, 2020
Page last updated:
October 7, 2020