Together, Let's End Polio: Reflections from CDC's 2022 Polio Response in Malawi
Posted on

by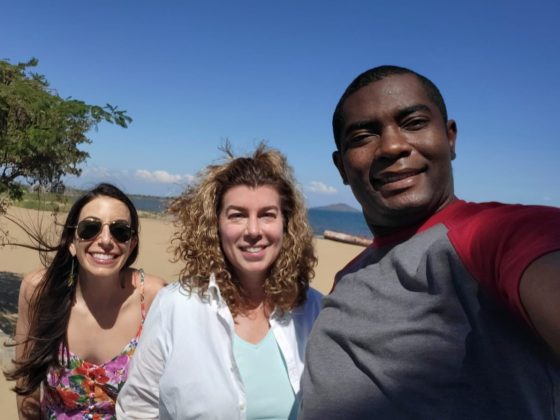 CDC Health Scientist Stephanie Dopson reflects on her recent deployment to Malawi supporting the CDC Polio Response.
Throughout my 23-year career at CDC, time and time again, I am reminded that it takes the collaboration of many to make a difference in public health. I have served in many responses and deployments, including the anthrax attacks, Hurricane Katrina, H1N1, Ebola, and Operation Allies Welcome. More than a decade ago, I began working with CDC's polio response. During my 16-month rotation, I met CDC's global immunization staff, learned about the Polio Endgame Strategy, and have been passionate about ending polio ever since.
The Polio Endgame Strategy was launched by the Global Polio Eradication Initiative (GPEI), a public-private partnership led by national governments and spearheaded by several global public health partners. CDC is a core GPEI partner alongside the World Health Organization (WHO), Rotary International, the United Nations Children's Fund (UNICEF), the Bill & Melinda Gates Foundation, and Gavi, the Vaccine Alliance. The U.S. Government has also invested more than $4.3 billion to eradicate polio since the initiative began in 1988.
In September 2020, the WHO Africa Region was declared free of indigenous wild poliovirus transmission. Those of us who have worked on polio eradication efforts were elated. However, on February 17, 2022, after more than 30 years without a reported case of wild poliovirus, Malawi confirmed a case of wild poliovirus type 1 (WPV1) in a three-year-old child. The child's onset of paralysis was in November 2021 and stool samples were collected later that month. Poliovirus lives in the intestines, so stool samples are collected for laboratory testing because they are the most effective way to determine whether a person has polio. However, the shipment of samples that were collected in November 2021 was delayed, which then delayed laboratory testing and the ultimate confirmation that polio had caused the child's paralysis.
Malawi immediately declared a public health emergency upon confirmation of a single case of WPV1, but WPV1 had already been circulating in the community for more than three months. Malawi initiated a rapid response that involved establishing sewage sample testing for the presence of polio, strengthening the passive acute flaccid paralysis (AFP) surveillance system, actively searching for recent cases at all Malawi health facilities, and supporting robust vaccination campaigns.
High quality, mass vaccination campaigns are the most effective way to stop an outbreak and protect children from further spread of poliovirus. Since polio primarily affects children under age five, the ultimate goal of vaccination campaigns is to reach 100 percent of children under five with four doses of oral poliovirus vaccine (OPV). During an outbreak response, mass vaccination campaigns involve multiple rounds where polio workers across the affected area administer vaccines to as many children as possible. Generally, mass campaigns include at least three rounds: each round typically lasts four to five days and the next round begins at least two weeks after the previous round. Exact timing depends on various factors such as the level of immunization coverage that was reached in each round, but mass campaigns generally end when more than 80 percent (ideally 100 percent) of children have been vaccinated.
As of mid-October 2022, Malawi has conducted four rounds of a nationwide vaccination campaign since the outbreak response began in February this year. To measure campaign quality, we use a survey measure called Lot Quality Assurance Sampling (LQAS) as a crude estimate of immunization coverage. The LQAS results for the first three rounds in Malawi showed 17 percent, 31 percent, and 52 percent coverage, respectively. These improvements are encouraging, but in order to stop circulation during an outbreak, we need to reach at least 80 percent immunization coverage and reach as many children as possible who were not yet vaccinated in the campaigns.
This outbreak has been a clear reminder that a health threat anywhere is a health threat everywhere. Until polio is eradicated, polio is a threat to the health of children in all countries.
Genetic sequencing linked the WPV1 case in Malawi to poliovirus that was isolated in Pakistan in 2019, indicating that WPV1 had traveled within a person over a long distance. Sequence analysis of WPV1 isolated from five cases later identified in Mozambique in 2022 indicated that imported WPV1 had circulated in the area undetected for more than 1 year prior to paralysis onset of the Malawi case.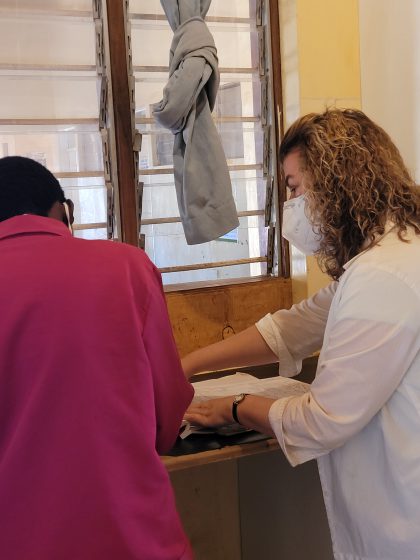 While supporting Malawi's response, CDC and other GPEI partners also engaged with neighboring countries to strengthen polio surveillance and plan vaccination campaigns. Since the identification of the first case in Malawi, five more genetically related cases were identified in Mozambique. Through mass vaccination campaigns, more than 68 million doses of OPV have been administered to children under age 5 in Tanzania, Zambia, Zimbabwe, and Mozambique.
Several CDC staff have been working in countries as part of the effort to respond to this emergency. I deployed to Malawi from June 25 to August 10, 2022 and had the pleasure of collaborating with several CDC colleagues.
During our deployment to Malawi, we focused on preparing for the launch of the third round of the national vaccination campaign and addressing gaps identified in the second round. We worked with all clinics in the assigned districts to ensure they were prepared for the campaign as we trained recorders and vaccinators and helped ensure districts were fully stocked with necessary supplies. We looked for any missed AFP cases and helped investigate cases at priority health facilities. Early in the mornings, we collected sewage samples at a few water sanitation sites. While promoting the upcoming campaign, we also encouraged routine vaccination.
As I reflect on my deployment to Malawi, one memory stands out. While reviewing surveillance records at a clinic, I saw the word "polio" written next to the name of a child with a suspected case of polio. Seeing it written down was a visceral reminder of why we must continue working together to end polio. We must achieve a polio-free world where no child is impacted by this devastating disease.
Although my deployment ended before the third round was launched in late August, my love for public health work was validated once again when I heard that 600,000 more children were vaccinated.
Posted on

by
---
Page last reviewed:
November 7, 2022
Page last updated:
November 7, 2022