Together We Can Survive
Posted on

by
When I first heard COVID-19 was spreading around the world, my initial thought was, "This will be contained." I started feeling unsettled watching the virus give us a hint of its power as it breeched more and more borders. I never imagined that it would cause havoc at the scale it did.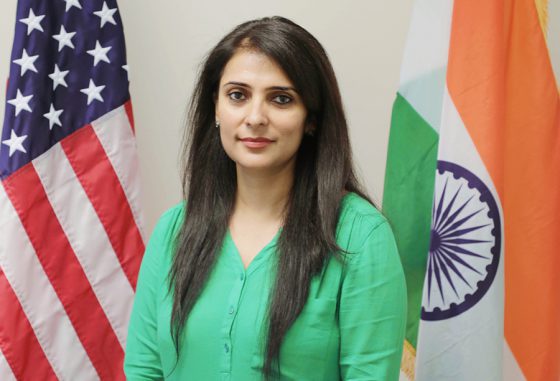 I wanted to be safe, keep my family safe, and of course, ensure that everyone at work stayed safe. As the Associate Director for Science for CDC India, I wanted to respond quickly by understanding the situation "on the ground," finding out what the knowledge gaps were, where clear communication could be helpful, and where we could do our part to keep people well-informed, prepared, and safe.
When I heard CDC India had already swung into action and activated the Incident Management System (IMS), I wanted to do something—anything—to help out. Sitting back and watching as the world was being enveloped in the deadly embrace of this virus was just not an option.
I asked the emergency specialist in the IMS if there was something I could do. Initially, I looked up CDC guidance to answer questions from the embassy community. Gradually, I was pulled into risk communication activities. Within two months, I became the lead for the risk communication team.
Adapting to a New Reality with My Family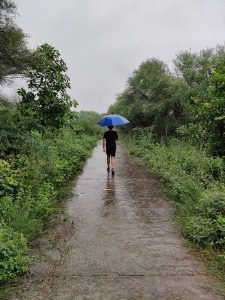 I was surprised to learn that, despite spending almost a year indoors with them, I was never bored of spending time with my family. The pandemic taught us to adjust, be flexible and accommodating, and to co-exist in harmony. We had to help each other, and we learned to clean, cook, and bake together. If anything, we have only grown closer. As for myself, I went from not knowing how to make instant noodles to cooking delicacies!
We sing, watch movies, play chess, play with our 8-year-old Rough Collie, who is like a sister to my boys, ages 16 and 14. Most of all, we love working out together. In the past few months, we have gone for a run every day to a park close to our house. In the park, we have explored all sorts of flora and fauna.
My family is diligent in taking precautions against COVID-19. We never leave the house without a mask, always keep a distance of 6 feet/2 meters or more from other people in public places, such as grocery stores and parks, and consistently wash our hands and use sanitizers when washing hands is not possible. We maintain healthy nutrition, focusing on a balanced intake of carbohydrates, proteins, fat, and micronutrients, and exercise routinely.
Leading CDC India Risk Communication
I led COVID-19 risk communication for CDC India from March 2020 to February 2021. The risk communication team is cross-cutting and worked with all teams within the IMS. We had our hands deep in both internal and external engagements and filling communication needs. It was our job to translate science into plain language, and prepare talking points, status updates, press releases, social media feeds, response summaries, and other communication products. We worked with multilateral partners to collaborate on a unified government response to COVID-19. Our team also reviewed funding proposals for community intervention projects, such as taking COVID-19 prevention messages to the most remote areas of India through the use of community radio; identifying community champions and capacitating them to amplify prevention messages; supporting community resilience to mitigate the impact of COVID-19 on migrant laborers; and many more such innovative concepts.
It was wonderful to work on the global response, as well as to understand the domestic response in India. I am proud to have been able to make a small contribution towards building stronger crisis management systems which will help responders and frontline workers when managing future outbreaks and disasters.
Almost everything I learned during my time leading risk communication for CDC India was new to me. I learned risk communication is a science and that the first step towards communicating effectively during a crisis such as this, is to listen. Working with UNICEF, I learned how they used many different digital platforms to listen to communities—their doubts, misconceptions, and information needs. I also learned that CDC has been a pioneer in crisis and emergency risk communication, and I was blown away by the numerous training modules, tools, assessment checklists, and advisories that have been made available to the global community to help countries methodically plan their risk communication and community engagement during such crises.
The biggest challenge of this response was the unknown. I understood the meaning of the words "risk" and "communication" individually, but together they assume a power that far outweighs their individual meanings. I had never been trained in this area, so I had to hit the ground running.
I focused on putting out the right message, at the right time, in an effective and culturally sensitive manner. There is a constant need to keep pace with an ever-changing informational landscape and to simplify and share scientific knowledge for various audiences.
I wish I knew I could have offered my services even earlier in CDC's response, so that I could have been of service right from the beginning. However, I have no regrets; just gratitude for having been given the opportunity to serve.
My Message to the Public
Please stay safe, take preventive measures to protect yourself and others (CDC resources), and get a COVID-19 vaccine as soon as it is available to you, since they are safe and effective. Take care of your mental health as much as your physical health. These are trying times. Nearly 3 million people have died from COVID-19 as of March 2021—every single one of those numbers is a loved one, mourned and missed by those left behind. Millions have suffered disease and ill-health. Tens of thousands of frontline workers, doctors, nurses, paramedics, essential staff are out there, fighting this battle for us. I salute the resilience of the human spirit—to fight against all odds and survive. Together, we can.
Posted on

by
---
Page last reviewed:
January 9, 2022
Page last updated:
January 9, 2022