To Switzerland and Back…..Communicating About COVID-19
Posted on

by
As a health communication responder, my first thought when I heard of COVID-19 was, "What can I do to help? How can I be a part of the emergency response happening with such a novel disease?" After CDC activated its Emergency Operation Center in January 2020, I worked with my supervisor to secure a spot on the emergency response. Even though it was a Saturday, I set up a makeshift office in my apartment and started to research COVID-19 and its impact on international K-12 schools overseas as my first assignment. On February 1, 2020, I started as a health communication specialist on the International Task Force.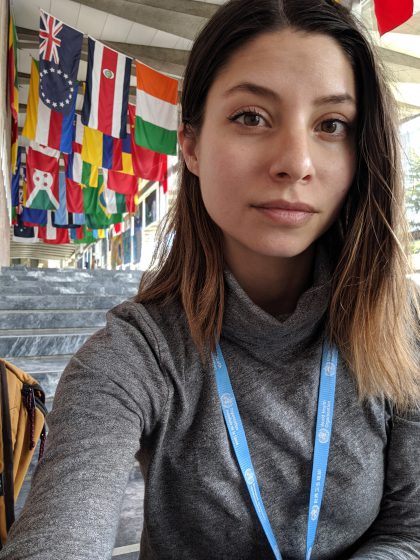 Within weeks, I had traveled to Geneva, Switzerland, to train under EPI-WIN, the World Health Organization's Epidemic Information Network. EPI-WIN is focused on providing access to timely, accurate, and easy-to-understand advice and information from trusted sources on disease outbreaks such as COVID-19. The days in Geneva were dizzyingly busy but incredibly fulfilling. Every day, I came into the office with the mindset of, "How can I help?" My daily tasks ranged from creating message maps for different audiences, including the travel industry or healthcare workers, to writing COVID-19 health messages aimed at older adults for WHO report.
I heard the term "infodemic" used often at WHO, and it intrigued me. It means "an overabundance of information – some accurate and some not – that occurs during an epidemic." The term "infodemic" is gaining traction among public health professionals like me who work in risk communication and community engagement. After work hours, I talked to friends and family in the United States who had frantic questions about COVID-19. Dealing with the infodemic in real time was one of the most challenging parts of my three weeks with WHO's EPI-WIN team.
My time in Geneva was cut short in mid-March,  when travel bans were implemented because of COVID-19. I was so distraught about leaving the team I'd bonded with and the work I felt so strongly about that I cried in a meeting, but in hindsight, I can see that going home was the right call. My family and friends were relieved that I would be returning. Before I came back, they warned me about toilet paper shortages in the United States – something I had to see to believe.
My advice to young public health professionals is to work with other organizations, whether it's an international partner organization, a state health department, or anything in between. It helped me to not only build professional connections and technical expertise, but also to experience organizational processes and policies different from CDC's, which made me a stronger responder. I now work on the Emergency Response Capacity Team within the CDC Division of Global Health Protection, with a focus on operational risk communications. That means strengthening the plans, policies, and procedures used to perform risk communication work in a response. We start by figuring out what they can do already, then work on specific needs , such as templates, training, hiring, and budgeting. Does an organization have dedicated and trained risk communication staff? Does it have the equipment and budget it may need to implement outreach and receive community feedback? Assessing and implementing  processes like these ensure that communication teams are prepared, trained, and ready to go when there is a public health emergency.
Time and time again, we see the importance of risk communication work in responses: like Ebola and now with COVID-19. Risk communication and community engagement are how public health agencies and organizations reach out to the public right after an event like a hurricane or disease outbreak. It turns theoretical research and data into relationships with the communities most affected by outbreaks and emergencies of all kinds. We saw this in the Ebola response with the concept of safe and dignified burials, which included the science of how to avoid spreading Ebola while respecting local funeral practices. Think of every time you have heard, read, and reminded others to wear a mask, stay 6 feet apart, avoid crowds and poorly ventilated spaces, and wash your hands. These are all examples of risk communication messages at work.
Personally, I learned that response work is a marathon and not a sprint. I try to keep relatively normal working hours and step away from my screens at the end of the workday. I refresh my spirit on weekends and days off by going outside safely. I have found comfort in baking bread (including beginning a sourdough starter), learning how to sew, and adopting a mini palm tree. I've missed seeing my family and friends in person, but I feel incredibly lucky to have the company of my husband and two cats, who often like making guest appearances in the background of Zoom meetings.
Here's to hoping we can continue moving toward the light at the end of the COVID-19 tunnel, while continuing to wear masks and stay 6 feet apart.
Related Links
Covid-19 | | Blogs | CDC
Global Stories on COVID-19
Global COVID-19 | CDC
Posted on

by
---
Page last reviewed:
January 9, 2022
Page last updated:
January 9, 2022