One Health – A Comprehensive Approach To Preventing Disease, Saving Lives
Posted on

by
For as long as people have lived with – and in close proximity to – animals, the benefit of that reality has come with a serious trade-off… the potential for disease.
That reality also explains why a One Health approach is used at the Centers for Disease Control and Prevention to identify and minimize the risk from zoonotic diseases, or diseases that spread between animals and people, as well as to address other health threats affecting people, animals, plants, and their shared environment.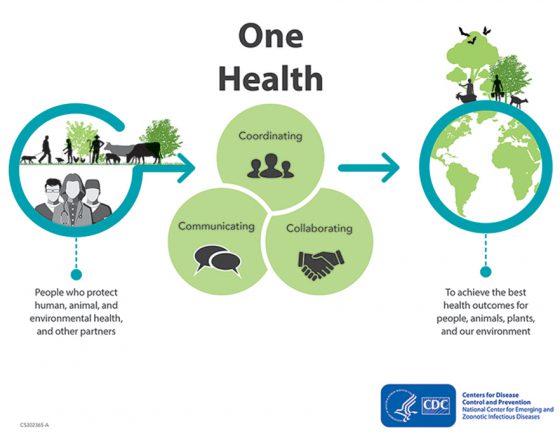 One Health, although not a new concept, is becoming increasingly recognized as a cornerstone for strong public health efforts. That's one reason November 3 has been designated "One Health Day," a day designed to draw attention – and appreciation – to an important, yet sometimes under-recognized approach for protecting the health of people, animals, plants, and the environment we all share. And there is no better time than now, during the COVID-19 pandemic, to highlight this approach, which is integral to understanding and fighting this new disease with global consequences.
One Health is a collaborative approach that connects health experts from human, animal, and environmental health disciplines at the local, national, regional, and global levels. One Health experts from across CDC work in the United States and abroad to keep people and animals safe from disease to improve quality of life worldwide. Broadly stated, One Health's goal is to prevent health threats at the human-animal-environment interface—including zoonotic diseases, antimicrobial resistance, food safety and security, vector-borne diseases, environmental contamination, and even chronic diseases and mental health issues.
As today's world becomes ever more connected, the need to effectively apply a One Health approach only increases, to protect people, animals, plants, and our environment, but also to prevent economic disruptions that all too often accompany disease outbreaks and other health threats.
How does One Health work?
Driving One Health is the recognition that the health of people is connected to the health of animals, plants, and our shared environment. This close connection explains why experts from across CDC are working closely with physicians, veterinarians, ecologists, and many others—ranging from pet owners, to laboratorians, to agricultural officials—to protect health for all living beings.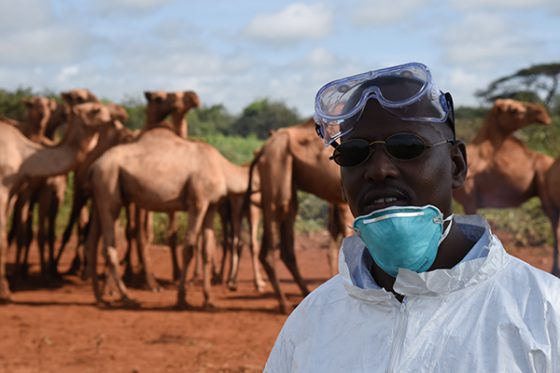 Consider this: Of all known infectious diseases in people, about 6 out of 10 can spread from animals. In addition, 3 in 4 newly emerging infectious diseases that threaten people originate in animals. A One Health approach is needed to better understand emerging zoonotic and infectious diseases, such as
COVID-19, which originated in an animal, likely a bat, and then spread to humans;
MERS, caused by another coronavirus that likely originated in bats and also linked to contact with camels;
Rift Valley Fever, which is caused by a virus spread by mosquitoes and affects people and livestock and has caused multiple outbreaks in Africa and the Middle East;
And human infections with a new avian influenza A (H7N9) virus first reported in China in 2013, believed to result from exposure to infected poultry or contaminated environments.
One Health at CDC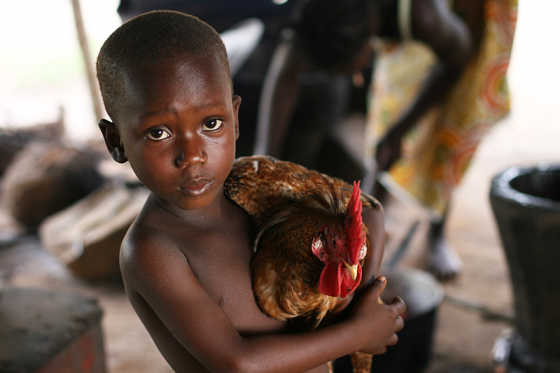 At CDC, the One Health Office was established in the National Center for Emerging and Zoonotic Infectious Diseases (NCEZID) in 2009, the first federal agency to establish such an office. Staff in the One Health Office are available to provide technical support to CDC staff and a variety of partners working on important public health issues dealing with animal and human disease threats, both within the United States and around the globe. The office works closely with human, animal, and environmental health partners in the United States, in other countries, and with international organizations to build strong partnerships; develops tools and trainings to advance One Health; and leverages CDC's expertise to assist partners in strengthening One Health efforts.
Like all CDC experts, the One Health team is driven by data and science. Currently, staff from the office are involved in CDC's response to COVID-19 and leading investigations to learn more about the transmission dynamics of SARS-CoV-2 – the virus that causes COVID-19 – between animals and people. By including One Health in the emergency response from the beginning, CDC is ensuring that all facets of this new disease are addressed to help improve both human and animal health.
Incorporating a One Health approach into global public health efforts means working collaboratively with an array of experts in human health (doctors, nurses, public health practitioners, epidemiologists), animal health (veterinarians, paraprofessionals, agricultural workers), environment (ecologists, wildlife experts), and other areas of expertise (pet owners, communities, policymakers). This will allow us to improve global preparedness and response to pandemic threats and other zoonotic and infectious diseases. The One Health approach allows us to have the biggest impact on improving health outcomes for people, animals, plants, and our shared environment.
Posted on

by
---
Page last reviewed:
January 9, 2022
Page last updated:
January 9, 2022