CDC Tanzania and partners: Ensure HIV services amidst the COVID-19 pandemic
Posted on

by
The COVID-19 pandemic has brought about a series of unique structural, logistical, and program challenges related to routine HIV prevention, testing, and treatment services in Tanzania. To better protect healthcare workers and people living with HIV (PLHIV), the U.S. Centers for Disease Control and Prevention (CDC), Government of Tanzania (GoT), non-governmental partners, and healthcare facilities joined forces to put into practice COVID-19 prevention measures, innovated ways to leverage limited resources, and modernized program activities to optimize the continuity of essential service care for people living with HIV (PLHIV).
CDC partners worked closely with healthcare facilities to promote key COVID-19 prevention measures: social distancing (i.e. staying at least 6 feet (2 meters) apart from others), use of face masks, and hand hygiene recommendations. Together, they also re-imagined protocols related to facility-based services, to minimize disruptions in care, prevent long queues, and congested waiting areas. PLHIV typically seek HIV care at treatment clinics at least once a month to collect their antiretroviral therapy (ART) medicines.  Years of adaptations to meet the data driven demands of a changing HIV landscape provided the necessary framework for GoT, CDC, and partners to address new challenges presented in the context of the COVID-19 pandemic.
Partner Reflections
Amref Health Africa
Optimizing Care and Treatment Clinic (CTC) appointments: Block appointments strategy, multi-month dispensing, immediate refills, and merging services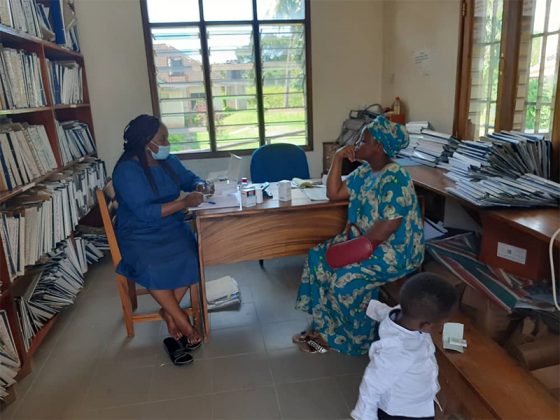 To reduce congestion at health facilities and allow for social distancing, Amref promoted block appointments for PLHIV visiting CTC clinics. Clients were scheduled to enter the clinics at different times with extended hours of service to encourage smaller group sizes and ensure coverage for all. Additionally, clients were given multiple months of ART to reduce the frequency of visits to clinics. For clients with scheduled appointments, facility staff provided immediate refills for those who did not need to see a doctor and merged multiple services into one appointment to reduce the number of visits. Taken together, these measures streamlined the process to reduce exposure between clients and providers, and to reduce the number of clients waiting for services.
Spreading health information through mobile outreach vans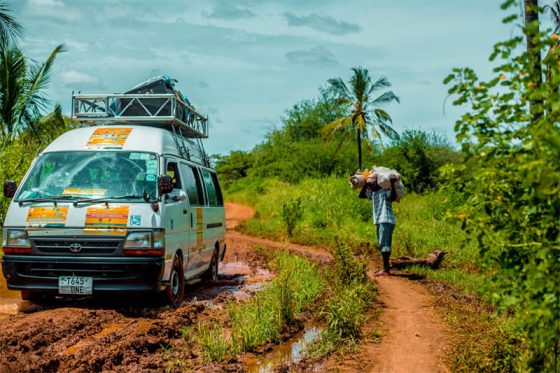 To mitigate widespread fear and confusion about the COVID-19 pandemic, Amref used different techniques to provide health education in a safe and accessible way in communities around the country. To reduce fear and provide lifesaving information, Amref took to the streets and the screens to educate audiences. Amref used public announcement (PA) systems atop mobile vehicles to broadcast messages in hard-to-reach, rural areas.  The campaign explained how COVID-19 spreads, symptoms, and actions to take if one felt ill, and messages on how to prevent the spread of the virus. This health information helped reduce COVID-19-related stigma and alleviate fears in communities often overlooked by routine health messaging. Additionally, Amref created a video to teach proper handwashing technique.  The video was shared on social media to increase the reach and impact of their messaging.
Ariel Glaser Pediatric AIDS Healthcare Initiative (AGPAHI)
New technology facilitates remote early infant diagnosis trainings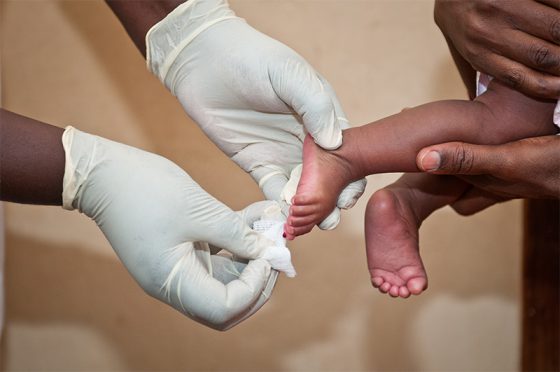 COVID-19 precautions greatly limit in-person activities to reduce the spread of the virus.  This made it challenging to conduct planned trainings, mentorship, and routine in-person technical assistance for HIV activities. Through CDC support, AGPAHI identified gaps in the testing, diagnosis, and treatment of infants born to women living with HIV, also known as the early infant diagnosis (EID) cascade. To address these gaps, AGPAHI developed a series of trainings and onsite mentorship sessions to enhance EID programming. The first step was to increase use of facility level indicators and retrain healthcare providers to strengthen the dried blood spot (DBS) sample collection process for infants under two months old. DBS involves taking a small blood sample from an infant's foot using a special kit. The sample is tested in a lab and helps identify HIV-positive infants early. AGPAHI began intensive virtual and remote weekly monitoring of the EID service delivery cascade, in collaboration with the District Reproductive Child Health Coordinators and healthcare workers. Onsite mentorship on DBS collection shifted to smaller groups. The District staff trained two healthcare providers at a time, while observing necessary precautions against COVID-19 by social distancing and wearing
masks.
Innovative approaches to keeping PLHIV on treatment during COVID-19
Innovative approaches to keeping PLHIV on treatment during COVID-19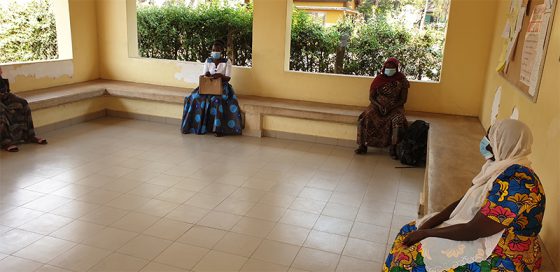 After the Government of Tanzania announced the first case of COVID-19, some health facilities were designated for isolation and treatment of COVID-19 cases. In Mara region, local government officials designated Nyakato and Makoko dispensaries to treat COVID-19 patients. This meant new and existing HIV clients who typically visited these facilities had to find alternate locations for ongoing services. All PLHIV from these two dispensaries were redirected to the Nyasho, Kwangwa, Bweri dispensaries and Musoma Regional Hospital to continue receiving ART services without interruption. Through CDC support, AGPAHI and Council Health Management Teams implemented strategies to ensure all PLHIV knew how, when, and where to safely obtain services. Clients received phone call reminders about upcoming appointments as well. Transit registers were placed at the clinics to track clients receiving services from alternative health facilities. The registries shared information with the client's host clinic and his/her medical record was updated. Expert Clients (ECs), or PLHIV who provide support and counsel to people newly diagnosed with HIV, were leveraged to track and follow-up with new HIV patients who missed appointments at secondary clinics. AGPAHI also worked closely with ICAP, a CDC partner supporting community-based activities in Mara, to scale up the multi-month dispensing (MMD) of prescriptions to eligible PLHIV. MMD at the community level helps to provide medication to clients and reduces the frequency and time PLHIV spend at healthcare facilities.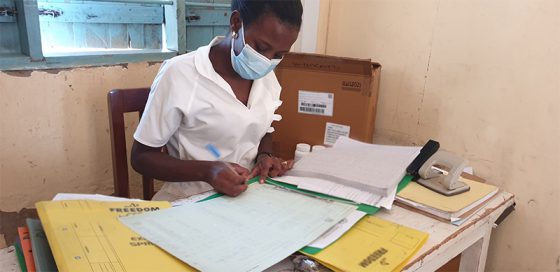 An assessment of the strategies implemented to ensure continuity of care and treatment services found an increase in the number of clients actively receiving ARTs who were registered clients of Nyakato and Makoko dispensaries but were receiving care at an alternative health facilities due to COVID-19. The number of clients on treatment registered to the Nyakato Dispensary increased from 228 at the end of March to 295 by 30th June, and Makoko Dispensary saw the number of registered clients on treatment rise from 203 at the end of April to 251 by the 30th of June. Similarly, the proportion of clients accessing multi-month prescriptions increased from 20% by 30th of March before COVID-19 to 36% in June for Nyakato Dispensary and from 18% to 43% for Makoko Dispensary within the same timeframe. Collecting transit registries and sharing the information back to the clients' home facility, along with a system for tracking and following up with new and existing HIV clients, resulted in a significant improvement in continuity of treatment among clients. Joint coordination and collaboration among CDC partners and service providers highlight promising results for maintaining continuity of services and avoiding interruptions in treatment for PLHIV.
---
Related Links
Posted on

by
---
Page last reviewed:
January 9, 2022
Page last updated:
January 9, 2022