Voices from the Field: An interview with Anita Beukes, Laboratory Advisor
Posted on

by
How is COVID-19 testing conducted in Namibia?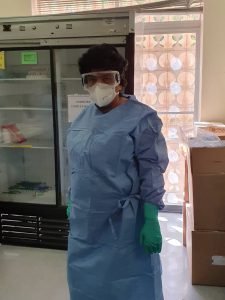 Namibia is using semi-automated and automated platforms to conduct viral tests for COVID-19 (molecular real time reverse transcriptase-polymerase chain reaction [RT-PCR]). Testing is conducted at the government laboratories (Namibia Institute of Pathology), as well as at the University of Namibia, and in the private sector (Pathcare and a laboratory funded by NAMDEB, a mining company at a town at the southern tip of the country). All results must be reported to the Ministry of Health and Social Services regardless of which laboratory performs the test.
What is your role as part of COVID-19 testing team?
I work with the Namibia Institute of Pathology as part of the team doing planning, setting up workflow processes and assisting with the pre-analytic process of preparing samples and paperwork for testing. And of course, any other duties as needed.
What does a typical day preparing samples look like?
A typical day starts at 7, unpacking hampers with samples that have come from all over the country. I then match the samples to the accompanying paper forms, check that the samples have been collected correctly (for example correct swab used and closed properly) and prepare worksheets that the team performing the testing will use. The testing process can take several hours, depending on the method used, before results become available. The results are then verified, entered into the laboratory information system and finally signed off as ready for issuing through the Ministry of Health response team to the clients. All these processes have built-in quality indicators to ensure timely and correct results are issued to clients.
How has your experience of working at the CDC helped you in this role?
Working at CDC, I am always ready to think outside the box, provide solutions to challenging situations, and work as a team. It is beneficial to have these skills because setting up a new testing procedure for COVID-19 with extraordinary safety requirements is challenging.
What are some of the extraordinary safety requirements that are in place in a COVID-19 laboratory?
COVID-19 testing is conducted in an Enhanced Biosafety Level 2 or Biosafety Level 3 laboratory. Staff training and a competency assessment of staff is a first step in the initiation of COVID-19 testing to ensure the risk involved in testing is fully understood, and safety measures are adhered to throughout the testing process. Many safety measures are implemented throughout this process. For example, triple packaging is used when samples are shipped to the laboratory, and samples are handled in a Class II biosafety cabinet to ensure any aerosols are contained. Furthermore, all staff working in the COVID-19 laboratory must always use the following personal protective equipment (PPE): long sleeve gown with closed front, an N95 mask, goggles, double gloves, shoe covers and hair cover. Used PPE is removed and discarded carefully, close to the doorway. Waste segregation is key. Cleaning bench areas with appropriate disinfectant after each activity is also compulsory. It is a simple but important step in the process.
What have you learned from this experience?
Conducting laboratory testing during an outbreak is unpredictable. It helps to plan and prepare for worse-case scenarios to ensure that every possible scenario is covered.
Posted on

by
---
Page last reviewed:
January 9, 2022
Page last updated:
January 9, 2022