CDC Team Takes ME/CFS Around the World
Posted on

by
Chronic fatigue syndrome, also known as myalgic encephalomyelitis and referred to as ME/CFS, is a debilitating illness that takes away the active lives of people who suffer from it. Between 17 – 24 million people worldwide are thought to have ME/CFS and, in the United States, this illness may affect up to 2.5 million Americans. ME/CFS affects people of all ages and races, and is more common in women than men. The Institute of Medicine reports that patients with ME/CFS are more functionally impaired than people with diabetes, rheumatoid arthritis, and hypertension. ME/CFS is a recognized illness in many countries and regions beyond the United States, including the United Kingdom, Scandinavia, Australia, the Netherlands, Canada, Japan, India, and China.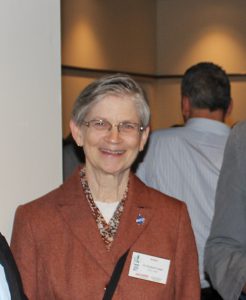 The Centers for Disease Control and Prevention (CDC) reports that ME/CFS is a significant public health problem in the United States. But you may be surprised to learn how CDC contributes to the global fight against ME/CFS. Dr. Elizabeth Unger, head of the ME/CFS program at the CDC, describes how her team's work impacts ME/CFS outside the United States.
"CDC's work describing the epidemiology and economic burden of ME/CFS in the United States has provided support for research and clinical investment by other countries. Since our program was started, we push for peer-reviewed research and publications in ME/CFS. We believe in partnering with other researchers to more accurately identify clinical aspects of ME/CFS that could lead to better diagnosis and management."
"One highlight of our program is to bring together different stakeholders to hear different perspectives on ME/CFS and how it affects many parts of the community. We include patients with ME/CFS, caregivers, healthcare providers, and public health departments in our roundtable series. The sharing of stories and ideas has been an important part of our program and we hope our roundtables will serve as a helpful format as more countries look for innovative ways to further the cause of ME/CFS."
One outcome of CDC's stakeholder roundtable meetings was an update to its website and educational materials, including special webpages designed to help educate doctors and healthcare workers about ME/CFS.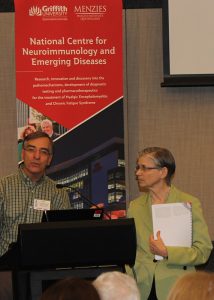 "By incorporating the input of patients and healthcare providers, we hope to show that learning works best when everyone works together. Many of our educational materials are accessed by citizens from other countries and we have provided a version in Spanish."
Another way that CDC interacts with different countries is participation at international conferences. For example, Dr. Unger represented CDC at the Biomedical Research into ME Colloquium 7 through 9 (2017-2019), which is sponsored by Invest in ME Research, an advocacy group in the United Kingdom. She also presented CDC's work on ME/CFS at the "CFS/ME International Conference: Research Innovation and Discovery," held November 2018 in Australia. This two-day conference included speakers from Australia, Japan, Poland and the United States.
CDC's ME/CFS program has also supported international efforts by active participation in the International Association of Chronic Fatigue Syndrome/Myalgic Encephalomyelitis (IACFS/ME) meetings, represented by over 26 countries. The conferences are held about every three years and provide a unique opportunity for scientists, clinicians, and patients to gather and learn about the latest research and clinical progress. Fred Friedberg, President of IACFS says "CDC plays an important role globally in ME/CFS by being a leader in science, epidemiology, and education. CDC is pivotal in advancing knowledge about ME/CFS on a global level."
Posted on

by
Page last reviewed:
January 9, 2022
Page last updated:
January 9, 2022