Safe Water Saves Lives- How We Can Combat Cholera
Posted on

by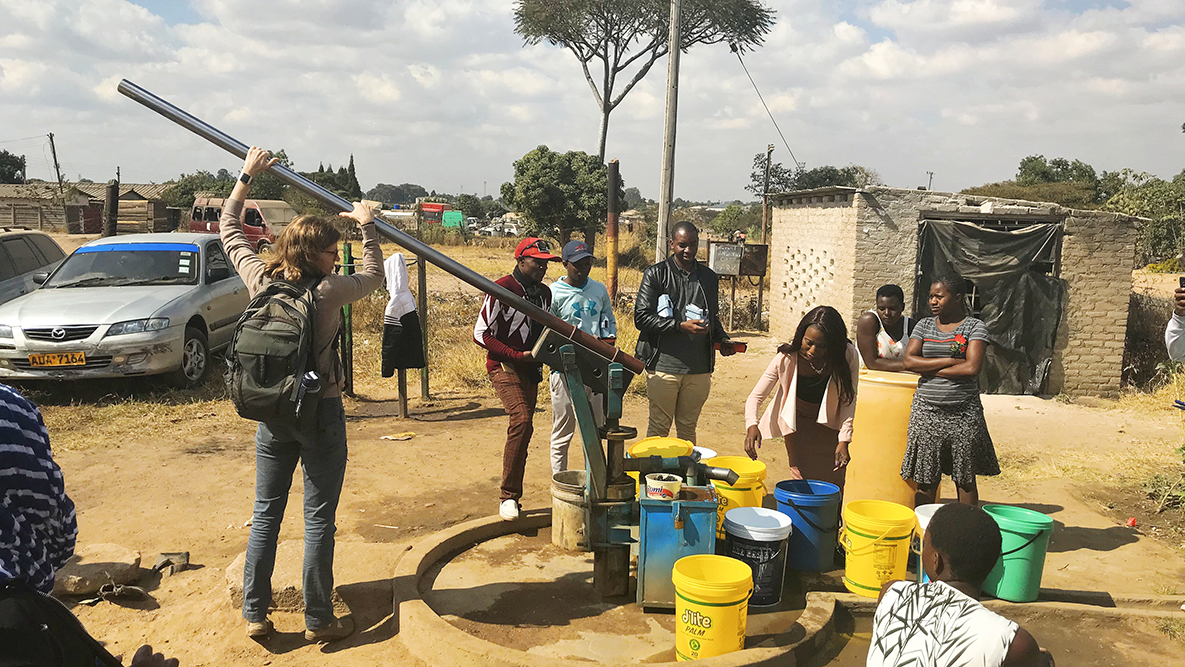 CDC public health engineer Andrea Martinsen works on the Global WASH team within the Division of Global Health Protection (DGHP), where she responds to international disasters, disease outbreaks, and humanitarian crises that threatened the supply and provision of safe drinking water.
---
In September 2018, an outbreak of cholera was declared when 25 patients were first admitted to the Beatrice Road Infectious Disease Hospital in Harare, Zimbawbe. Cholera is a highly infectious disease, which can be spread through food or by drinking water contaminated with feces from an infected person. Like many other waterborne diseases, cholera is best prevented by properly treating and chlorinating water, adopting healthy hygiene behaviors such as handwashing, and safely disposing of fecal matter.
I, along with two other colleagues from DGHP, traveled to Harare to address the major water challenges contributing to this outbreak as one component of the CDC cholera response team. The City of Harare's municipal water system faced many challenges, including aging infrastructure, insufficient water supply, and inconsistent free residual chlorine (FRC) levels.  Most importantly, free residual chlorine levels were too low, meaning the water wasn't chlorinated to the recommended levels and not safe to drink.
First, CDC, along with the City of Harare Environmental Health Department and UNICEF, began a municipal tap surveillance system to document water quality. As a part of the system, several water taps around the city were sampled to document water availability, free residual chlorine levels, pH, and turbidity, or the amount of dirt or other small particles in the water. Booster chlorination was priotized in highly-affected areas as a result.
Second, with funding provided by DGHP's inter-agency agreement with the U.S. Office of Foreign Disaster Assistance, we conducted an evaluation of in-line chlorinators at hand pumps. As a result of the insufficient quanity of water from the municipal water system, many people in Harare were using other water sources, such as boreholes with hand pumps. These wells are not regulated and may contain water contaminated with cholera or other pathogens, if not drilled correctly.  The installation of in-line chlorinators provides chlorination at the point of collection of water, ensuring it is treated and safe to drink. It also protects from secondary contamination within the household. However, when we set out to evaluate the chlorinators in June of 2019, only 33% of water points sampled had detectable free residual chlorine levels. Additionally, only 14% of these points with detectable FRC had levels greater than 0.5 mg/L, the level recommended by the World Health Organization during a cholera outbreak. This means the majority of Harare's citizens were drinking unsafe water. Increasing the amount of water points with detectable and safe levels of FRC was critical to controlling the outbreak.
To improve chlorination of drinking water during a cholera outbreak, monitoring at all levels, whether it is the municipal water system or at the point of water collection at hand pumps, is critical to ensure that we meet WHO recommended levels and guarantee safety of all people.
Through strengthening capacity and responding to waterborne disease outbreaks, we at CDC work in partnership to ensure everyone has access to clean and safe water. Whether you call it mvura, amanzi, or agua—water is essential to a safe and healthy life.
Posted on

by
Page last reviewed:
March 13, 2020
Page last updated:
March 13, 2020