Ending the HIV/AIDS Epidemic: Community by Community
Posted on

by
The Centers for Disease Control and Prevention (CDC), a lead agency in the U.S. President's Emergency Plan for AIDS Relief (PEPFAR), works every day with partners to accelerate HIV epidemic control efforts. Communities play a vital role in controlling and ultimately ending the epidemic. A key part of CDC's efforts in Tanzania includes working with the Government of Tanzania, and partners to ensure all individuals within a community have access to life-saving HIV prevention and treatment services. Below are snapshot of stories highlighting CDC's impact in Tanzania.
---
This Tanzanian Couple Plan Together, Dream Together, and Fight HIV Transmission Together
Voluntary Medical Male circumcision (VMMC) is a key HIV prevention intervention in Tanzania which offers a 60 percent protection against heterosexual HIV acquisition among men. Research also supports an association of VMMC with decreased risk of several diseases in women. Since 2009, nearly 80 percent of males aged 10-29 years have utilized VMMC services, but gaps remain. IntraHealth International, in partnership with CDC, leads the ToharaPlus project, and is working with the government to expand access to VMMC services in the regions around Lake Victoria, which have high HIV prevalence and low circumcision rates. Khadija Butemi, a twenty-one-year-old small-scale farmer from the Lake Victoria area, learned about VMMC through a public service announcement while doing her daily chores. After experiencing a number of health issues, she went to a nearby clinic to learn more. She explained the health benefits to her husband, and he agreed to have the procedure. He followed the health workers' instructions carefully to ensure he healed properly. Khadija and her husband are happy with the results and now advocate for VMMC in their community sharing their experience with others.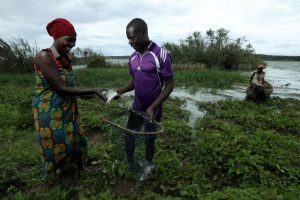 In 2016, IntraHealth started using geographic information system mapping to pinpoint areas with high numbers of uncircumcised men. Prevalence estimates were obtained from a variety of robust data sources and geo-coded into geographically accurate areas. With advice from community experts and health care workers, this exercise helped determine areas with high numbers of uncircumcised men for strategic service delivery. In 2019, the team circumcised more than 450,000 men – a 40 percent increase from the prior year. The use of data also improved the delivery of VMMC services by streamlining implementation processes and reducing cost per client by 40 percent (from US$50 to about $30).
---
Prevention of Mother To Child Transmission Turns Around A Widow's Life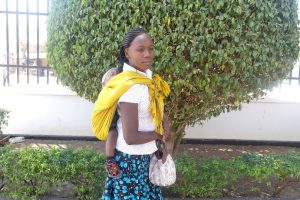 Diana struggled in secondary school and dropped out to help her mother sell vegetables at the local market. Soon she met a trader and got married. After they were married her husband became frequently ill. "I was worried and went to the local dispensary where I was tested and found to be HIV-positive. I was devastated," Diana said. After sharing the results with her husband, they enrolled in treatment, but her husband eventually died after he stopped taking his medication. Diana stayed on treatment, met a new partner, and got pregnant. Diana and her partner were worried about their unborn child. Determined to stay healthy and deliver safely, she joined a support group for HIV positive mothers. Diana was able to safely deliver her son and breastfeed. Her son is now three years old and HIV-negative. "I am really thankful for the support and my baby is HIV-negative, I received all the relevant knowledge and guidance with regard to pregnancy, childbirth and postnatal care. I urge pregnant mothers living with HIV to adhere to medication and heed healthcare providers' advice after childbirth" says Diana. In 2019 alone, CDC in partnership with the Ariel Glaser Pediatric AIDS Healthcare Initiative, and Tanzania's Ministry of Health, Community Development, Gender, Elderly and Children provided lifesaving antiretroviral therapy to more than 30,000 women like Diana receiving Prevention of Mother to Child HIV Transmission services in 12 regions in Tanzania.
---
A Journey from Drug Abuse to a Successful Farmer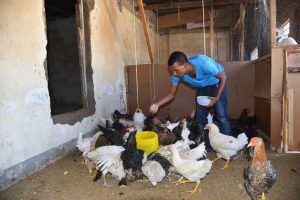 "I was completely lost. I used to sleep all day and remain awake for the whole night. I completely lost my focus," said Mohamed a former drug abuser. Drug use is the reason he dropped out of college. He started drinking alcohol and smoking marijuana when he was in secondary school and became addicted to heroin in high school. He tried to quit drugs but was never successful. In 2018, he saw friends successfully seeking treatment through a local medication-assisted treatment (MAT) clinic. MAT has been shown to be an effective treatment for opioid dependence, reducing risk behaviors related to injection drug use, and preventing HIV transmission. After learning about the benefits of MAT, he sought treatment for his heroin addiction. He has since made a full recovery, never relapsed, and works as a poultry farmer, and is establishing himself as an environmental activist. As one of nearly 300 MAT clinic beneficiaries at the local hospital in Mwanza, Mohamed is now a leader and MAT advocate working to encourage others to seek treatment for drug addiction. He is also developing a proposal to help other recipients of the treatment to find work in chicken and fish farming. In 2019, CDC and the Ariel Glaser Pediatric AIDS Healthcare Initiative supported more than 4000 MAT beneficiaries to engage in positive health seeking behaviors in Tanzania.
---
From Contemplating Suicide to Becoming A Peer Educator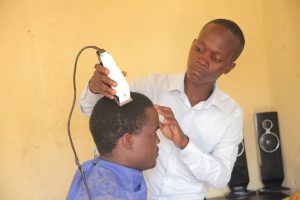 Joseph was distraught when he was diagnosed with HIV at 15 years old. "I didn't like to be near anybody, even my own mother. I felt that I wasn't loved.  I saw no point in continuing to live, and I thought that it would be better if I killed myself," said Joseph. As the only member of his immediate family to have the virus, everyone was puzzled by his diagnosis.  It was recalled that when Joseph was two years old, he developed an acute fever and had to undergo a blood transfusion. The blood was donated by his uncle, who was later diagnosed with HIV. "It was really tough at first," said Ms. Suzana, Joseph's mother, noting there were times when he refused to take his HIV medication and his health deteriorated sharply. Joseph's life changed when he joined a teen-friendly HIV support group. "Whenever I was at the club, I met fellow [HIV-positive] children, and saw that I wasn't alone, but that there were many of us," Joseph said. "We were taught how to live with HIV positively. We played, ate, and drank together. I began to see my true value, and thoughts of killing myself disappeared." Now, Joseph earns a living as a barber. He lives a happy and healthy life and helps other teens cope with their HIV status. Ariel Glaser Pediatric AIDS Healthcare Initiative, a CDC funded partner, supports children and adolescents living with HIV with psychosocial support camps throughout Tanzania.
---
Economic Empowerment Transforms the Lives of Young Girls In Rural Tanzania
Tatu graduated from primary school in 2017 but dropped out of school before receiving any secondary education. Eventually she started secretly engaging in transactional sex with multiple partners to support herself and her family. Adolescent girls and young women (AGYW) face a disproportionately high HIV incidence rate compared to their male counterparts of the same age group. To reduce the risk of HIV infection among AGYW, PEPFAR launched the Determined, Resilient, Empowered, AIDS free, Mentored and Safe (DREAMS) initiative, which uses evidence-based interventions to successfully address risk behaviors for HIV transmission and gender-based violence. ICAP at Columbia University, a CDC funded partner, is implementing the DREAMS program in Tanzania offering HIV awareness and testing, peer support groups, and economic empowerment through group savings and income-generating activities.
Tatu joined the DREAMS group of 15-19 year-olds, and learned how to stay safe and healthy, and abou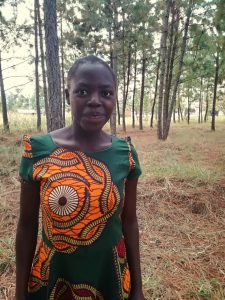 t economic strengthening opportunities through the WORTH+ activity within the program. With WORTH+ sessions, AGYW are empowered and equipped with knowledge and skills on how to develop business ideas, transforming them into lucrative businesses, starting and maintaining their business and saving in order to expand. Before joining the project, Tatu was selling sardines at her local market. With limited capital, she couldn't manage to support her   business   as well as cater for her daily needs and expenses. "The economic empowerment sessions made me see the importance of being able to generate my own income and save appropriately. I started saving 1,000 Tanzanian shillings (~0.45USD) per week, and on May 2019 I took a loan to expand my business. I began selling sardines with a capital of 18,000 Tanzanian shillings (~ 7.85 USD) and with the loan I took, I currently have 60,000 Tanzanian shillings (~26 USD) operating capital. DREAMS made this possible for me."
DREAMS training has helped Tatu to manage her business and generate sufficient income to cover her personal daily needs and to support her family occasionally. Being empowered economically has also helped her to protect herself from engaging in high-risk sexual behaviors."Now because of my business improvement, I have been able to repay the loan I took from our group, support my parents on some household needs, and buy my own stuff," she says. "I have realized the risks I was putting myself into before DREAMS, and I am now very careful of the decisions I make concerning health and sexual relationships. From now on, my life is no longer at risk as it used to be before I joined the program.  DREAMS changed my life!"
Posted on

by
---
Page last reviewed:
January 22, 2020
Page last updated:
January 22, 2020