CDC Responders talk about their experiences in Rwanda
Posted on

by
Serving in Rwanda as an Assistant Ebola Coordinator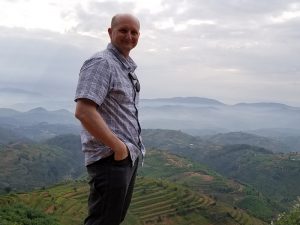 CDC epidemiologist Shayne Gallaway served as Assistant Ebola Coordinator during multiple deployments to Rwanda for the 2018 Eastern DRC Ebola Response. Gallaway and team provided technical assistance to the Ministry of Health to prevent, detect, and respond to viral hemorrhagic fevers, including Ebola. He is a Lieutenant Commander in the US Public Health Service.
When I first deployed to Rwanda in January 2019 to help coordinate preparedness efforts for the Ebola response, I didn't really know what I was getting into. As an epidemiologist, I typically spend my days focused on work with different risk and protective factors for cancer. But this new role as Assistant Ebola Coordinator called for me to observe Ebola activities from a broader perspective. To support other CDC responders with their field work, I needed to have a broad understanding of all the activities involved in preparing a country against disease outbreaks. This new perspective has given me a chance to support the bigger picture and experience things you don't always see when you're solely focused on epidemiology. My experience supporting Rwanda in this response has helped me to appreciate all the external influences on my day job.
It's a different perspective, being in a country that is focused on preparedness. Watching where Ebola spreads, waiting to see how close it gets to the Rwanda border. It's difficult to not feel somewhat helpless, being in a country with no Ebola cases while this deadly disease is wreaking havoc in the nearby areas of DRC. But I know that we are doing as much as we can to make sure that Rwanda is prepared, should a case of Ebola enter the country.
So, what does it take to be a coordinator? It takes someone that's willing to take on whatever task is going on to keep the mission moving forward, whether it's diplomacy, reporting, logistics, or arranging a car for a lost CDCer. It's making sure all the work behind the scenes is taken care of so that all deployers can be engaged with partners in the field, working persistently to ensure Rwanda is prepared. And that's really what I'm here to do.
---
CDC Expert Helps Protect Healthcare Workers in Rwanda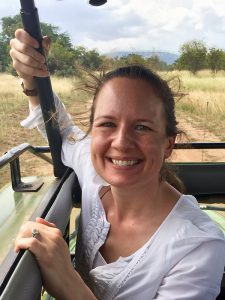 Dr. Kristie E. N. Clarke, vaccine subject matter expert and medical epidemiologist for the National Center on Birth Defects and Developmental Disabilities, assisted the Rwanda Ministry of Health and World Health Organization-Rwanda in creating a national database for vaccine eligible health care workers and actualizing a national Ebola Virus Disease Preparedness and Contingency Plan.  She is a Commander in the US Public Health Service.
When I deployed to Rwanda for a month in January 2019, it was my first time away from my 14-month-old daughter for more than a couple of nights. Eight days after I arrived home, my husband deployed to South Sudan for a month, also to support the Ebola response. It can be a challenge to be far away from family, but it's an honor to be called on to help. My experience in Sierra Leone during the 2014-2016 West Africa Ebola outbreak drove home the importance of this mission. I'd seen the effect that Ebola can have on a country and its healthcare system, so helping Rwanda prepare to respond quickly and effectively was a high priority for our family.
This was not my first time working in emergency response. I worked internationally and deployed domestically to screen returning travelers during the West Africa Ebola outbreak, deployed to Puerto Rica for Zika, and to Kenya to support polio eradication. On my deployment to Rwanda, I felt as though I was called to the right place at the right time. I am a pediatrician with experience in global immunization, strategic information and data management, and clinical care. Historically, Rwanda has not been affected by Ebola. So, when I traveled to healthcare facilities in remote areas at high risk of disease importation, people not only had a lot of questions about vaccines but also about Ebola virus disease in general. The healthcare staff were all so engaged, asked insightful questions, and were interested in learning as much as possible. As a pediatrician, I thought to myself, "If I were working in this clinic, what would be most useful? What would I need to know to protect myself, my family, and my patients?" It was my responsibility to provide them with the best information. It was extremely meaningful to have the unique opportunity to connect with and work to protect my Rwandan colleagues.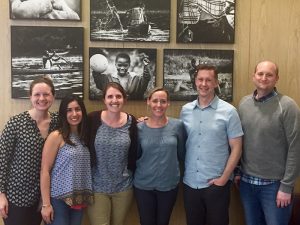 I don't know what my daughter will decide to do when she grows up. But I do hope that she's already internalizing the value of service to others. Currently 22 months old, she sees the bags get packed for the next deployment. "Where are you going?", I ask her as she trudges purposefully around the house, wearing rain boots and clutching her little travel bag. She smiles proudly, "I go on a plane."
---
The Time to Prepare for Ebola Is Now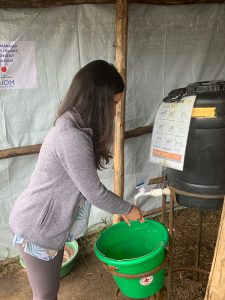 CDC Epidemic Intelligence Officer (EIS) Dr. Samira Sami served as Epidemiology and Surveillance Lead during multiple deployments to Rwanda for the 2018 Eastern DRC Ebola Response. Sami and team provided technical assistance to the Ministry of Health to strengthen Ebola surveillance activities.
Landing in the hills of Kigali, Rwanda, I joined the CDC team with anticipation about the progress made a year after the response began. Six months earlier, I worked with the Ministry of Health (MOH) to develop national Ebola virus surveillance standards including case definitions and investigation forms. In August 2019, I returned to help the MOH evaluate their efforts and identify gaps in surveillance to keep communities safe from Ebola virus transmission. It was a very exciting moment when I learned that we would be able to implement our evaluation tools at upcoming Ebola simulation exercises.
The simulation that I observed, along with a CDC lab colleague, took place at one of the district hospitals in Kigali. Healthcare workers participated in roleplaying to screen patients for Ebola, isolate a suspect patient, and notify the appropriate authorities for laboratory testing. They also practiced how to develop a patient contact list. This list is very important to help stop the spread of the disease in a community. The list is made up of all the people who may have come into contact with the patient in the time between symptom onset and diagnosis. Those listed can resume their daily activities but are monitored for up to 21 days for Ebola symptoms.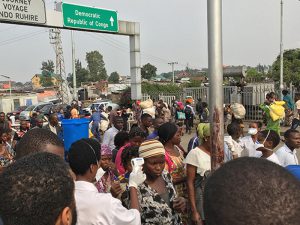 At the end of the day, we gathered to discuss what we thought went well during the exercise, areas that needed improvement, and recommendations for addressing gaps in the training curriculum. During our debriefing conversations, a colleague from the World Health Organization passionately spoke about her time in Liberia during the 2014-2016 West Africa Ebola outbreak. At that time, she witnessed people dying from Ebola and healthcare workers becoming infected. In Liberia, there was no opportunity to prepare for Ebola's effect as the country was immediately thrown into response mode. She reminded us of the importance of Ebola preparedness activities, before it has a chance to cross over Rwanda's borders. As long as Ebola continues to affect the DRC, neighboring countries are still at risk. CDC and partners continue to support these countries to better detect and protect their communities and the global population from this devastating disease.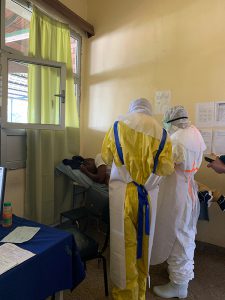 ---
CDC Supports the Rwanda Ebola Preparedness Plan for Healthcare Facilities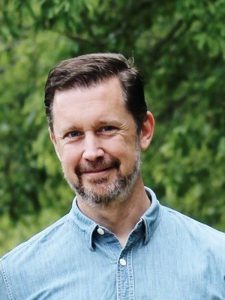 CDC CGH Medical Officer Todd Lucas, MD, MPH
I've done other international trips with CDC, but Rwanda was my first time preparing for a potential public health emergency. It didn't take long to realize this deployment would be different from my previous international experiences. Working in Tanzania on HIV prevention efforts, I knew what activities I would do before I got there. But emergency preparedness and response is about quickly assessing the current situation, collaborating with the Ministry of Health (MOH) and other stakeholders, and determining how CDC can best assist. And even then, it can all rapidly change depending on the situation.
I deployed near the end of January 2019 and when I arrived, Rwanda was well underway on an Ebola preparedness plan. I provided technical assistance on Infection Prevention and Control for healthcare facilities. The Rwanda Ministry of Health and Rwanda Biomedical Center were leading various partners, including WHO and CDC, preparing the health system to rapidly identify and properly manage an Ebola patient to minimize the risk of transmission. A cascade training was put in place so that information flowed from the larger health centers to the smaller and more remote facilities.
Before my arrival, a training of trainers had occurred for many higher-level healthcare facilities. Then while I was there, the training was rolled out to participants from smaller health centers. Locations at higher risks were targeted first, where an Ebola patient might show up with symptoms like fever, diarrhea, or unexplained hemorrhage (bleeding or bruising). The trainees from these smaller centers then shared the information with their colleagues after returning to their facilities. Eventually all tiers across the health system would be targeted to make sure roles and responsibilities were clear around Ebola patient screening and management. Local trainers took ownership of the material, adapted it based on language needs, and communicated what was relevant to those smaller settings. The delivery of these key messages concerning a clear, simple response plan, and then practicing this plan, are what makes a difference in preventing Ebola from spreading in a healthcare facility.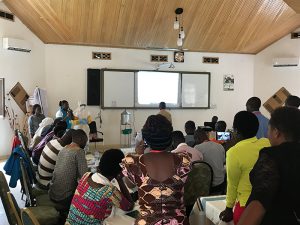 During my time in Rwanda, I collaborated with partners to improve training and helped develop a longitudinal mentorship plan to reinforce the knowledge and skills acquired in training. We identified specific mentoring roles and responsibilities for people across different levels of the health system. This arrangement also provided a mechanism for healthcare personnel to get questions answered and raise concerns.
Before deploying, I tried to prepare by asking previous responders about their experiences and gathering materials I thought would be useful. But one of my takeaways from this experience was that planning, although important, won't fully prepare me for an emergency response. It is essential to realize you are part of a larger team that functions best when it takes advantage of the expertise of all its members. Priorities and activities shift depending on need once you're there, it is crucial to remain flexible as a responder.
Posted on

by
Page last reviewed:
January 22, 2020
Page last updated:
January 22, 2020