World Day of Remembrance for Road Traffic Victims
Posted on

by
The World Day of Remembrance for Road Traffic Victims takes place every third Sunday in November. It serves as a way to:
Remember the millions of people killed and injured in road traffic crashes, and recognize their families, friends, and communities;
Pay tribute to the dedicated emergency responders, police, and medical professionals who deal with the traumatic aftermath of road deaths and injuries;
Remind the international community, governments, and individual members of society of their responsibility to make roads safer.
According to the World Health Organization, an estimated 1.35 million people die each year globally as a result of road traffic crashes, and up to 50 million are injured. Road traffic injuries now represent the leading cause of death among children and young people 5–29 years of age. They are the eighth leading cause of death for all age groups. More people now die in road traffic crashes than from HIV/AIDS.
Ninety-three percent of the world's road fatalities occur in low- and middle-income countries, even though these countries only have about 60% of the world's registered vehicles. For low-income countries, the road traffic injury death rate is over three times higher than the death rate in high-income countries.
The United Nations (UN) recognizes the need for action. In 2010, a UN General Assembly resolution proclaimed the Decade of Action for Road Safety (2011–2020) with the aim of saving millions of lives by improving the safety of roads and vehicles, enhancing safe behavior of road users, and improving emergency services. In 2016, the 17 Sustainable Development Goals (SDGs) to transform our world officially came into effect. The SDGs contain two targets specific to reducing road traffic injuries and increasing road safety (3.6 and 11.2).
Reducing motor vehicle crash death rates was one of the great public health achievements of the 20th century and of the first ten years of the 21st century in the United States. However, motor vehicle crashes are still among the top three leading causes of death for individuals 1–34 years of age. In the U.S., the most recent statistics indicate that in 2018, almost 37,000 people were killed, and in 2017, more than 2.5 million people were injured in motor vehicle crashes. Major risk factors for crash deaths in the U.S. include the following:
Not using seat belts, car seats, and booster seats, which contributed to almost 10,000 crash deaths in 2018;
Drunk driving, which contributed to more than 10,500 crash deaths in 2018; and
Speeding, which contributed to more than 9,100 crash deaths in 2018.
The Road to Zero (RTZ) Coalition, launched in 2016, has the goal of ending fatalities on the nation's roads by 2050. CDC has actively participated in the coalition and currently serves on the Steering Group.
The RTZ Coalition has described three interrelated approaches that are needed to achieve zero deaths:
Double down on what works
Accelerate advanced technology
Prioritize safety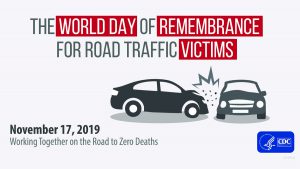 No one can forget the devastation caused by a lost life, especially when, in most cases, it can be prevented. Everyone can join us today on the road to zero by taking steps to be safe on the roads at home or abroad. Remember to do the following:
Use a seat belt in every seating position and on every trip—no matter how short.
Make sure children are always properly buckled in a car seat, booster seat, or seat belt—whichever is appropriate for their age, height, and weight. They should always ride in the back seat of the vehicle.
Always wear a helmet when driving or riding on motorcycles, motorbikes, or bicycles.
Do not drive while impaired by alcohol or drugs, and help others to not drive while impaired.
Obey speed limits.
Drive without distractions. For example, don't use a cell phone to text, email, or access social media while driving.
Be alert when crossing streets, especially in countries where motorists drive on the left side of the road.
Ride only in marked taxis, and choose to ride in taxis that have seat belts.
Avoid riding in overcrowded, overweight, or top-heavy buses or vans.
Check the Association for Safe International Road Travel (ASIRT) website for driving hazards and road safety risks by country.
Learn more:
Posted on

by
Page last reviewed:
December 19, 2019
Page last updated:
December 19, 2019