Taking Back the Lives That Tobacco Use Cuts Short: One Story from a Physician in Senegal
Posted on

by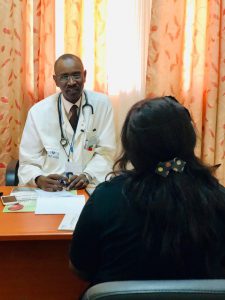 I went into medicine because I am passionate about helping others. I became an oncologist, a doctor who cares for people with cancer, because it gives me the opportunity to save lives and improve a patient's health care every day. I practice in Senegal, my beautiful country of origin in West Africa. As a young practitioner, I heard all around me, "he has cancer—it is over for him—he will die," because everyone knew that there was no available treatment. The number of oncologists in Senegal was very low; the discipline did not attract students. Oh, how many times have I heard a family say, "The doctors tell us to take our patient home, because they cannot do anything for him anymore."
The more I practiced oncology, the more I realized the main cause of cancers such as lung, mouth, aero-digestive tract, or other cancer types was tobacco use, which is harmful in all forms and damages all body organs. I realized we needed to promote tobacco control and prevent tobacco use in order to prevent cancer.
I remember when I first started as a practitioner; one of the very first patients I cared for was a relatively young man, about 52 years old. He also was a financial supporter of his family and a highly respected member of the community. He had a beautiful family that included a wife and five children, along with three adorable grandbabies. This man smoked a lot and started smoking at a very young age. He had finally decided to see a doctor after several months of hard coughing and weight loss. The cough did not worry him at first because he blamed it on chronic bronchitis from being a smoker. Then he experienced persistent back pain and soon after he began to have more and more pain while walking, so he adapted by using a cane and taking medications. He did not go to the hospital until 6 months later when he started spitting up blood. The doctor thought he might have tuberculosis, but the tests were negative and this man was referred to me because his very first X-ray showed disturbing shadows in his lungs. Unfortunately, the tests we did revealed that he had lung cancer with metastases to the bones and spine.
I was the doctor who had to tell this patient and his family that he had lung cancer. It was my job to give him his diagnosis. I had to tell him that the lung cancer had spread to his whole body. I will always remember that the first thing he said was that he would stop smoking right away. I felt so sad that he had ever started. I explained to him that chemotherapy was possible, but the outcome was uncertain.
Since I saw this man years ago, I have unfortunately seen many other patients like him. Remarkable and strong men and women whose lives are completely cut short from tobacco use. The loss of these lives is not only a loss for these patients, but also for their families, friends, and communities. This has particularly disastrous economic consequences for my country because tobacco use kills young, economically productive and active people.
Over the last 10 years, I've worked hard to make drugs and palliative care accessible. I've used the tobacco control data collected as part of our 2015 Global Adult Tobacco Survey and multiple Global Youth Tobacco Surveys (2013, 2007, and 2002) to teach Senegalese policy makers about how to use tobacco control measures in our country to prevent tobacco use and improve our population's overall health. I also have worked to help other members of the Ministry of Health use our evidence to develop programs to prevent tobacco use and save lives. I worked with all departments and the public to improve our cigarette warning labels, hoping to warn others of the fate of my patients. I also have begun to document oncology clinical outcomes that includes people who smoke in our country, to help my fellow physicians treat all patients optimally. I hope that these results will help to motivate my Senegalese compatriots to avoid smoking so they don't become a lung cancer patient.
The 52-year-old man I saw in those early days did not live very long. Although we started chemotherapy, the disease progressed rapidly and he died within 3 months of his diagnosis. As a father myself, I know that he had worried during his last few days about his wife, children, and grandchildren being left destitute. He managed a garage that closed during his illness for lack of succession. I know he wanted to live and see his grandchildren grow up.
Tobacco continues to steal the lives of my patients and compatriots. We must work together using all the data, knowledge, and skills needed to better care for one another and save lives in Senegal and around the world by using our national tobacco control programs and by implementing the Framework Convention on Tobacco Control.
Posted on

by
Page last reviewed:
August 16, 2019
Page last updated:
August 16, 2019