Confronting the Silent Killer in Nepal
Posted on

by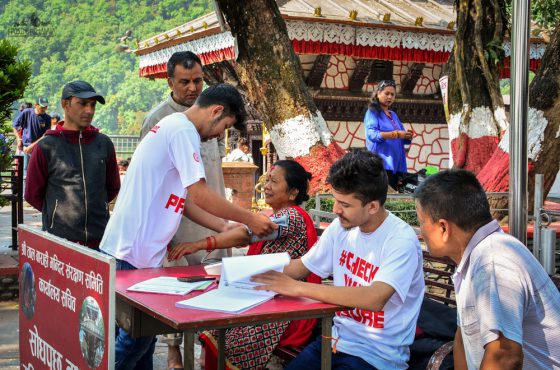 "We are measuring the blood pressure of many people who've never had their blood pressure measured before," explains Dr. Dinesh Neupane, the country coordinator for May Measurement Month in Nepal. "When we approach people about being screened, we often hear that they don't need their blood pressure checked because they feel healthy."
But Dr. Neupane and his cadre of trained volunteers understand the threat of this "silent killer." High blood pressure, or hypertension, causes an estimated 10 million deaths worldwide each year and is a leading risk factor for cardiovascular diseases.1 Dangerously, the condition is often overlooked because it frequently does not produce symptoms.
Dr. Neupane and his Nepali colleagues are out to challenge the status quo. They have set their sights on screening thousands of people across Nepal for high blood pressure during May Measurement Month to help raise public awareness about hypertension.
CDC collaborates with the World Health Organization, Resolve to Save Lives, and other global partners to reduce heart attacks and strokes worldwide. CDC provides support for various hypertension initiatives, including Nepal's 2019 May Measurement Month campaign.
Taking measures to save lives
May Measurement Month is a global awareness campaign launched by the International Society of Hypertension in May 2017. The initiative aims to increase access to blood pressure screening in an effort to prevent deaths and disability worldwide. Dr. Neupane and colleagues have been participating since the initiative's launch.
"Our first year, we screened 6,000 participants. Our second year, about 15,000. This year, we're hoping to reach 50,000 people. Each year we grow, increase our team of volunteers, expand our geographic coverage, and improve our screening protocols, our training curriculum, and our outreach."
The Nepal Development Society, the organization overseeing May Measurement Month in Nepal, engages volunteers with health science backgrounds as well as Female Community Health Volunteers to screen and educate participants at health facilities, offices, public places, or even participants' homes. During the 2018 inauguration of May Measurement Month in Nepal, the team measured the blood pressure of the Minister of State for Health and Population. This year, they plan to screen the blood pressure of the prime minister, members of parliament and policy makers.
Charting a path to better health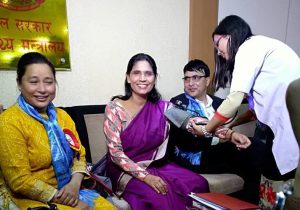 The World Health Organization estimates that about 30% of all deaths in Nepal are due to cardiovascular diseases and that 1 in 4 Nepali adults have high blood pressure.2 Treatment for high blood pressure is simple, effective, and affordable, but many people are unaware of their condition or have limited access to treatment.
A recent study in Nepal showed that in 2016 just over 1 in 3 Nepalese diagnosed with hypertension were aware of their condition and less than 20% of those people were receiving treatment.3 Left untreated, high blood pressure can lead to heart disease, stroke, and kidney failure. In low- and middle-income countries like Nepal, many of the deaths from noncommunicable diseases like cardiovascular diseases occur prematurely—in people under the age of 70.2
While creating awareness is a critical first step, Dr. Neupane and his colleagues recognize that there is an enduring issue. "Right now, after we screen participants, we can only advise people to go to the health facility for further diagnosis and treatment," explains Dr. Neupane. "In the future, we'd like to improve the referral system by establishing a formal linkage to the health system for those identified as having high blood pressure during the May Measurement Month campaign."
Creating momentum for change
In three years, the Nepal Development Society's efforts have transformed from a small, local program to a national campaign. While the nonprofit has struggled with funding and technological limitations, the support of local and federal governments and the work of their tireless volunteers has allowed them to make great strides.
"As awareness increases, we see the potential for long-term interventions to reduce the burden of hypertension in Nepal. Nepal has been an exemplary country for reducing maternal and child mortality and we want to repeat such success for hypertension," states Dr. Neupane.
With the current speed of progress, Nepal could soon become a role model for hypertension control for many low- and middle-income countries.
Dr. Neupane is also affiliated with Johns Hopkins Bloomberg School of Public Health where he contributes to Resolve to Save Lives initiatives.
For more information
Sources:
Olsen MH, Angell SY, Asma S, et al. A call to action and a lifecourse strategy to address the global burden of raised blood pressure on current and future generations: The Lancet commission on hypertension. Lancet. 2016; 388(10060):2665-2712
World Health Organization. Noncommunicable diseases country profiles 2018.
Mehata S, Shrestha N, Mehta R, et al. Prevalence, awareness, treatment and control of hypertension in Nepal: data from nationally representative population-based cross-sectional study. J Hypertens. 2018; 36:1680-1688. DOI 10.1097/HJH.0000000000001745.
Posted on

by
Page last reviewed:
August 16, 2019
Page last updated:
August 16, 2019