I have seen Ebola. Now you have a vaccine.
Posted on

by
Debut of preventive use of Ebola Virus Disease (EVD) vaccine for health care and frontline workers in Uganda before an outbreak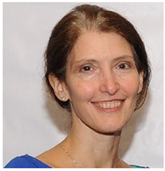 For the first time, an unlicensed Ebola vaccine tested in clinical trials during the West African outbreak was offered to health care workers (HCWs) and other front line workers (FLWs) working in facilities bordering the outbreak areas in the Democratic Republic of Congo (DRC) under "compassionate use."   Nearly 90,000 community members, HCWs and FLWs have been vaccinated in DRC using a ring vaccination protocol (as of March 24, 2019).
Also for the first time, in countries bordering DRC, preparedness efforts include offering the Ebola vaccine to HCW and FLW working at health facilities and border crossings just across the border from Ebola hotspots in DRC. WHO and the ministries of health lead the vaccination program. CDC is providing technical expertise and our experience continues to be valued in each new country undertaking Ebola vaccination. By April 2019, more than 4,100 HCWs and FLWs in 13 districts in Uganda, and nearly 1,500 in 3 states in South Sudan, have been vaccinated.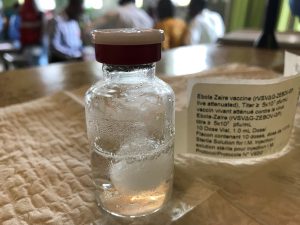 Successfully implementing an experimental vaccine in field conditions and convincing HCW and FLW to receive a vaccine before a case occurred in Uganda was a major achievement. Not everyone offered vaccine took it and we learned a lot along the way and honed communication messages. On the first day of vaccination at the first site in Ntoroko District, a health center in a remote area near Lake Victoria, we had the usual "first day" challenges with staff new to their roles, and logistical challenges in getting all the required supplies to the sites. Several hours after we opened the site we successfully vaccinated the first participant, a senior clinical officer at the Health Center.   During the 30-minute post vaccination observation period, I sat down to chat with him and thank him for his patience. When I asked why he had decided to take the vaccine he responded: "I was a medical officer during the 2008 outbreak of Ebola Bundibugyo in the next District. We did not have a vaccine then and I watched people die. Now you bring me a vaccine. Of course, I want it. In addition, I am making sure all my staff at the health center are getting it today. It will make us feel safe if this Ebola comes to our facility."   Throughout the day, he brought all of the nurses, clinical officers and laboratory staff to the vaccination site and stayed with them, providing emotional support for those who were scared and encouraged. It was an incredible display of leadership and caring—while also respecting individual level decision-making and the right of each person to consent to vaccine or not.   It was a stressful time for the team supervising the work, but the inspiration of this first vaccination carried me through many long days and nights to come as we continued to roll out to new sites and new Districts.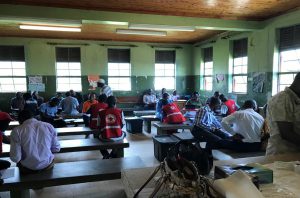 Because the vaccine is unlicensed, it must be used under a trial protocol with vaccination teams trained in good clinical practices, and individuals must provide informed consent. Because pregnant and breast feeding women are excluded from vaccination, programs offered pregnancy testing onsite.
With a new, unlicensed vaccine, there is a small pool of staff with field experience. Many of the WHO staff who worked on the vaccine trial in Guinea were fully engaged with the vaccination work in DRC.   CDC's experience with the Ebola vaccine as part of the STRIVE vaccine trial in Sierra Leone created a small cadre of epidemiologists who have provided valuable assistance in the field for the current outbreak on delivering vaccine in health care facilities.
Because the Ebola vaccine trials conducted during the 2014-2016 West Africa outbreak in Guinea, Liberia and Sierra Leone demonstrated the safety and efficacy of the rVSV-ZEBOV (Merck) vaccine, vaccine is now a standard part of an Ebola outbreak response.
Posted on

by
Page last reviewed:
August 16, 2019
Page last updated:
August 16, 2019