Getting to the Heart of the Matter in Latin America and the Caribbean
Posted on

by
"I don't get migraines, I don't get dizzy spells any longer," explains Ms. Williams, a patient at a polyclinic on the Caribbean island nation of Barbados. "It is working for me where I have no problems now with high blood pressure. Yes, I'm hypertensive, but I'm controlled."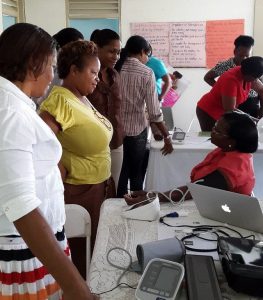 Ms. Williams was enrolled as a patient in the 2014-2015 Standardized Hypertension Treatment Project (SHTP) pilot program in Barbados. SHTP tackled cardiovascular diseases in primary care through hypertension management.
In the Americas, cardiovascular diseases are responsible for almost one-third of all deaths annually. Hypertension, also known as high blood pressure, is a leading risk factor for cardiovascular diseases, and its management is critical for the prevention and control of cardiovascular diseases.
The pilot, supported by the Pan American Health Organization (PAHO) and CDC, set out to improve blood pressure control, increase the number of patients receiving standardized care, and implement Barbados' first electronic patient registry. SHTP integrated lessons learned from global tuberculosis and HIV treatment models, as well as from successful hypertension programs in the United States. It brought together diverse stakeholders including the Ministry of Health, civil society organizations, universities, professional organizations, and polyclinics.
The model proved quite successful. Within 18 months, there was a 14.5 percent rise in number of patients whose blood pressure was under control, a remarkable result for such a short time period. SHTP helped ignite a healthy heart movement in Latin America and the Caribbean.
The Global Hearts Initiative
When the pilot program closed in 2015, SHTP was incorporated into the Global Hearts Initiative, which is led by the World Health Organization, CDC, PAHO, and other global organizations. The SHTP model informed the Global Heart Initiative's HEARTS technical package (HEARTS), a tool that provides a strategic approach to improving cardiovascular health through primary care. HEARTS includes practical, adaptable, step-by-step modules that provide high-impact, evidence-based interventions on healthy lifestyle counseling, treatment protocols, access to medicines, risk-based management, team-based care, and systems for monitoring.
HEARTS programs now operate in 14 low-and middle-income countries around the world. Several additional countries have committed to participating in the initiative in the coming year.
Staying a beat ahead
Latin America and the Caribbean continue to be at the forefront of reducing the burden of hypertension and cardiovascular risk. Like Barbados, Chile, Colombia, and Cuba have piloted HEARTS interventions, adapting the tools to their local contexts. With success in all four countries, the initiative is now being expanded beyond the original pilot sites.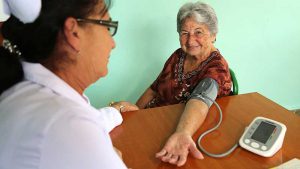 Expansion in Latin America and the Caribbean has been successful due to a collaborative, coordinated approach between PAHO, ministries of health, and local stakeholders, with technical support from international organizations such as World Hypertension League, Latin American Society of Hypertension, and Inter-American Society of Cardiology, among others. When countries elect to participate in the initiative, PAHO engages with the local decision makers and stakeholders, formalizes commitment from the ministries of health, and identifies national and subnational champions to lead program implementation.
PAHO developed a strong capacity-building platform, with the support of national and global experts, to provide local staff with intensive training. Interventions are monitored and evaluated, and continual improvement is encouraged.
"HEARTS in the Americas is an initiative of the countries," explains Dr. Pedro Ordunez, PAHO's technical officer for the initiative. "They are led by the ministries of health with the participation of local stakeholders. HEARTS should be built on what already exists, using available resources, continuously improving performance and results, taking advantage of leadership and technical capabilities, and learning from successful programs. HEARTS is not an isolated project, parallel to the existing health care systems. On the contrary, its sustainability depends on the effective integration of the model into the health system."
Strengthening the pathways for collaboration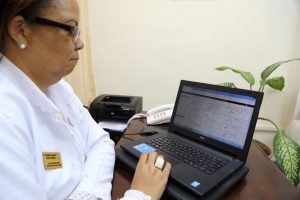 With continued support for Barbados, Chile, Colombia, and Cuba, PAHO will also coordinate the launch of HEARTS initiatives in four additional countries: Argentina, Ecuador, Panama, and Trinidad and Tobago. As programs develop throughout the region, PAHO recognizes that there are opportunities to facilitate cooperation among countries.
One channel for collaboration has been through supporting technical exchanges. Recently, representatives from Argentina and Ecuador visited a Chilean clinic with an established HEARTS program to discuss best practices and lessons learned. The Caribbean-Chile "Cooperation among Countries for Health Development" framework, which was endorsed by the Ministries of Health of the Caribbean, provides another avenue for engagement. Through this cooperation, a delegation of Caribbean nurses participated in the recent Chile site visit to observe the role of nurses in local implementation of HEARTS. As countries continue to expand programs and exchange knowledge, the region will continue to contribute to the best practices that strengthen implementation strategies for HEARTS globally.
Posted on

by
Page last reviewed:
May 11, 2021
Page last updated:
May 11, 2021