How Senegal is tracking the Silent Killer
Posted on

by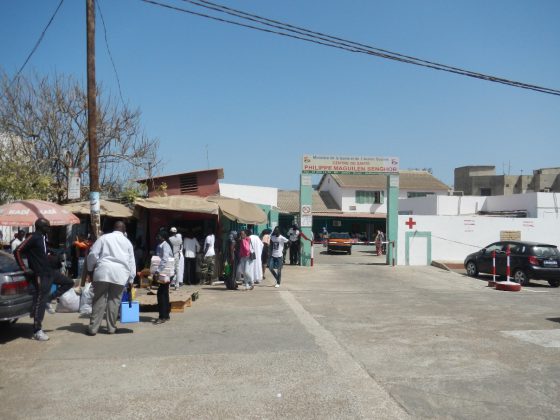 How Senegal is tracking the Silent Killer
At a packed clinic in the middle of Dakar, Senegal, a busy nurse secures a blood pressure cuff around a patient's arm. "After I take the blood pressure, I record it here," the nurse says enthusiastically, showing a patient treatment card to Dr. Monica LaBelle, a CDC Foundation Evaluation Scientist. Dr. LaBelle is in Dakar as part of the Better Hearts Better Cities initiative, which aims to address cardiovascular health in low-income urban settings across the globe.
The patient information card is one component of an enhanced system for monitoring rates of high blood pressure (hypertension) in thirteen health facilities across Dakar. Like many low- and middle-income countries (LMICs), Senegal is facing staggering rates of untreated hypertension. Although nearly 30% of the Senegalese population is estimated to be afflicted with hypertension, the control rate in Senegal is just 8%1 compared to 53% in the United States.2
A Silent Killer
Hypertension, a leading risk factor for cardiovascular disease (CVD), causes an estimated 10 million deaths worldwide each year.3 In LMICs, many of these deaths are premature – occurring in people under the age of 70.4
Hypertension treatment is simple, effective, and affordable, yet the condition is often overlooked because it frequently does not produce symptoms. More than half of the 1.1 billion hypertensive people worldwide are not aware of their condition.5 Only a fraction of those who are aware of their diagnosis have it adequately controlled.6 Left untreated, this "silent killer" can lead to heart disease, stroke, and kidney failure.
Although CVDs are a concern worldwide, in LMICs chronic diseases place an additional burden on already limited health systems, making these countries less resilient when infectious disease outbreaks or natural disasters occur.
Getting to the Heart of the Matter
To support public health efforts in LMICs, CDC and other partners have teamed up with the World Health Organization (WHO) to launch the Global Hearts Initiative. Under the Initiative, CDC and WHO developed high-impact, evidence-based interventions for the prevention and control of CVDs, including six practical modules to help strengthen CVD management in primary care. These modules, known as the HEARTS technical package, are currently being implemented globally.
In alignment with the HEARTS technical package, Better Hearts Better Cities seeks to improve the prevention, management, and care of high blood pressure, as well as tackle key changeable risk factors through multisector partnerships. The initiative is led by the Novartis Foundation in partnership with CDC, CDC Foundation, and other global experts. In addition to Dakar, Better Hearts Better Cities is being implemented in Ulaanbaatar, Mongolia, and São Paulo, Brazil.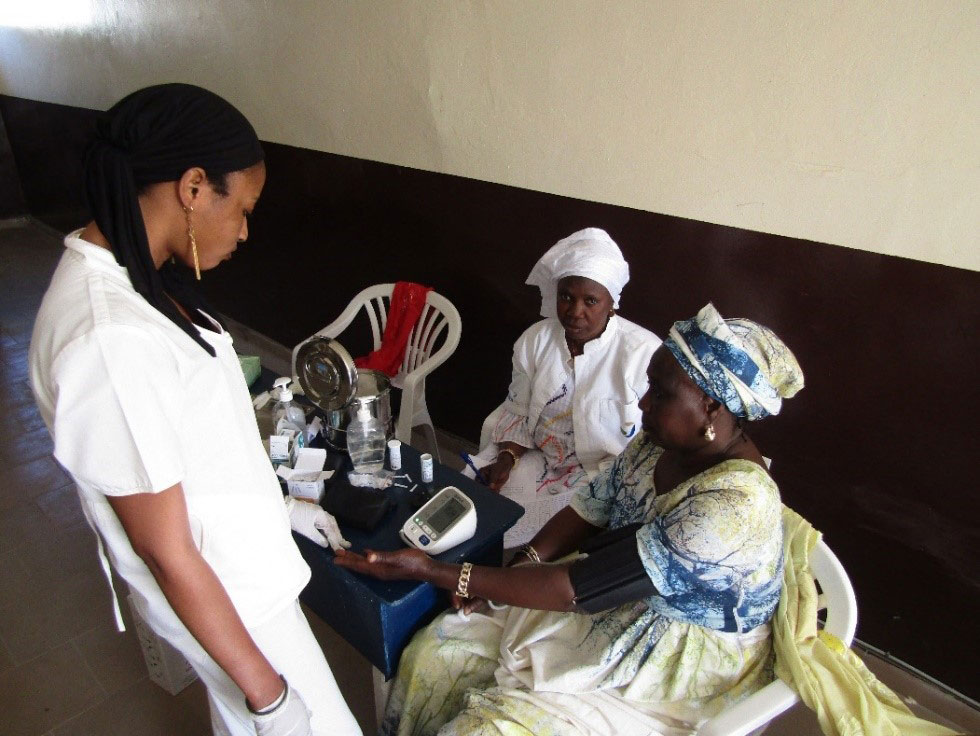 Leading the Way in Dakar
Gathered into an office at a large local health center in Dakar, Dr. LaBelle and local colleagues passionately discuss how they will integrate effective monitoring and evaluation strategies into the program. As the global evaluation partner, CDC is working alongside local partners to provide technical expertise, continuous feedback, and sound measurement for the Better Hearts Better Cities program.
"One of the chief challenges for measuring effectiveness is that the capacity and infrastructure for data collection in the clinics is minimal, and hypertension has historically not received the same amount of attention as other health conditions. We're working together to create feasible solutions that add value for clinic staff," remarks Dr. LaBelle.
Initial program efforts are already underway. Local partners have trained more than 80 local doctors and health workers to screen, refer, and treat patients according to standard protocols. The Better Hearts Better Cities initiative will also include interventions for workplace wellness and for improving access to hypertension treatment, both planned to roll out next year.
"Our local partners are eager to be working on this initiative," Dr. LaBelle explains. "They experience the crippling effects of chronic diseases on their communities and their health systems. They recognize hypertension as an issue, and receiving support and technical assistance for addressing it has generated momentum and a desire to create lasting change."
---
1. World Health Organization. Senegal STEPS survey 2015.
2. Joffres M, Falaschetti E, Gillespie C, et al. Hypertension prevalence, awareness, treatment and control in national surveys from England, the USA and Canada, and correlation with stroke and ischaemic heart disease mortality: A cross-sectional study. BMJ Open. 2013; 3:e003423.
3. Olsen, MH, Angell SY, Asma S, et al. A call to action and a lifecourse strategy to address the global burden of raised blood pressure on current and future generations: the Lancet commission on hypertension. Lancet. 2016; 388(10060):2665-2712
4. World Health Organization. Global status report on noncommunicable diseases. 2014. http://www.who.int/nmh/publications/ncd-status-report-2014/en/.
5. NCD Risk Factor Collaboration (NCD-RisC). Worldwide trends in blood pressure from 1975 to 2015: a pooled analysis of 1479 population-based measurement studies with 19·1 million participants. Lancet. 2017; 389(10064):37-55. 6. Mills KT, Bundy JD, Kelly TN, et al. Global disparities of hypertension prevalence and control: a systematic analysis of population-based studies from 90 countries. Circulation. 2016; 134(6):441-450.
Posted on

by
Page last reviewed:
January 9, 2022
Page last updated:
January 9, 2022