Preventing Cervical Cancer in Cambodia: Evaluating the HPV Vaccination Demonstration Project
Posted on

by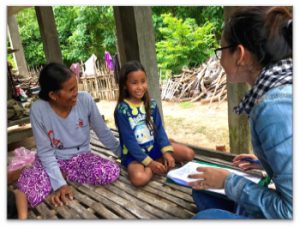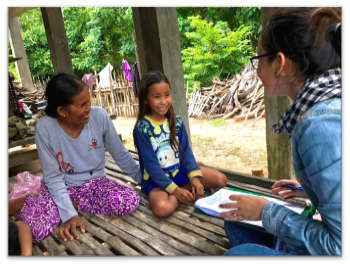 Cervical cancer claims the lives of a quarter of a million women every year with almost nine out of ten deaths occurring in developing countries.   Cervical cancer is caused by human papillomavirus (HPV), a virus that can cause cancers in the mouth, throat, and reproductive tract, as well as genital warts. Safe and effective vaccines can prevent infection with certain types of HPV and protect against cervical cancer and other conditions. The World Health Organization (WHO) now recommends introduction of HPV vaccine (2 doses) for girls aged 9-14 years for primary prevention of HPV infection in all countries. Improving access to cervical cancer screening and treatment are also key components of a comprehensive cervical cancer strategy. Gavi, the Vaccine Alliance (Gavi), supports introduction of HPV vaccine in eligible countries by providing financial support for vaccine procurement and costs associated with introduction.
Because routine immunization programs in most low- and middle-income countries do not target girls in the 9-14 year age group, Gavi offered support to countries for small demonstration projects. These projects intended to identify effective vaccine delivery strategies that could then be scaled to national introduction. HPV vaccine is commonly delivered in school settings, through campaigns, and in community health clinics. For countries that undertook these two2-year demonstration projects, approximately 15,000 girls were targeted in select geographic areas. Evaluations on implementation, coverage and cost were recommended after the first year of the demonstration project, to inform program improvements and decision-making for future scale-up.
CDC's Global Immunization Division (GID) is a core partner in international advisory groups, steering committees, and policy decision-making groups related to global HPV vaccine introduction and implementation. Additionally, GID provides targeted technical assistance to specific countries in the areas of decision-making, program planning, and monitoring and evaluation.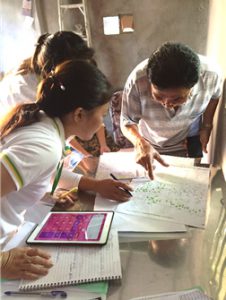 In Cambodia, cervical cancer is the most common cancer reported among women, with over 1,500 estimated new cases and nearly 800 estimated deaths each year.1 In 2016, the Cambodia Ministry of Health National Immunization Program (NIP) began a Gavi-supported HPV vaccination demonstration project in two provinces. All nine9-year old girls who were residents of defined areas in Svay Rieng and Siem Reap provinces were targeted for vaccination (approximately 11,646 girls). Two doses of bivalent HPV vaccine were administered through a school- and health facility-based delivery strategy to the target population during January and July, 2017. Both in-school and out-of-school girls were eligible for vaccination.
GID supported NIP and the Cambodia National Institute of Public Health (NIPH) in conducting three separate evaluations of the demonstration project, looking specifically at implementation, coverage and cost.
The post-introduction evaluation of implementation took place in July, during administration of the second dose of HPV vaccine. Evaluation teams interviewed immunization stakeholders as well as health workers, teachers, and girls at a sample of health facilities and schools (12 each). Objectives of this evaluation were to document processes, strengths, challenges, and achievements of the first year of implementation and to gather perceptions of key stakeholders around the HPV vaccination program. Main components assessed included planning, training, reporting, service delivery, cold chain, logistics, waste management, communication, and supervision. Findings showed that the HPV demonstration program was well- implemented, and all stakeholders supported inclusion of HPV into the routine immunization system. The existing immunization systems were able to easily cope with storage, distribution, and administration of an additional vaccine.
A vaccination coverage survey was conducted several months after completion of the first round (two doses) of immunization. This community-based survey of caregivers and girls assessed vaccination coverage and explored vaccine acceptability, knowledge, and attitudes surrounding HPV vaccine. The survey involved house-to-house visits, using a standard questionnaire and review of vaccination records. The survey indicated 84% two-dose vaccination coverage with over 90% of girls reporting receiving the vaccine in school. No instances of vaccine refusal were identified, and there was high demand for vaccination among caregivers and communities.
A detailed cost analysis was also done to understand spending on goods and services during planning, training, service delivery, and supervision associated with vaccine introduction. The financial cost (expenditures on goods and services purchased) to vaccinate one girl with two doses of HPV vaccine equaled US $15.49. The economic cost (financial cost plus opportunity cost) equaled US $38.68 per fully- immunized girl. These amounts are in line with average costs found in a multi-country study of Gavi-supported HPV demonstration projects.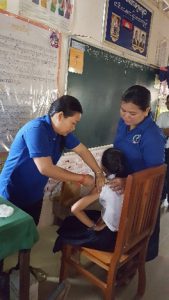 Clear communication and training for teachers, caregivers, girls, and communities about HPV, cervical cancer, and HPV vaccine are important parts of the vaccination program and will be emphasized as the vaccine is rolled out nationally. The coverage survey indicated very high school enrollment, though it is possible that some out-of-school girls were left out. Cambodia's migrant communities and other isolated populations can be difficult to access with health services. Globally, challenges remain in reaching out-of-school girls, migrant, and other hard-to-reach populations. Special considerations should be given to these populations during planning to ensure equitable access to vaccination.
A school-based delivery strategy was effective for reaching nine9-year-old girls in Cambodia, and the demonstration project was deemed successful. Strong planning, preparation, and record keeping enabled NIP to vaccinate a large proportion of the target population. Good advocacy encouraged buy-in from stakeholders, and effective social mobilization ensured caregivers were aware and accepting of the vaccination program. Lessons from the demonstration project in Cambodia will inform decision-making and planning for future national introduction.
HPV vaccination in a school setting provides a unique and important opportunity for collaboration with Ministries of Education and other youth organizations. Success in Cambodia can be attributed in part to the good planning and strong collaboration with the Ministry of Education, enabling a large number of girls to be reached in school. Developing these relationships may open doors to future opportunities to integrate vaccine delivery in schools with other antigens, such as tetanus toxoid, which may be administered to similar age groups as HPV vaccine. Globally, school-based approaches are being increasingly considered for vaccination as well as implementation of broader health interventions such as physical check-ups, deworming, and health education.
As of January 26, 2018, 79 countries had introduced HPV vaccine nationwide, and many national introductions are planned in the coming years. Countries that have been administering HPV vaccine for over 10 years have seen dramatic declines in type-specific HPV infection rates. The Cambodia experience illustrates the great strides being made in other countries toward equitable access of this lifesaving vaccine.
Posted on

by
Page last reviewed:
May 11, 2021
Page last updated:
May 11, 2021