IMPACT Program in Kenya: A Fellow's Experience
Posted on

by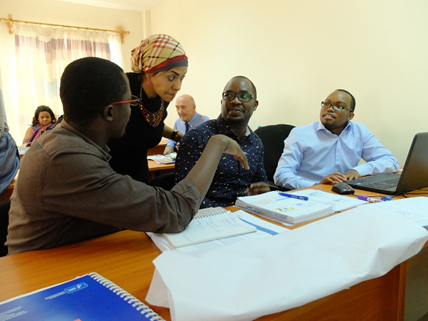 Many doctors and other health workers in my country have limited background or training in leadership and management, yet they often find themselves in leadership positions. This was my case when I was appointed Sub-County Medical Officer in February 2014. Starting out was no easy task, considering I was more used to clinical work. Here, I was expected to oversee the operations of close to 70 health facilities, ensure food and water safety, manage human resources, procurement and finance, resolve conflicts every now and again, deal with commodity shortages and supply chain issues, as well as work with other departments, ministries, donors, NGOs, politicians, the media and other stakeholders. It was overwhelming. I even lost weight!
Seeking help – and finding it
In a bid to improve my management skills, I enrolled in a senior management certificate course at the Kenya School of Government, which equipped me with some basic general skills for management. I later joined the Young African Leaders Initiative (YALI) program in the Public Management track, which provided me with competency-based leadership and management training. It was during my YALI training that I came across CDC's Improving Public Health Management for Action (IMPACT) program advertisement.
I immediately knew this was what I wanted: a leadership and management training that emphasizes skills-building and practical application, but with a broader focus on my passion for public health and health systems strengthening. The selection process was extremely intense, which included both a written test and oral interviews. I feel privileged to have been selected alongside seven others to pursue this great venture.
Two ways to learn
The IMPACT program has been exciting and eye opening. It requires a serious commitment of time and effort, factors that have helped me to learn to better manage my time and effectively prioritize. It places emphasis on service, providing real results to the health sector as I "learn by doing" in the field.
IMPACT is organized into two main components: in-class courses and field placement. The in-class component includes short, targeted lectures followed by group discussions, case studies, demonstrations, and class projects to enhance understanding and elaborate on how to put the training into action. This component is delivered by highly knowledgeable, interesting, passionate, and accomplished experts in the field that including CDC IMPACT staff, the International Union Against Tuberculosis and Lung Disease, senior lecturers from Kenyatta University, staff of CDC Kenya and the Ministry of Health, and invited guest lecturers from other institutions.
The field placement component is the core of the program. We are expected to apply what we learn in class to a real workplace in a way that adds value to the placement site and the Ministry of Health in general, while building our own skills through on-the-job training. Here we are expected to participate in community needs assessments, program evaluation, program management and planning, and emergency response. We are also expected to use communication skills, including oral presentations, and to participate in budgeting and financial planning.
'Kiherehere' is a good thing
I was posted to the Division of Noncommunicable Diseases, where I was assigned a mentor and supervisor. My mentor is the head of the division, and my supervisor is the head of the Violence and Injury Prevention Unit. Both have undergone the IMPACT Distinguished Fellows Program (another version of IMPACT for senior managers) and are highly accomplished leaders in the public health sphere in the country. Having gone through the program, together with their vast knowledge and experience, they have been extremely helpful in providing guidance, keeping me engaged, assigning me tasks and providing opportunities for me to practice my new skills.
In my first meeting with my mentor, he encouraged me to be aggressive, to actively participate in meetings and activities, and to network. He told me, "In our culture, 'kiherehere' (being too outspoken or assertive) has always been discouraged, but kiherehere is actually a good thing. Go out there, explore opportunities and network. What is the worst that could happen? Maybe someone will say no, but they might say yes. And that 'yes' could make a difference to the people we serve, to the division, or to your own professional growth."
"Learning by doing" in the community
Being posted to a field placement has been one of the most exciting aspects of the program. One of the highlights of my placement has been a community health needs assessment. It allowed me to apply many of the management skills learned in class, including stakeholder identification and engagement, budgeting and financial planning, supervision and effective delegation, and community entry, among others.
I liked the focus group discussions most of all, where I got to hear the community's perspectives, fears, and concerns about noncommunicable diseases. Some of the participants' views and beliefs provided opportunities for public health intervention. For instance, many people in the community don't believe diseases like epilepsy are illnesses that can be controlled with conventional medicine. The same applies to conditions that take time to respond to treatment (e.g., diabetic foot ulcer in a person who is not well-controlled). Some in the community thought their medical conditions were a result of witchcraft. The consequence of some of these beliefs is that the residents will not seek medical services in time to prevent further complications or because they believe witchcraft can only be healed by witchcraft. A number of hypertensive and diabetic clients I talked to admitted to defaulting on their medications. On further probing for reasons for defaulting, one of them said, "Those medicines are not food to be taken daily." These are just a few of the feelings and perceptions I gathered that would help us as we design effective interventions to improve the community's health outcomes. This exercise also made me realize that many programs often fail because there is no input and participation by host/benefiting communities.
Meeting a complex challenge
I believe improving public health management through innovative programs like IMPACT is a step in the right direction for the country. Delivery of health services is becoming increasingly complicated, with the rising burden of noncommunicable diseases and injuries on top of communicable diseases, frequent disease outbreaks, numerous industrial actions, devolution of health services, shortage of health workers and supplies, emergence of new technologies, and persistence of cultural barriers among other complexities.
Navigating these challenges calls for stronger leadership and management ability at all levels of the health system, and I am glad IMPACT is coming in to strengthen public health systems towards achievement of the highest attainable standard of health as envisioned in our country's Constitution.
Related Links
Posted on

by
---
Page last reviewed:
May 11, 2021
Page last updated:
May 11, 2021