Precision Public Health: Using Malawi Population-Based Impact Assessment (MPHIA) Data to Reach HIV Epidemic Control in Malawi
Posted on

by
The Malawi Population-Based HIV Impact Assessment (MPHIA) is Malawi's first nationally representative HIV survey that measures national HIV incidence, pediatric HIV prevalence, and viral load suppression. MPHIA has provided detailed information on the current status of the HIV epidemic and the uptake of HIV prevention, care, and treatment services in Malawi.
In his remarks during the MPHIA National Launch, Dr. Peter Kumpalume, the former Malawi Minister of Health, highlighted the importance of quality population-based data in supporting the UNAIDS 90-90-90 targets as reflected in the Malawi National Strategic Plan. The findings from MPHIA, were released on World AIDS Day, December 1, 2016, by the First Lady of Malawi Gertrude Mutharika.
MPHIA results show commendable progress towards achieving the 90-90-90 goals, with estimates at 73-90-91. However, the 1st 90 of ensuring individuals know their HIV status remains a challenge. MPHIA data revealed that Malawi has done well in providing HIV services to women more than 30 years of age but was lagging behind in young women and in men. The data also showed that most areas of highest HIV prevalence were on track to reach 90-90-90 except for a few urban areas and areas with low HIV prevalence. Through MPHIA, it was also demonstrated that once people know their HIV status, 90% of them initiate antiretroviral therapy and are able to suppress the virus.
MPHIA data have been used to identify program gaps in specific geographic areas and subpopulations and has also served to triangulate existing data and estimates. The MPHIA data were used to update estimates of HIV prevalence and people living with HIV at regional and district levels using small-area estimation and Spectrum models. In addition, MPHIA was the first national survey to directly measure HIV prevalence among children; previously, modeled estimates of children living with HIV were used for program planning.
MPHIA results have also been used in high-level strategic planning such as the national Global Fund application. The data were foundational to PEPFAR Malawi Country Operational Plan (COP17) planning, as they were used to inform where to scale up HIV testing and ART programs, who to reach by age and sex, and how to reach them efficiently.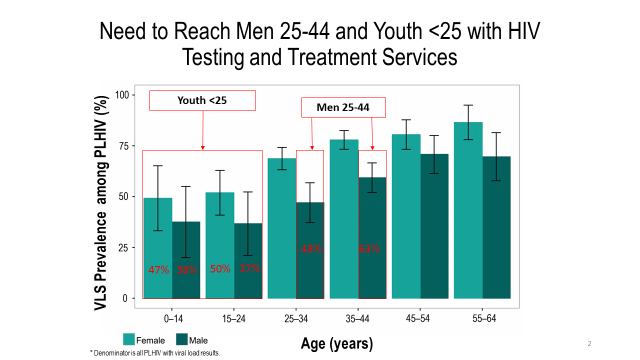 These data have therefore guided PEPFAR and the national program in putting more emphasis on reaching the first 90 with intensified case finding in men and adolescents and in specific geographic locations. PEPFAR partners have also been asked to report age and gender disaggregated data to ensure that the right subpopulations and geographic locations are being targeted in PEPFAR programs. As Malawi moves toward HIV epidemic control, MPHIA and subsequent analyses have allowed Malawi to practice precision public health to reach those individuals most in need of HIV testing and clinical care.
Posted on

by
Page last reviewed:
May 11, 2021
Page last updated:
May 11, 2021