Keeping Kids Healthy in Sierra Leone
Posted on

by

Even before the recent Ebola outbreak, the lack of quality healthcare was a major challenge in Sierra Leone, leading to the country suffering some of the highest maternal and child mortality rates in the world. When a major outbreak strikes, overburdened health systems struggle to take care of other critical health issues, like making sure children are immunized against vaccine-preventable diseases.
In Sierra Leone, less than 60% of children receive all recommended vaccines during their first year, and urban areas have even higher vaccine dropout rates. During the Ebola outbreak, we saw even these routine immunizations grind to a halt as the healthcare system was quickly overwhelmed by the rapidly spreading virus.
Immunizations are key to preventing the spread of infectious diseases like measles, which is why it is so important to have strong data and trained public health workers to launch vaccination campaigns. With the right information, public health workers can spring into action to prevent diseases from taking hold. This is why we are focusing on improving surveillance systems and training the public health workforce in Sierra Leone.
When Ebola struck in 2014, Sierra Leone lacked an effective infectious disease reporting system and enough trained epidemiologists – or disease detectives – to stop the outbreak, which then turned into an epidemic that claimed thousands of lives.
The situation in the country has since changed. Sierra Leone now has 58 disease detectives trained through the Frontline Field Epidemiology Training Program (FETP) with an additional 23 disease detectives currently undergoing training. Trainees and graduates have already investigated more than 50 outbreaks. Sierra Leone also has an Integrated Disease Surveillance and Response (IDSR) system. The IDSR system monitors for more than 45 diseases, conditions, and public health threats. A single case of an epidemic-prone disease, such as viral hemorrhagic fever, yellow fever, or cholera, is now reported within 24 hours by local and district public health facilities to the national office of the Ministry of Health and Sanitation (MoHS) so they can take quick action.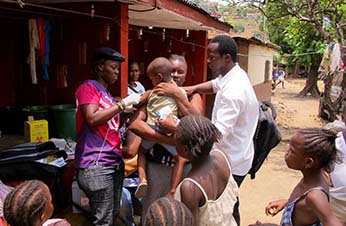 The IDSR system can detect outbreaks of vaccine-preventable diseases that impact children, such as measles. In 2016, the IDSR system helped increase the reporting of measles cases, which prompted the launch of nationwide measles vaccination campaigns. We are proud to say that, thanks to this campaign, more than 2.8 million kids were vaccinated against measles in Sierra Leone.
An added benefit to stronger data is that we realized that some cases that were being reported as measles were actually rubella. Rubella is very dangerous for pregnant women and their developing babies. With this new information pregnant mothers diagnosed with rubella can be monitored and we can advocate to our partners for additional vaccine campaigns targeting rubella.
Because fast and accurate information can help us get ahead of disease, CDC has been providing technical help to improve data quality, including rolling out the electronic IDSR (eIDSR) platform across Sierra Leone. These electronic systems can capture data on any device, including desktops, laptops, tablets, and smartphones. Most systems also have the capability to be used off-line, which is especially helpful in rural areas with poor internet connectivity. In a sign of the progress made since the Ebola outbreak, all districts are now electronically reporting their IDSR data to the national level.
Data tells us what is needed and where so that we can take quick and effective action. As Sierra Leone is demonstrating, it can help inform strategies to protect children and the communities they live in. Having better data – and people who are trained to use that data effectively – can stop outbreaks in their tracks, before they have a chance to become epidemics.
Posted on

by
---
Page last reviewed:
January 9, 2022
Page last updated:
January 9, 2022