Looking Back With Pride….Looking Ahead With Confidence
Posted on

by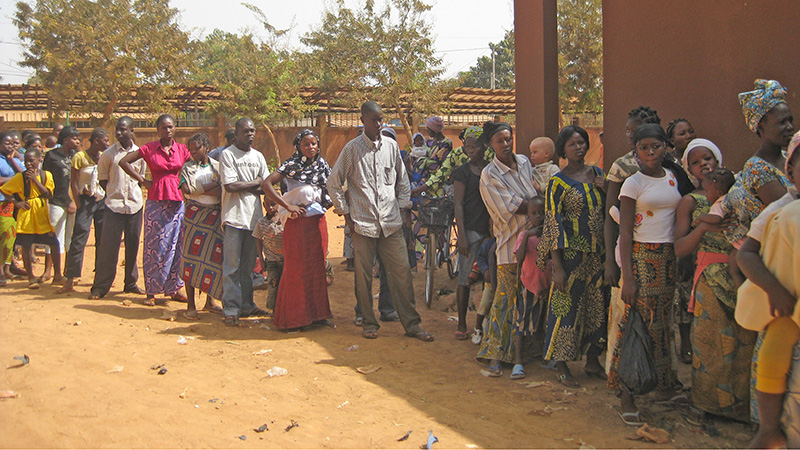 A historical overview on eliminating Meningitis in Africa
In the 1990's epidemics of meningitis sweeping across the vast span of the African continent known as the "meningitis belt" were claiming hundreds of thousands of lives and there was not much the global public health community was able to do. We all knew that a vaccine for this region was the only way to halt these epidemics—and scientists were working on one. When it would be ready was the big question. About 430 million people living in the meningitis belt were at risk of contracting serogroup A meningococcal disease, the serogroup most commonly found in the region as recently as 2010. It was about this time—2010—that the final stages of many years of work on developing and licensing a vaccine for this region would become a reality. This devastating disease that contributes to poverty, impacting quality of life and has both short and long-term human and financial costs could be stopped!
Africa's "Meningitis Belt"
Today, I am looking with pride at what has been accomplished by CDC scientists and global partners who years ago made the professional and personal commitment to fight meningitis in Africa. Many continue to work side-by-side to eliminate meningitis epidemics as a public health threat in sub-Saharan Africa. During my time as a Branch Chief for Meningitis and Vaccine Preventable Diseases in CDC's Bacterial Diseases Program, my work of more than 15 years in meningitis research and prevention afforded me the opportunity to be involved with Meningitis Vaccine Project (MVP) from the time of its inception and served as a scientific and technical expert advisor. I witnessed firsthand the technical expertise of CDC to put "boots on the ground" to help develop and deliver a much needed vaccine to people in resource-poor and remote areas of Africa.
For years CDC collaborated with ministries of health and global partners to conduct surveillance, analyze data and test meningitis specimens at the agency's Atlanta campus and respond to outbreaks. Fueled by tireless efforts of MVP and its many partners, the $.40 per dose, no refrigeration needed vaccine,
MenAfriVac™ was developed as the first vaccine developed specifically for use in sub-Saharan Africa for children and young adults between ages 1 and 29 years against serogroup A meningococcal meningitis. In less than two months after the start of the first mass vaccination campaign (Burkina Faso-2010), MenAfriVacTM was administered to nearly 20 million children and young adults according to guidelines. It was really remarkable to see how the villages came together to be a part of education and vaccination campaigns. The World Health Organization (WHO) licensed the vaccine and now reports that 16 of the 26 African "meningitis belt" countries have conducted vaccination campaigns, immunizing more than 235 million children and young adults against serogroup A meningococcal meningitis disease with a marked disappearance of the disease.
It was imperative that the long-term impact of MenAfriVac™ be evaluated as it had never been used on a large scale for prevention of an epidemic-prone bacterial disease. In 2013, through the CDC Foundation, the Bill and Melinda Gates Foundation funded the global consortium MenAfriNet to undertake on-going evaluation of the vaccine. Currently underway in 5 countries, MenAfriNet conducts surveillance, assessments of bacterial colonization and transmission,   coverage surveys, and molecular epidemiology activities to document the meningitis burden and strains causing disease, as well as document the impact of the vaccine.
In recent years, CDC has collaborated with global partners to stop large-scale meningitis outbreaks in Niger and Ghana. While meningococcal disease can also be caused by other serogroups, large scale epidemics have been less common. In the spring of 2015, I found myself listening anxiously for news from colleagues about an outbreak in Niger where there were 8,500 cases—and eventually 573 deaths. My longtime colleague—laboratory scientist Leonard Mayer, who had been involved in fighting meningitis in Africa for more than two decades and headed the CDC lab that helped determine the molecular epidemiology of the meningitis strain circulating in Burkina Faso—updated me. He said, "When we heard of this meningitis epidemic due to serogroup C, we knew we needed to get on the ground quickly to help the Niger MOH investigate the outbreak and implement control measures." And just like that CDC responded. Collaborating through MenAfriNet, CDC epidemiologists, data managers, and microbiologists were in Niger for nearly four months helping get the outbreak under control. MenAfriNet facilitated Agence de Médicine Preventive's positioning of its LaboMobil® —an all-terrain vehicle outfitted with laboratory equipment and its own energy and water source in Niger's capital city of Niamey for six weeks during the outbreak's peak to conduct rapid lab tests for diagnosing meningitis. Additionally, MenAfriNet directed funding to help Niger strengthen its capacities in rapid laboratory confirmation of disease cases and its responses to outbreaks.
In 2016, at the request of the Ghana MOH, CDC experts went to Tamale, Ghana to assist the ministry of health and WHO with an outbreak of meningitis in the northern area of the country. CDC's hands-on training with laboratory staff in molecular diagnostics and typing of meningitis-causing pathogens enabled Ghana's public health laboratory staff at the Tamale, Ghana Public Health Laboratory—the reference laboratory for the meningitis belt in Ghana—to test almost 500 specimens in just nine days. Test results showed that the majority of disease cases in the three northern regions of the country were caused by serogroup W meningococcal disease, a type of vaccine-preventable meningitis. Armed with this data, the Ghana Ministry of Health and WHO secured 160,000 doses of the meningococcal conjugate vaccine that protects against serogroups A, C, W, and Y and launched a campaign during which more than 98% of the population in the affected areas were estimated to have received the vaccine.
In May 2012, the Global Vaccine Action Plan (GVAP) was endorsed by 194 Member States of the World Health Assembly to prevent millions of deaths from vaccine-preventable diseases by 2020 through universal access to immunization. One such vaccine-preventable disease—meningococcal meningitis—was included in this plan.
By 2020, use of MenAfriVac™ is expected to have protected more than 400 million people and prevented 100 million cases of meningitis A, 150 000 deaths, and 250 000 cases of severe disability. Both personally and professionally, I am excited about what this vaccine means for the people of sub-Saharan Africa and what it will mean for years to come. Just a month ago, Burkina Faso, the site of the very first mass MenAfriVac™ campaigns started to include the vaccine in the country's routine childhood immunization schedule. When MenAfriVac™ was first introduced, I fully felt that we were entering a new era in meningitis control, now I know that this was true. Though more research and policy work is essential to sustain and expand the vaccine's impact and the challenges of staging vaccination campaigns and collecting timely appropriate data to inform future vaccination policy are immense, I am ever confident that CDC's commitment to collaborating with world-wide partners to eliminate epidemic meningitis in sub-Saharan Africa will continue to contribute to the impact of this vaccine.
Posted on

by
Page last reviewed:
January 9, 2022
Page last updated:
January 9, 2022