'One Health' – A Comprehensive Approach To Preventing Disease, Saving Lives
Posted on

by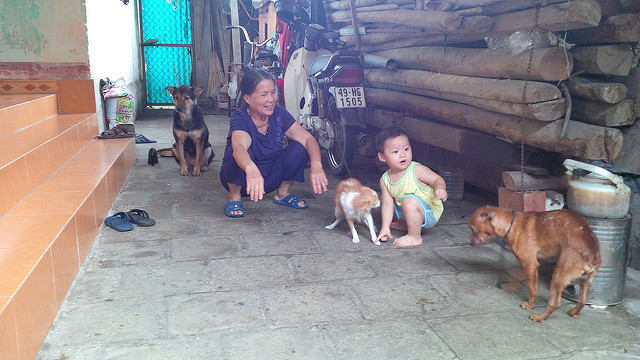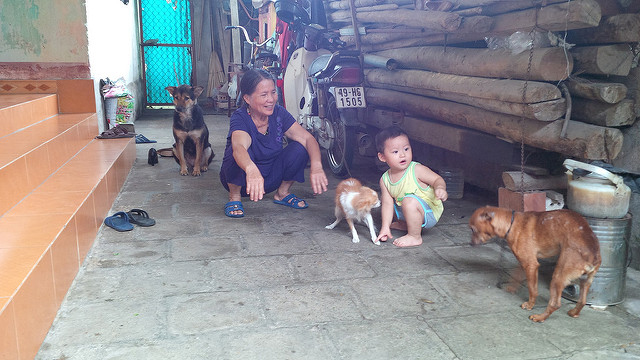 For as long as people have lived with – and in close proximity to – animals, the benefit of that reality has come with a serious trade-off… the potential for disease.
That reality also explains why a "One Health" approach is used at the Centers for Disease Control and Prevention to identify and minimize the risk from zoonotic diseases, the technical term for diseases that spread between animals and people.
One Health is becoming increasingly viewed as a cornerstone to a strong public health effort. That's one reason November 3 has been designated the first annual "One Health Day," a day designed to draw attention – and appreciation – to an important, yet sometimes under-recognized approach for protecting health.
One Health is a collaborative approach that connects health experts from human, animal, and environmental health disciplines at the local, national, regional, and global levels. One Health experts from across CDC work at home and abroad on an ambitious effort that is recognized as a key element to keeping people and animals safe from disease to improve the quality of life worldwide. Broadly stated, One Health's goal is to prevent diseases that pose a threat to the health of people and animals—including endemic and emerging zoonoses, such as rabies, Salmonella, avian influenza, Middle East Respiratory Syndrome Coronavirus (MERS-CoV), Rift Valley Fever, and others.
As today's world becomes ever more connected, the need to effectively apply a One Health approach only increases, to protect both people and animals from zoonotic diseases, but also to prevent economic disruptions that all too often accompany these disease outbreaks.
Driving One Health is the recognition that the health of people is connected to the health of animals and our environment. This close connection explains why dozens of subject matter experts from across CDC are working closely with physicians, veterinarians, ecologists, and many others—ranging from pet owners, to ministries of health and agriculture—in what is as close as public health gets to physics' Theory of Everything.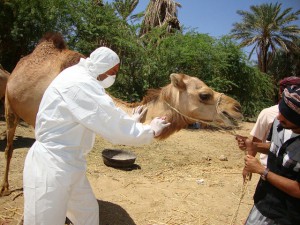 Consider this: Of all known human pathogens, about six out of every 10 infectious diseases in people are spread from animals. In addition, three in four newly emerging infectious diseases that threaten people originate in animals. A One Health approach is needed to better understand emerging zoonotic and infectious diseases, such as
MERS-CoV has been found in some camels, and some MERS patients have reported contact with camels. Despite this information, we do not know exactly how people become infected with MERS-CoV, as many people with MERS have had close contact with a person sick with MERS.
Rift Valley Fever is caused by a virus that is transmitted by mosquitoes, and has caused multiple outbreaks in Africa and the Middle East. The virus can cause severe disease in both people and animals. By preventing RVF through vaccinating animals, fewer people will be infected from mosquitoes carrying the virus or from direct contact with a sick animal. Vaccinations also protect the animals that the people rely on for food and as a source of income.
Human infections with a new avian influenza A (H7N9) virus were first reported in China in 2013. Most of these infections are believed to result from exposure to infected poultry or contaminated environments, as H7N9 viruses have also been found in poultry in China. While some mild illnesses in human H7N9 cases have been seen, most patients have had severe respiratory illness, with about one-third resulting in death.
At CDC, the One Health Office was established in the National Center for Emerging and Zoonotic Infectious Diseases (NCEZID) in 2009. Staff in the One Health Office are available to provide technical support to CDC staff and a variety of partners working on important public health issues dealing with animal and human disease threats, both within the United States and around the globe.
In addition to staff in the One Health Office, there are a number of experts using a One Health approach across CDC. Many of these experts are based in Atlanta and some are stationed overseas. These experts work closely with the World Health Organization (WHO), the World Organisation  for Animal Health (OIE), and the Food and Agriculture Organization of the United Nations (FAO) as well as various ministries of health, agriculture and environmental health officials, and others.
Like all CDC experts, the One Health team is driving by data and science. Currently, the office is implementing a One Health Zoonotic Disease Prioritization Tool. The tool brings together multisectoral partners in a country to prioritize endemic and emerging animal-to-human disease threats of greatest national concern so that they can use a One Health approach to focus their limited resources on their top zoonotic diseases. So far, this tool has been used on three continents, and is also helping countries set One Health activities to strengthen their systems and tools for identifying and combating these disease threats. That work includes specialized training for "disease detectives," upgrading laboratories to improve the accuracy and reliability of tests, and streamlining information sharing so threats are identified quickly and an effective response is launched.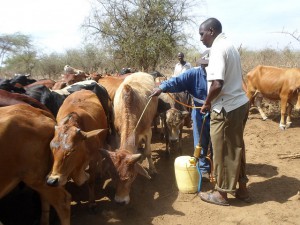 Getting there means working collaboratively with an array of experts in human health, animal health (livestock, wildlife, and companion animals), agriculture, medicine – both human and animal health care providers – interest groups, politicians, and many others to improve global preparedness and fine tune response to pandemic threats and other zoonotic and infectious diseases to prevent the spillover of animal diseases into people. The One Health approach allows us to have the biggest impact on improving health outcomes for both people and animals.
These realities, along with the achievements, on-the-grounds results, and lives saved, demonstrate the importance of One Health, and why it is a proven and critical part of a strong public health effort.
Posted on

by
---
Page last reviewed:
January 9, 2022
Page last updated:
January 9, 2022