Hurricane Matthew and Haiti: Putting CDC Expertise to Work
Posted on

by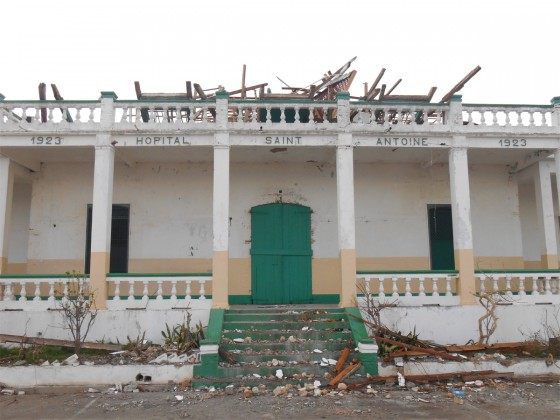 Life can quickly move from hard to catastrophic when a vulnerable island nation lies directly in the path of a Category 4 storm, as Haiti did when Hurricane Matthew roared ashore to bludgeon its remote southwest region on October 4th.
People need immediate shelter when a disaster like this strikes. They need doctors, nurses, and medical supplies. They need diagnostics, food, vaccines, and clean water. In Haiti's case, they need help fighting an ongoing epidemic of cholera, made worse by the standing water and flooding. To meet these needs, experts from the U.S. Centers for Disease Control and Prevention (CDC) quickly mobilized and dispatched to Haiti after the hurricane.
A command center was quickly set up, and CDC's Global Rapid Response Team swung into action. Experts from CDC's Atlanta headquarters joined colleagues already working in Haiti to support the Ministry of Health and Population (MSPP) as part of a large and urgent response that includes other U.S. government teams from U.S. Agency for International Development Office of U.S. Foreign Disaster Assistance and the Department of Defense as well as public health experts from the World Health Organization and an array of non-governmental organizations such as Partners in Health and GHESKIO.
All of these groups are focused on bringing humanitarian assistance to people in desperate need, including those affected by cholera, those who may have lost their homes, or those looking for lost family members. Others are working to provide clean water and shelter and to repair roads and infrastructure so that supplies and relief can be delivered.
It's not easy. Mudslides are still blocking relief workers and supplies from getting to those who most need help. Routine care, already in short supply in Haiti, has been disrupted, touching everyone from pregnant women to those who need ongoing treatment for TB and HIV to children due for routine immunizations.
Even before the hurricane, Haiti had some of the lowest levels of access to clean water and sanitation in the entire Western Hemisphere and was experiencing one of the largest cholera outbreaks in recent history. Since the outbreak began in October 2010, there were nearly 800,000 cases of cholera reported throughout the country. With support from CDC and others, Haiti has made huge strides in controlling the disease, with cases down 92% from 2011 to 2014. In 2015, cases were back on the rise in Haiti as resources to fight cholera dwindled and the world's attention was drawn to other health emergencies.
Cholera is a disease of poverty. Caused by bacteria that leads to severe diarrhea and potentially death by dehydration, it is spread by drinking contaminated water or by eating contaminated food. While it can be easily treated if caught early, many people fear that, without access to clean water, the people in Haiti who remain cut off from help could die or be debilitated by the disease.
The CDC team in Haiti is working especially hard on providing clean water and adequate sanitation, as well as monitoring for the disease. The first step to stopping disease outbreaks is getting people on the ground to understand the situation. But it's tough. Roads are out. Natural water sources have been further contaminated by post hurricane flooding. Cell towers are destroyed, and access remains limited. Nonetheless, finding answers and collecting essential information is what experts from CDC, along with their colleagues from MSPP and other organizations, are setting out to do.
Grim as it might appear, there is hope. We have a long history of working in Haiti. CDC's presence, which began in 2002, expanded in the wake of the 2010 earthquake that left 230,000 dead and 2 million others displaced. As a result of the efforts following that disaster, Haiti today has better laboratories, more disease detectives, and better systems to gather critical data that allow illness to be caught earlier and outbreaks to be more effectively stopped. The country has made tremendous progress in so many areas of public health. Haiti is on the verge of eliminating two diseases—malaria and lymphatic filariasis—and has turned the tide on others, like HIV and TB.
I was part of the response to the 2010 earthquake and saw up close the tirelessness, dedication, creativity, and collaborative spirit of the CDC team and its Haitian counterparts. Global experts brought their knowledge to combat complex public health problems, while building the capacity of Haitian colleagues. We knew that one day, another disaster could strike Haiti. We knew that one day, CDC could be called back to support Haiti's recovery. No one wished for it but, unfortunately, that day is here. Once more, we can witness the best of CDC in action, using world-class expertise to help a neighboring country in need.
Hurricane Matthew is a devastating blow and a harsh reminder that everyone is vulnerable to nature's wrath. It is a reminder that we should all continue to prepare for the unexpected, including building better health systems which are key to addressing emergencies like this and saving lives. In the aftermath of Hurricane Matthew, Haiti continues to work alongside experts from CDC focusing on the needs of the most vulnerable populations.
Posted on

by
---
Page last reviewed:
January 9, 2022
Page last updated:
January 9, 2022